Bale and farewell, Gareth?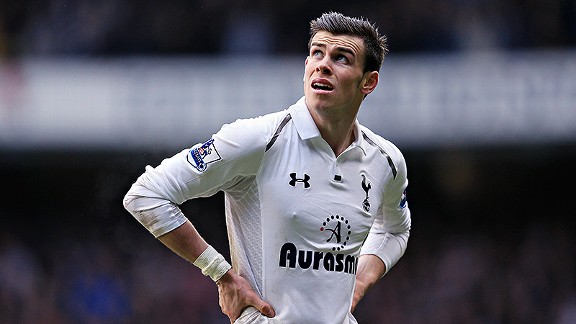 Richard Heathcote/Getty ImagesDoes Gareth Bale's brilliance this season serve to predict his imminent departure?
I admit it. I looked out of my New York City window on Saturday morning, saw what looked like Nemo-geddon, hit the snooze button, knocked over my half-drunk glass of Stella, and went back to dreaming of an English team winning the Champions League.

But then I decided to risk life and limb by going studs up on the snowstorm hysteria by bravely trudging to my local pub. There, I could bathe in the fraternal warmth of my fellow lunatics yet also rejoice in the news that none of the beer taps had frozen solid at The Football Factory.

"Only the real men made it here today," chortled FF owner Jack McKean from behind the bar.

"And me," I said, ordering a breakfast pint.

Empty space abounded in the soccer mosh pit, where normally hundreds of sodden fans stand shoulder to shoulder, alternately swaying, chanting and trying to avoid the heinous crime of spilling their pints on each other. Those who flaked out missed the communal pleasure surrounding two of the season-defining performances in the Manchester Premier League, along with a up-close-and-sweaty viewing of "The Battle To Keep Gareth Bale From Wearing a White Uniform in a Different Country Next Season."

I'm delighted to report that the spirit of Pyrrhus is alive and well in North London as the match against Newcastle was won by Tottenham, while the war over Bale may be lost. Enjoy him while you can, Spurs fans, because it's become increasingly likely that Bale will be slaloming past Daniel Levy and Andre Villas-Boas at the end of the season and into the warm embraces of Florentino "Galacticos" Perez and whoever replaces Jose Mourinho at Real Madrid.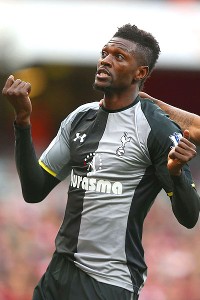 Getty ImagesEmmanuel Adebayor's extended absence has put more scoring pressure on Gareth Bale, which the Welshman has relished. But it also underscored why he might wish to move on.

Never mind the economic realities of the Premier League, in which few clubs can afford to turn down an offer of $80 million for their top players. As we witnessed again on Saturday when a Bale-force wind blew through the Magpies for both Spurs goals in a 2-1 win, the Welshman's talent is simply too prodigious for opponents -- or Tottenham's ambitions -- to contain.

Even if Spurs were to (God forbid) finish fourth, I doubt that even the promise of Champions League soccer would be able to slow down what looks to be an open-field gallop to a bigger stage, one that features perhaps the only left-sided player in Europe better than the Welshman -- Cristiano Ronaldo.

It's not just that Tottenham is overly dependent on Bale for goals -- he has 13 in league competition, including five in his past four games -- it's that he is Tottenham in a way that not even Robin van Purse Strings can claim to be for United. Sure, RvP has scored 19 Prem goals this season, including the second in United's 2-0 thumping of Everton that gave the Red Devils a 12-point lead over Man City with 12 games to go -- or as Jason, the ringleader of the relentless United brigade at Football Factory, put it, "Thank you all for coming out this season. See you next August."

And yet does anyone believe that van Persie is more indispensable to United than Bale is to Spurs? You get the feeling that if RvP had not sold his Arsenal soul in order to lift infinitely more trophies -- OK, one -- than he's won in the past seven seasons, United would still find a way to score goals. After all, Wayne Rooney has netted 17 times and has been selfless in setting up the Dutch striker. They are a two-headed attacking beast, feeding off one another's telepathic instincts in a way that channels memories of a latter year Ronaldo-Rooney mind-meld.

Martin: United moves closer to title
Darke: Man City's title reign over?
The Fifth Official: Mancini's poor form

Once again, Sir Alex has built a championship team around a player other than Wazza, but what Rooney has sacrificed in attack-minded brio this season, he's made up for with a more mature, intelligent, all-round game. On two occasions against Everton, for instance, he ran the length of the field to help out on defense in his own area.

Meanwhile, who does Bale have to partner with? Jermaine Defoe? Emmanuel Adebayor? Luka Modr… -- oh wait, that was last season.

And soon to be the next one.

The swashbuckling left-wing is essentially on his own and he knows it, which is why he isn't exactly a shrinking violet when it comes to shooting with a teammate in an ostensibly better position, as he did twice against Newcastle with speculative shots from long range.

But that selfishness in the attacking third -- which isn't necessarily a bad thing -- is one of the few parts of his game that hasn't improved exponentially in the last two seasons. Even as a left back early in his career, Bale always had explosive pace, but now that speed has been fused with devastating body swerves, astute positional sense, a bazooka where a left foot normally sits and, lately, an upgrade in his muscular physique that allows him to remain on his feet when someone sneezes in his vicinity.

Like all of the genuinely great ones, there's a frisson of anticipation every time the ball is in front of Bale, whether it be on a free kick (he scored on a wicked Ronaldo-worthy effort for his first goal against Newcastle) or in the open field (he roasted Newcastle defenders Steven Taylor and Fabricio Coloccini before hammering a shot past Tim Krul for his second).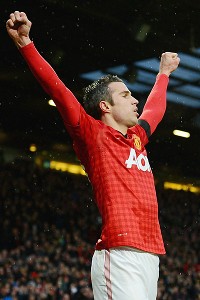 Shaun Botterill/Getty ImagesRobin van Persie's been equally superb this season though at Old Trafford, he's getting much more help than Bale can call upon at White Hart Lane.


Bale has something else in common with RvP other than the ability to carry a team -- and the absence of a right foot. As van Persie did on Sunday against Everton, Bale demonstrated that his right peg is mainly useful for standing on when he used it to miss an open goal by blasting the ball over.

Astonishingly, Bale is only 23 years old -- who's to say he can't develop his weaker foot, especially when he has a full complement of elite players around him at Real. Though I'm not quite ready to place him in the Messi-Ronaldo pantheon, the past two Spurs managers clearly are. First, Harry Redknapp uttered Bale's name in the same sentence with M&R after his winner against West Broom. Then, after Bale's double against Newcastle, AVB said that losing him would be a disaster of equal proportion to Barca and Real losing their Ballon D'Or talismans. Really? Would Barca and Real plummet to seventh or eighth place in La Liga?

Still, you can't begrudge someone of Bale's quality the chance to chase both League and CL titles, the kind of silverware that Spurs are as unlikely to win in the next few years as is, say, Liverpool. Or, sadly, Arsenal.

These were, after all, the same motivational elements that triggered RvP's move to United, although I doubt Daniel Levy will repeat Arsene Wenger's mistake and allow Bale to go to a domestic rival where his success could torment Spurs fans for 38 straight weeks.

By now, five months into the season, you'd think I would have become inured against the face-in-the-hands-anguish that RvP scoring for United triggers in me, but the truth is, it still hurts. (Though I think I've been hiding it well.)

"I'm sorry," said Jason in mock-commiseration at The Football Factory after the Dutchman's goal ignited a bellowing chorus of Oooooh, Robin van Persie, "because we'd never have won the league without Arsenal's generosity." As you can tell, Jason is still making up for those painfully awkward high school years.

But there's more to the United run-away-and-hide-with-12-games-to-go campaign to reclaim their title than simply Wenger's misguided loyalty to the bottom line. Man City's most recent spectacular choke job saw the defending champions go down 3-1 to a Southampton team fighting manfully to avoid relegation. Nobody gagged worse than the Other Gareth -- Gareth Barry, that is, who was responsible for two Saints goals with a calamitous defensive error on the first before diverting the third into his own net. The England midfielder could end up going down in Man City history as the man who personally carried the EPL trophy across town, placed it on the doorstep of Sir Alex and put a bow on it with an inscribed note that said, "Please return in 44 years."

Tottenham, of course, doesn't have that kind of time, at least as far as Gareth Bale is concerned. It needs to win the title before he bails.

Kicking and Screaming is a Premier League column by David Hirshey. David Hirshey has been covering soccer for more than 30 years and has written about the sport for The New York Times, Time, ESPN The Magazine and Deadspin. He is the co-author of "The ESPN World Cup Companion" and played himself (almost convincingly) in the acclaimed soccer documentary "Once in a Lifetime."