21 mustache-scratching questions to ponder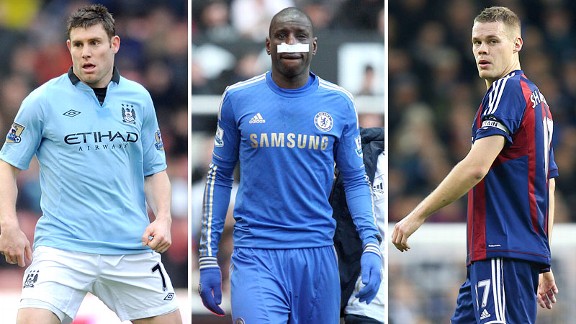 Getty ImagesIs James Milner City's new savior? Does Demba Ba still have a nose for goal? Has Ryan Shawcross learned nothing?
Can we all agree that with a nine-point gap and 13 games left to play, the title is Manchester United's to lose? Of course, you might have said that last season, and we all know what happened in the final seconds at the Etihad. And who can forget the 1997-98 campaign when a certain beloved North London team overcame a 12-point United lead with a last desperate sprint to the finish line? I certainly can't.

- Video: Mancini: Title race not over

So yes, even though we've barely scratched the surface of February, I just don't see another epic choke on the horizon, unless we're talking about Spurs' attempt to secure a Champions League place. As Sir Alex's men showed again on Saturday against Fulham, they have mastered the nerveless art of doing just enough to win. Yet that doesn't mean there still aren't a lot of questions hovering over the Premier League. In fact, this past week threw up enough to make me dizzy -- and that was before I found out the beer taps at the Football Factory weren't working due to a water-main break down the block. Who says I don't suffer for my art?

Here are some of the more vexing questions that had me scratching my mustache: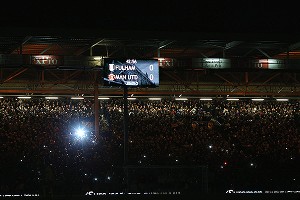 Matthew Peters/Getty ImagesEverything went black: But that didn't stop Manchester United from beating Fulham to eventually go nine points clear atop the table.
1. Does the fact that the power outage at crusty old Craven Cottage lasted one-tenth as long as the one at the fancy-shmancy Super Bowl further prove that the Prem is better than the NFL?

2. Did you ever think you'd watch a Man City game and find yourself saying afterward, "Sergio Aguero and David Silva are pretty decent players but City would be nowhere without James Milner"?

3. Is there any truth to the rumor that immediately after the City match, Stevie G booked a flight for Pepe Reina from Liverpool to the Camp Nou?

4. Wasn't that a heartwarming moment when Samir Nasri came on in the 88th minute at the Etihad to remind us that he's still in the league?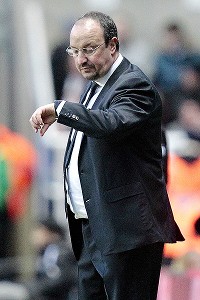 Graham Stuart/AFP/Getty ImagesIs Rafa Benitez checking to see how much time he has left before Roman Abramovich sacks him?
5. When West Brom's Goran Popov hocked a weak loogie in the direction of Spurs' Kyle Walker, did it make you a little misty-eyed for the 1990 World Cup game between Holland and Germany in which Frank Rijkaard famously launched a phlegm drone strike at Rudi Voller's curly locks?

6. When the Newcastle faithful booed their former Toon hero Demba Ba off the field after Fabricio Coloccini kindly repositioned Ba's nose deep inside his cranial cavity with a well-timed boot to the face, did they slip past Chelsea supporters for the coveted "Most Classless Fans in the EPL" trophy?

7. Was anybody else hoping that once Papiss Cisse put his hand around the throat of Ashley Cole, he would squeeze just a teensy-weensy bit? Not enough to hurt him, of course, but maybe enough to make Cashley's eyes pop out like Cohagen's in "Total Recall"?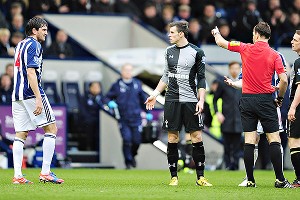 Jamie McDonald/Getty ImagesHe came, he saw, he spat -- and then Goran Popov saw red.
8. Can we please start a website to keep Rafa Benitez at Chelsea? How great was it to see the Fat Spanish Waiter and his counterpart, the Skinny Francophile Garcon, Alan Pardew, serving up some handbags on the sidelines?

9. Is it just me or does Arsenal's Nacho Monreal look like Peter Crouch's stunt double, but a foot shorter and much better in the air?

10. Was I the only one who felt a pang of regret not to see a Stoke sideline-boy handing a towel to Rory Delap to wipe down the ball before one of his stupid long throws?

11. Is there anything more exciting than Deadline Day in the January transfer window? Who cares about Becks; I was thrilled to follow my new favorite soap opera "As Odemwingie Turns." First he turned right into the Loftus Road parking lot, then he turned left back to West Brom, and then he turned out to be a total moron who will be lucky to play again this season. But 'Arry had absolutely nothing to do with it. Just ask him.

12. Now that Mario Balotelli has taken his one league goal along with his fireworks/darts/totaled cars/pithy T-shirts/ silly hairstyles/training ground bust-ups back to Italy, who will fill the void as the Premier League's clown prince? My money is on Odemwingie, but never count out Carlos Tevez. He's been quiet for too long.

- Video: Allegri hails Balotelli debut

13. Is it possible that what lured Wesley Sneijder and Didier Drogba to Galatasaray weren't the buckets of cash they were offered but the chance to play with Emmanuel Eboue?

14. Wasn't it nice of Ryan Shawcross to remind us again that he's not that kind of player by kicking Laurent Koscielny in the swingers?

15. If you were Birmingham City's Jack Butland, would you prefer to marshal a defense featuring Shawcross and Robert Huth or John Terry and Ashley Cole? I guess it depends on whether he'd rather get kicked in the gonads or have someone sleep with his girlfriend.

16. Which is more embarrassing? For Chelsea to be publically rebuffed by a player from Birmingham City or for Leandro Damiao to reject Spurs' offer of $20m? It's a trick question ... the correct answer is Arsenal losing to Bradford City.

17. Which former EPL player will show greater mastery of Peter Sellers' fake French accent: David Beckham or Joey Barton?

18. Who would you rather have on your team for $150K per week: Christopher Samba or Theo Walcott?

19. Given Terry's racism charges, Eden Hazard's extracurricular kicking and the whole team making false accusations about Mark Clattenburg, what does it take for the FA to come down hard on Chelsea? Or is having Benitez as their manager punishment enough?

20. Does it make me a bad person to have purchased an inflatable Charlie Morgan doll that I kick every time I see Andrei Arshavin in a Gunners uniform?

21. Is it true that Andre Santos asked Peter Crouch to swap jerseys at halftime?