Clint Dempsey's heartwarming moment - even for an Arsenal fan
Until Sunday, I could only think of two reasons I would leap off my bar stool to celebrate a Spurs goal. One involves an electric cattle prod connecting with my nether regions. The other concerns a dream I've had in which Jennifer Lawrence rocks a Tottenham jersey and throws come-hither glances my way.

Such is my genetic Arsenal disdain for the lily-livered whites that I surprised even my subconscious when I giddily high-fived the Spurs fan next to me at the Football Factory on Sunday -- this after spending the previous 90 minutes taunting him as the lowest form of homo sapiens.

Of course, there are extenuating circumstances for my moment of temporary Gooner insanity. The first is that the goal was scored by my favorite American player, Clint Dempsey, who despite his awful choice in club jerseys will forever be the pride of Nacogdoches, Texas, to me rather than a contemptible North London wastrel.

-Marcotti's Monday Musings
-Video: AVB praises team performance

There is also the delicious pain that goal caused a Manchester United fan named Jason. It's guys like Jason who sometimes make you forget you're in a pub on 33rd Street in Manhattan and not sitting in the Stretford End at Old Trafford. Jason sings, chants, drinks, talks smack and drinks some more from kickoff to the final whistle.

I like Jason because he's clearly passionate about the game and his team but he does have one singularly annoying habit. Every time a certain former Arsenal player scores a goal for United, he goes mental. (And I respect that.) So in the 25th minute on Sunday, when Tom Cleverley hit a bending cross to the far post and a leaping Robin van Persie headed it past Hugo Lloris, I knew exactly what was coming.

"That's gotta hurt, bro" Jason said to me with mock sympathy, "Another RvP dagger to the heart. How many is that this season? 22?"

"I stopped counting weeks ago," I lied as the Stella curdled in my stomach "It no longer bothers me."

Truth to tell, this was the least unhappy that an RvP goal could make me. After all, it came against Spurs and could well have triggered "a Redknapp" -- a soccer expression that relates to either driving a club to fiscal ruin or collapsing hideously down the stretch when a Champions League place is within reach.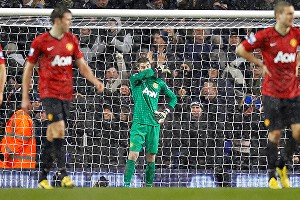 Ian Kington/AFP/Getty ImagesKeeper David De Gea and Manchester United finally capitulated in stoppage time Sunday, which stunned most observers -- but not all.
Yeah, yeah, I know 'Arry is long gone from White Hart Lane and has been replaced by Andre Villas-Boas and his excellent hair. I'm also aware that in the battle for fourth, Arsenal currently sit two places and seven points behind their bitter rivals, albeit with a game in hand. But if history tells us anything -- remember last season? -- it's only a matter of time until Spurs fold up like a Roman Abramovich employment contract.

Against United, though, they showed a worrisomely strong spine in refusing to capitulate after RvP's goal. With Aaron Lennon tearing up the right flank and making Patrice Evra backpedal faster than Lance Armstrong on Oprah, Spurs increasingly took the game to United.

And when Gareth Bale broke free of his two markers in the 40th minute to launch a screamer from the edge of the area, they should have been level. It took a sick leg reflex save from a poorly sighted David De Gea to deny the Welshman, and the United keeper repeated the stunt 10 minutes later when Dempsey surged into the box and lashed a low, hard shot toward the left-hand corner.

Under siege for much of the second half -- in all, Spurs had eight shots on target compared to United's two -- De Gea finally came a cropper. The Spaniard may be brilliant with his feet, but when it comes to using his hands to grab or punch high balls in the box, he is prone to a bad case of the yips. So in the last minute of extra time, when De Gea flapped at Benoit Assou-Ekotto's far post cross and could only divert the ball to Lennon, he was hopelessly stranded.

Cue Deuce Time. With Emmanuel Adebayor off on Africa Cup of Nations duty, Dempsey started in his preferred position as a shadow striker slightly behind Jermain Defoe. Clint being Clint, however, he wasn't about to restrict his movements to simply the last third of the field.

Possessed with boundless energy allied to a high skill level, Dempsey hurtled box-to-box, winning 50-50 balls with biting tackles and launching the Spurs attack. Though Tottenham shrewdly wore kits the color of snow to confuse United, there was no mistaking Dempsey on the field: his uniform was covered with dirt and grass stains.

So when he raced into the box as De Gea's weak punch came to Lennon, United's defenders had no excuse for not picking up his run. Except that like everyone else at the Lane, they expected Lennon to instinctively hammer the ball toward goal, not to pause to look up and spot Dempsey enjoying a relaxing lunch alone in space at the far post.

With admirable composure, Lennon rolled the ball into Deuce's path for the forward to slot it home while finishing his sandwich. It looked like an easy finish, but as Manchester City's Edin Dzeko showed against Fulham on Saturday, a lot of bad things can happen with only the keeper to beat.

But Dempsey's shot was as nerveless as it was accurate, and when the ball nestled into the bottom corner, my United friend Jason punched the wall in frustration and screamed at me. "It was coming, it was [expletive] coming."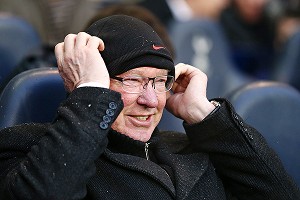 Clive Mason/Getty ImagesSunday's finish suited Sir Alex Ferguson about as well as his ill-fitting ski cap.
I mimed a dagger going into my heart and smiled. Oh, how satisfying it was to see United on the wrong end of a stoppage-time equalizer, even if it did mean joy in the Land of the Satan-Worshippers.

And after watching Sir Alex do his little jig of delight so many times this season when United pulled out a victory at the death, how amusing was to see his response this time?

He was the picture of frozen bewilderment, and not just because his cap was on backward. For the first time in 23 years, United had failed to beat Spurs in the league, thanks to a last-second goal by an American.

On a bitterly cold day on which Arsenal's malaise continued with a 2-1 defeat to Chelsea at Stamford Bridge, it was a brief, heartwarming moment -- enough to cause a temporary lapse in my Spurs celebratory judgment. I promise not to let it happen again.