Red cards offer little value for money
Wouldn't it have been nice if just this once, we could have watched two of the Premier League's best teams play a match that was decided by the 22 players on the field? Or am I simply being too demanding?

No wonder Man City fans sent back those 900 tickets for Sunday's much-anticipated clash with Arsenal at the Emirates. If you're going to fork over $100 to sit in the away end of your opponent's stadium, then you're entitled to expect a few niceties. And by niceties, I don't mean players shaking hands before a game or swapping shirts after it. No, I mean attending a match where the final outcome is determined over more than nine minutes.

A little more than 540 seconds into the match -- for those of you keeping score at home, that would have translated into about 20 cents per second for the prescient no-shows -- Mike Dean drained away all the tension and drama by sending off Arsenal's Laurent Koscielny.

Standing in his own six-yard box, Koscielny executed the kind of flawless Greco-Roman wrestling takedown on City's Edin Dzeko that may have merited gold in the Olympics but clearly screamed for red at the Emirates.

Welcome to soccer's version of double jeopardy: City gets a penalty kick and Arsenal is reduced to 10 men for the next 81 minutes.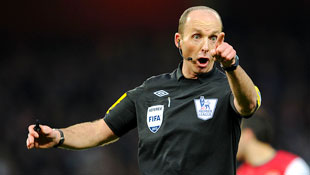 David Price/Arsenal FC/Getty ImagesYou can't blame Mike Dean for dismissing Laurent Koscielny -- it was a legitimate call, after all -- but wouldn't it be nice if games weren't seemingly settled with such early red cards?
I have no problem with the former but I felt ripped off by the latter and it wasn't even costing me anything to watch the game at the Football Factory -- except perhaps for what's left of my liver. And before you start foaming at the mouth and attribute my reaction to whiny, self-serving Gooner bias, let the record show that I felt the same way two years ago when Howard Webb awarded Manchester United a penalty in the second minute of its game against Liverpool, later sending off Steven Gerrard to ensure that the field would be tilted in United's favor.

Look, if you feel that's a sending off, then fine -- but let's see some consistency in the box, where tugging, pulling and getting to know your opponents rather intimately is de rigueur. Wouldn't a yellow and a penalty have been enough? Was Dzeko really about to score? I'm not so sure, and by brandishing red and a penalty Dean wasn't just ridiculously harsh. Dean made sure his inane actions, and not those of the players, decided the second act of Super Sunday. Take a bow, Mr. Dean.

That Edin Dzeko struck the ball limply down the middle, allowing Wojciech Szczesny to make a textbook save (deflect it with an outstretched leg so that it caroms off the far post and into your welcome arms before crossing the line), has more to do with the Bosnian striker's ineptness than Karmic retribution.

Meanwhile, the fans who paid those eye-gouging prices to attend the game rather than staying home to watch it for free on TV would at least have the satisfaction of seeing a proper 11 versus 11 match, as well as being able to maintain the illusion of hope that their team could still come back from a goal down against City despite the readily apparent gulf in class between the two sides.

I felt robbed of that psychic balm when 12 minutes after Dean brandished red, James Milner's screamer shaved the upright to fly past Szczesny. A brilliant goal, to be sure, but one that felt inevitable given how City used its one-man advantage as Rambo wielded a flame thrower to scorch Arsenal's desperately stretched defense. To take nothing away from Milner's pulverizing shot; it was a beaut. City deserves credit for exploiting the yawning gaps in Arsenal's rearguard, but the Gunners made it even easier for the visitors by failing to track Dzeko's run into the area and allowing the big striker to redeem his shambles of a penalty kick with a tap-in at the far post for City's second goal in the 34th minute. Game over. Commence Gooner misery.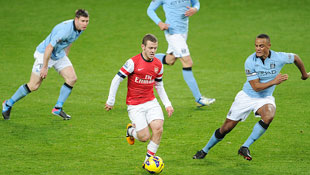 David Price/Arsenal FC/Getty ImagesWithout Mikel Arteta for protection and support, Jack Wilshere was routinely roughed up by Man City's obdurate midfield, leaving the Gunners unable to dictate the game.
It's one thing to come back from four goals down in the League Cup against Reading (who performed its own Lazarus impression on Saturday, scoring three goals in eight minutes to overcome West Brom 3-2) but City simply has too many resources. You're not exactly suffering when you can replace an injured Sergio Aguero and a missing Yaya Toure (away on African Nations Cup duty) with Carlos Tevez and Javi Garcia. In addition to running around with one fewer than the original allotment of 11 players, Arsenal had to cope without their defensive fulcrum in Mikel Arteta. The Spaniard's absence is a reasonable argument for the non-man down red card argument as the Gunners were clearly at sea without the ex-Evertonian. Should a player like him be Dean'd or Webb'd, the loss of his continued services in the contest is punishment enough.

Lacking the injured Arteta's steely presence in midfield, Jack Wilshere was treated like a human pinata by City's brawny trio of Milner, Garcia and Gareth Barry, each of whom took delight in whacking him around in the first half. As a result the latest Great English Inevitably Grossly Overhyped Hope spent more time on the turf -- he was fouled seven times overall -- than Arsene Wenger's water bottle.

But it wasn't until the 55th minute that Dean took any action against Wilshire's assailants, flashing yellow at Milner to a chorus of ironic cheers from the Emirates crowd. Even harsher punishment was to follow in the 79th minute when Dean gave a straight red to Vincent Kompany for a two-footed lunge that was neither two-footed nor probably even a foul. While it seemed like a bit of early-red-card-shown remorse on Dean's part, it at least leveled the playing field for the final 11 minutes.

No longer outnumbered, Arsenal ratcheted up the pressure with Joleon Lescott forced to clear a Theo Walcott shot off the line in order to ensure City's first away win against the Gunners since Gerald Ford sat in the Oval Office. The victory also enabled Roberto Mancini's men to stay within seven points of United at the top of the Prem, which no doubt will add to the glee of those City fans who knew enough to stay away from the nine-minute farce of a soccer game at the Emirates.

And to think that in the buildup to Super Sunday, the epicenter of refereeing controversy was thought to reside in Manchester where Webb was once again the whistle-blower for the latest iteration of the United-Liverpool blood feud.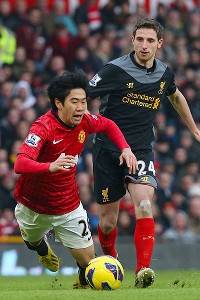 John Peters/Man Utd/Getty ImagesJoe Allen has been struggling of late in the Liverpool midfield and his labored play against Shinji Kagawa and United's attack on Sunday was no exception.
Even Sir Alex felt compelled to remind only the second Englishman to ever referee a World Cup final just how important the stakes were. "It's a great rivalry and I just hope we don't suffer from some of the decisions that have gone Suarez's way lately," said the wily Scot, in his usually subtle attempt to ensure that the Liverpool striker didn't score a game-changing hand goal at Old Trafford as he did last week at Mansfield Town in the League Cup.

As it turns out, Ferguson had nothing to worry about because Suarez was on his best behavior Sunday, using his hand only to shake the digits of his old pal Patrice Evra. It's not that the Uruguayan didn't try to cause trouble with his feet, but that he saw so little of the ball he could sue his teammates for non-support.

For some reason the Liverpool midfield decided not to turn up in the first half with their creative hub Joe Allen being the most conspicuously absent. "The Welsh Xavi," as Liverpool manager Brendan Rogers has hailed the sideways passing machine, looked more like "The Welsh Christian Poulsen." Liverpool, in general, appeared nervous on the ball and jittery on defense, frailties that took United only 19 minutes to punish with ruthless efficiency.

Michael Carrick, doing a passable impression of Andrea Pirlo, was at the heart of a one touch, tiki-taka counterattack that saw Evra's eye of the needle cross turned into the back of the net with a lash of Robin van Persie's devastating left foot. For all the palaver of what a comparatively average side United is by its own exalted standards, this was a goal worthy of champions. And yet, the feeling persists that if it hadn't been the Dutchman at the end of the move, Liverpool might have escaped as they did later in the game when his audacious back-heel flick beat Pepe Reina but was scrambled off the goal line by Martin Skrtel. Had it gone in, I was fully prepared to commit ritual seppuku along with the other Arsenal fans at the Football Factory.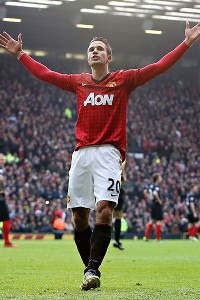 Tom Purslow/Getty ImagesAll it took was a swipe of Robin van Persie's venomous left foot to give Man United control on Sunday.
One can only surmise what Jose Mourinho must have thought. The camera panned to the Soon To Be Sacked One If Real Madrid Lose To Manchester United In The Champions League as he sat in the stands rocking a hoodie and scribbling in his notebook. There is no truth to the rumor that the words he scrawled were "Remind Sergio Ramos to kneecap van Persie during hand shake?"

As for Webb, he was a model of restraint in what became an increasingly fractious match after Chelsea's latest gift to Liverpool, Daniel Sturridge, came off the bench in the second half to cut United's lead to 2-1. The referee, who has long been an object of derision on Merseyside for his alleged bias toward United, actually did his best to keep Liverpool in the contest by refusing to send off Skrtel, Glen Johnson, or Andre Wisdom for borderline violent fouls.

Maybe Fergie needs to find a replacement for Webb in the transfer window.

I hear Mike Dean is available.

David Hirshey has been covering soccer for more than 30 years and has written about the sport for The New York Times, Time, ESPN The Magazine and Deadspin. He is the co-author of "The ESPN World Cup Companion" and played himself (almost convincingly) in the acclaimed soccer documentary "Once in a Lifetime."