Fearless Predictions for 2013
Imagine if this time last year you had turned to the guy on the barstool next to you and said: "Hey pal, care to wager that Man City will win the Prem title on a 93rd-minute goal by Sergio Aguero on the final day of the season?" Or perhaps: "Wanna bet that John Terry will be banned from the Champions League final against Bayern Munich but still manages to change into his Chelsea uniform in time to lift the Cup at the Allianz Arena?"

OK, so you'd have been thrown out of the pub for having 19 pints too many, but it would have been worth it for the Nate Silver comparisons alone.

So before you scoff at my fearless Premier League prognostications, remember: Anybody can predict that Man United will win the league, Reading will be relegated and Arsene Wenger will replace his puffy parka with the Shroud of Turin. But it takes a true mustachioed Mayan to make the hard calls. To wit:

- Man United will win the Premier League. (Hey, even the great athletes have to warm up.)

- Unfortunately, Sir Alex won't get to lift the trophy, having been charged in March with attempted murder for kicking the ball at the head of a linesman who flagged Robin van Persie's 60th goal of the season offside.

- QPR will be eliminated from the Premier League by mid-February. 'Arry will not realize this until late March, at which time he will blame the combined forces of the Internal Revenue, David Beckham's $250,000-a-week loan deal, Djibril Cisse's hair-coloring budget and not enough running about.

- Rafa Benitez will lead Chelsea to the Europa League title. Rafa Benitez will be fired.

- Arsenal will finish fifth. Fed up with all the criticism, Wenger will return to France and be replaced by David Moyes. Gunners fans won't even notice since Moyes is also pathologically opposed to spending money.

- Leighton Baines will finally, and deservedly, move in front of Ashley Cole on England's left back pecking order. Surprisingly, Stewart Downing will be No. 1.

- Roman Abramovich will graciously invite Frank Lampard to return to Chelsea and join the coaching staff. Frank, happy playing for the Galaxy and fat again on Los Angeles' In-N-Out Burgers, will reject the offer.

- Jose Mourinho will manage professionally next year, either in Spain, England, Italy or Dubai. Hey, if you want more specificity, buy a Farmer's Almanac.

- Reading will score seven in the rematch against Manchester United on March 16. The Royals will still lose by two, but no, the league is not biased in favor of United. Really.

- Nike CEO Phil Knight announces a new line of body armor for goalkeepers stuck behind crap defenses. It will be called Guzan-ite.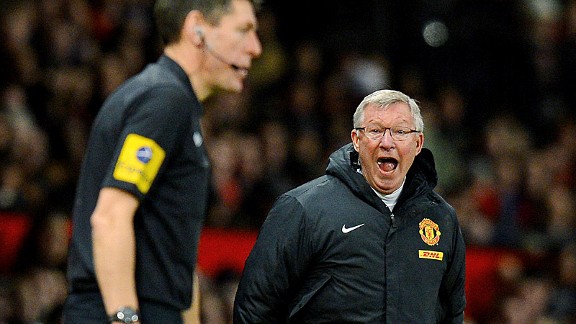 Andrew Yates/AFP/Getty ImagesOne way or another, Sir Alex Ferguson will make news in 2013.
- Mario Balotelli will save up to $1,400 in taxi-as-GPS fees in January when Roberto Mancini personally drives him to the Alitalia terminal at Manchester airport.

- In a shocking turn of events, Mancini will lose the title to United on the final day of the season and be immediately fired. Fortunately for him, Balotelli will hold the plane at the airport so that they can both slink back to Italy together.

- Arsenal will win a trophy. Note that I am not narrowing it down to any particular year, decade or century.

- France, which has a proud history of embracing other country's idiots, will elect Joey Barton president. He will immediately lead them into a war after stubbing out a lit cigar in the eye of the entire nation of Switzerland.

- Luis Suarez will completely rehabilitate his image by becoming the league's top scorer, not diving, and behaving like a perfect gentleman. Then, on the final day of the season, he will punch a baby and everyone will hate him again.

- Marouane Fellaini and Gervinho's giant domes will collide on a header; the resulting force will cause a shift in the continental shelf.

- After cementing his status as the EPL's resident hipster with his T-shirt-revealing striptease, Dimitar Berbatov will become the first top-flight player to score a hat trick while smoking a Gauloise.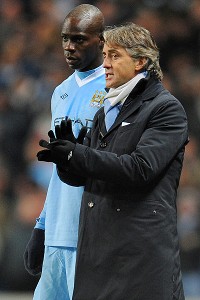 Andrew Yates/AFP/Getty ImagesWill 2013 be the year Roberto Mancini finally gives up on Super Mario?
- Rafa Benitez will lead Chelsea to the FA Cup title. Rafa Benitez will be fired.

- Following Theo Walcott's hat trick against Newcastle, Arsenal will offer the mercurial forward a new contract in January that guarantees him 100k pounds per week, the role of central striker for life and a bronze statue to be erected outside the Emirates right next to Thierry Henry's. Moments after accepting this deal, Theo Walcott will revert back to Theo Walcott and won't score again until his new contract is about to expire.

- Cristiano Ronaldo, who vowed not to celebrate a Champions League goal against United, will score against United and celebrate. Sir Alex Ferguson will then bludgeon him with a bottle of Chianti and blame it on Mike Dean.

- Wigan will hover around the bottom three until the last month of the season. Then manager Roberto Martinez will make coins disappear in thin air, escape from a straitjacket while trapped underwater and the Latics will make it up to 16th. You know, the same thing that happens every year.

- Aston Villa will be relegated and Paul Lambert will wonder what the hell he was thinking as Norwich secures a comfy mid-table finish with weeks to spare. Chris "World's Nicest Manager" Houghton will compassionately skip the well-deserved nose-thumbing, "nyah-nyah-nyah-nyahs" and "I told you sos."

- Newly fired Rafa Benitez will make a triumphant return to Anfield after Liverpool underperforms for a fourth consecutive season. Horrified at the sorry state of their club, the Kop will change their official anthem from "You'll Never Walk Alone" to "We Gotta Get Out of This Place."

- Spurs won't finish ahead of Arsenal. It doesn't really matter where Arsenal finishes for this prediction to come true.

- Gareth Bale will trade in the lily-livered whites of Tottenham for the Real whites of Madrid. Spanish fans will show much greater appreciation for the Welshman's splashdown artistry.

- Defending European champion Chelsea will crash out of the Champions League unexpectedly early. Roman Abramovich, in a fit of pique, will fire beloved manager Roberto di Matteo ... What? Already? Never mind.