Bracing for the Arsenal apocalypse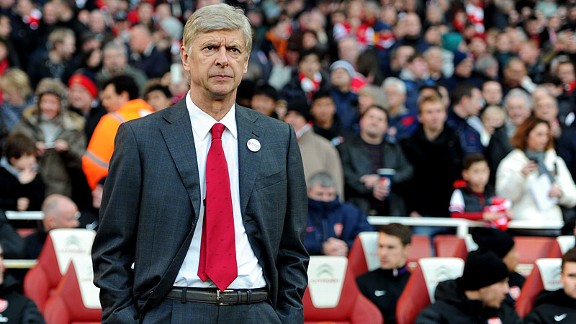 David Price/Getty ImagesArsene Wenger's still a good manager; the problem is that the league has caught up with and, in some cases, overtaken him.
For 5,125 years, the Mayans have been telling us that the world will end on Dec. 21, 2012, but they may have missed their mark by five days. Or at least that's the prevailing feeling among Arsenal fans, who are convinced that the apocalypse will arrive Monday afternoon (ESPN2, 2:45 p.m. ET) should the Gunners fail to beat Reading in their relegation six-pointer at the Madejski.

OK, I might be guilty of hyperbole, as Liverpool is much closer to the drop than Arsenal, but you'd still be hard-pressed to find anyone in North London -- except for Arsene Wenger -- who doesn't view today's game with bottom-of-the-table Reading as Judgement Day.

After all, Brian McDermott's side is still a Premier League team, a full three tiers above Arsenal's previous opponent, Bradford, which humiliated the Gunners last week in the League Cup. And to win two free tickets to Ivan Gazidis' next apologetic news conference, who remembers how Arsenal earned the right to lose to Bradford-of-League Two on penalties in the one competition that offered the Gunners a realistic chance to end their trophy-less run of eight years?

Here's a hint: The goal-scoring hero in that game has contributed absolutely nothing to Arsenal's season before or since, and his name does not rhyme with Shmandrei Shmarshavin. It was the eminently irrelevant Marouane Chamakh's extra-time strike that capped a surreal comeback from four goals down after 37 minutes to win 7-5 over Reading.

So it seems fitting that the Gunners should return to the scene of their most memorable -- or you could say most farcical -- triumph of the season with the team's worst Premier-era record in Wenger's 16-year reign.

Arsenal has won just six of its 16 league matches and is resting uncomfortably in eighth place, an astonishing 18 points off the pace in the MPL (Manchester Premier League). After United and City (six points behind their intra-city rivals) both recorded convincing 3-1 wins over the weekend, and Chelsea looked a dispirited (not to mention exhausted) team after traveling 6,000 miles to lose 1-0 to Brazil's Corinthians in the final of the World Club Championships, can we just cede the title to either Sir Alex's men or Roberto Mancini's carpetbaggers already?

While the advanced mathematicians among you know that there are still 63 points left to play for, short of Robin van Persie wrenching his back lugging around his money belt or Yaya Toure shattering a kneecap while on Africa Cup of Nations duty, I don't see any of the putative high-end teams -- or Spurs -- overhauling either of the current front-runners. And certainly not Arsenal, which after a remarkable 16 consecutive campaigns of qualifying for the Champions League is now desperately hoping that Michel Platini will succeed in expanding the competition to 64 teams so that a seventh- or eighth-place side can sneak in.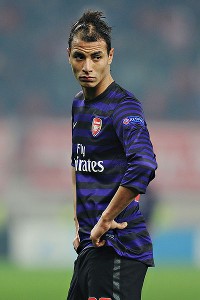 Stuart MacFarlane/Getty ImagesMarouane Chamakh is the epitome of what ails Arsenal: a cheap, technically gifted player who simply doesn't make up for what the Gunners lost in recent seasons.
Here's the part where we abide by the law that stipulates the word "crisis" must be inserted into all Arsenal stories by the sixth graph even though the Gunners are only five points off third place. This is not to be confused with the RvP crisis, which seems light-years ago, but refers to the recent descent into mid-table mediocrity that has caused the Doomsday-o-meter at the Emirates to oscillate between anger and mutiny. Supporters have taken to wailing "You don't know what you're doing" at Wenger and won't rest until the Frenchman is tried for his crimes against Gooner humanity at the international court in the Hague.

Alas, they are wasting their time. To paraphrase the old joke, the three things that are guaranteed to survive in a post-apocalyptic world are cockroaches, horseshoe crabs and Wenger.

Players will come and go (mostly go), stadiums will be bulldozed and rebuilt and shareholders will win and lose control of the board, but the Frenchman will continue to stamp his authority and fashion sense on the club until he alone says "Je suis fini." Of course, lately he has been disguised as a sleeping bag, looking drawn and tired in his puffy quilted duvet, pretending not to hear the fans baying for his departure.

Yet as disenchanted as I am with Arsenal's devolution, I refuse to jump aboard the "Wenger Must Go" bandwagon. For one thing, my torn meniscus severely restricts any normally kneejerk reactions to Arsenal's inconsistent behavior. For another, every time I look at Le Professeur's perpetually anguished expression and imagine life without him, I envision someone like Sam Allardyce or any of the eight previously tossed Chelsea managers stomping around the technical area. Then I want to cleanse my eyes with battery acid.

Until Arsenal has lined up a manager of Wenger's pedigree to replace him -- and yes, I know it's Pep Guardiola's dream to manage a club that couldn't afford an extra $2 million for Juan Mata -- I remain entirely unconvinced that there's a better option available.

Let's face it -- it's not as if Arsenal has an overabundance of world-class players on their books. Gone are the glory days of Thierry Henry (oh wait, I forgot. Titi is coming back on loan and all will be sweetness and light again), Dennis Bergkamp, Sol Campbell, That Filthy Cole (it hurts just to type his name), Cesc Fabregas and Robbing van Pursestrings. Right now Arsenal simply refuses to behave as though it possesses the necessary ridiculously deep pockets to buy like-for-like replacements.

While the current bare cupboard is partially Wenger's fault -- his insistence on buying technically sound smurfs is clearly not working -- the greater culprit is a board that is effectively relying on Platini to make all the crazy spending go away. Ultimately, the "bottom line first" philosophy of a club that sees itself as a model of financial sustainability in an era of out-of-control spending by oligarchs and sheikhs bears the brunt of the blame for the exodus of so many of Arsenal's best players.

It's even more infuriating when you consider that last week, majority shareholder Stan Kroenke was able to look under his sofa cushions and scrape together around $90 million to buy a 124,000-acre ranch in northwestern Montana. Stan the Ranch Man is now up to four giant spreads, six sports teams, three vineyards and a partridge in a pear tree. Yet do Arsenal fans, who pay the highest ticket prices in England, attack Kroenke's tightfisted approach to the club the same way Chelsea supporters spew vitriol at Roman Abramovich for his firing and hiring managers on a whim? No; after all, it's far easier to skewer the Frenchman who rocks back and forth on the Arsenal bench looking as though the garlic butter on his escargot was served at the wrong temperature.

Yet you also have to question whether Wenger is using the money he does have very well. I actually think Arsenal's mascot, Gunnersaurus, would be more effective in the box than Gervinho. And how do you explain the fact that Chamakh scored in six consecutive Champions League games while playing for Bordeaux and can't convert a sitter from 2 yards out for Arsenal?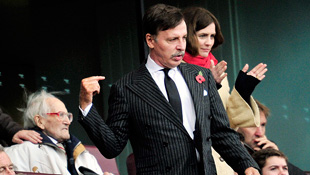 Glyn Kirk/AFP/Getty ImagesWhile Stan Kroenke has money to burn, why does all the Arsenal fans' ire land at Wenger's feet?
Then there is Wenger's stubborn commitment to a way of playing that almost certainly does not fit the talent he's brought in. Nostalgically blinded by the quick, fluid interplay of his championship teams, Wenger expects the same aesthetically pleasing style from the likes of Andrei Arshavin, Theo Walcott and Lukas Podolski. That he often deploys them in positions not necessarily suiting their strengths -- although, to be fair, the bench may fit Arshavin perfectly -- and that it might have something to do with their underperforming isn't something that even occurs to him.

Tottenham defender Jan Vertonghen, who was on Wenger's transfer radar before he signed for Spurs and who scored the goal Sunday in the 1-0 win over Swansea that vaulted them into fourth place -- Santa, I know you already gave me a huge gift in the form of Samir Nasri's groin injury this past weekend but could you also please make sure Spurs don't get into the Champions League? Thanks. -- revealed in a recent interview that he turned Arsenal down because Wenger wanted to use him in midfield when he feels that center back is his best position.

And let's not forget Wenger's stubborn insistence on buying quality players of glass-like fragility -- Abou Diaby and Tomas Rosicky come to mind -- who spend most of their professional hours on the trainer's table. Yet on the rare occasions they return to active duty (coincidentally right around the closing of the transfer window), Wenger can be counted on to say "it's just like signing a new player."

Still, I don't believe that Wenger's coaching ability has suddenly diminished. It's just that other clubs have caught up to -- and in some cases overtaken -- Arsenal over the past eight years, either through sheer financial muscle (Chelsea, Man City), phenomenal team spirit (United) or shrewd transfer business (Newcastle, Swansea, Everton).

As such, Wenger can no longer expect to compete by buying young, eager tyros on the cheap and transforming them into game-changers like he did with, say, Henry. Which is why in the past couple of transfer windows, Wenger went for experience and guile (Mikel Arteta, Santi Cazorla, Podolski and Per Mertesacker) to complement his youth and speed (Jack Wilshere and Alex Oxlade-Chamberlain). It takes time to bed in new players, and I'm willing to give Wenger the next four months to work his legerdemain while laughing in the face of doom.

That said, I reserve the right to change my mind after the Reading game.

David Hirshey has been covering soccer for more than 30 years and has written about the sport for The New York Times, Time, ESPN The Magazine and Deadspin. He is the co-author of "The ESPN World Cup Companion" and played himself (almost convincingly) in the acclaimed soccer documentary "Once in a Lifetime."