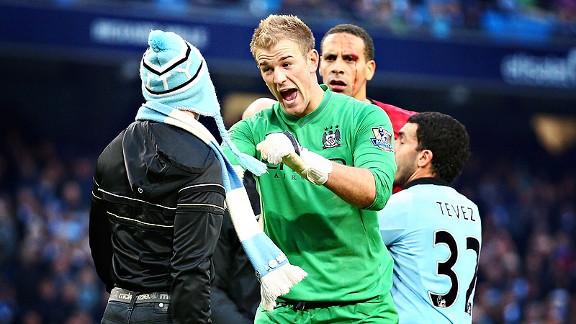 Clive Mason/Getty ImagesDespite a violent ending, United's thrilling victory in the Manchester derby reminded City that even champions can still be the "little brother."
Remember back in the good ol' days of L.A. gang wars, when some guy would foolishly get lost in a neighborhood controlled by the Bloods wearing a blue T-shirt that represented the Crips and the locals would beat a fashion lesson into him?

Well, I was reminded of that early Sunday morning, when a dude in a light blue Edin Dzeko jersey and a backward Yankees cap walked into the Football Factory for the start of the Manchester derby. By then, hundreds of red-clad United fans were already in full cry, pints in hand and atonal voices raised to the heavens, getting their hate on for their "little brother" as Ole Gunnar Solskjaer mockingly referred to Man City earlier in the week. At the sight of the poor sap in City colors deciding whether to make his way to the bar or cower in the corner like, say, Samir Nasri would do, the United supporters accorded him the kind of "big brother" reception you'd expect:

U-N-I, T-E-D / United are the team for me / With a knick-knack paddywhack, give a dog a bone / Why don't City [expletive] off home

Since I am well versed in the art of the interloper -- a superior form of evolution known as Homo Goonerus -- and routinely find myself surrounded by supporters of a club whose studs have been embedded in Arsenal's neck for the last eight seasons, I felt a frisson of solidarity with the lone City fan.

"What are you doing here?" I asked him after he slunk his way up to the bar through a fusillade of verbal missiles.

"My friend told me that this was a neutral pub," he said, trying to muster a smile while re-thinking the meaning of the word "friend." "Then when I got here, the owner told me, 'Every Manchester derby there's always one City fan who makes the mistake of coming here to watch the game. We had to escort the last guy out for his own safety.'"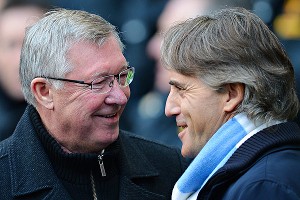 Andrew Yates/AFP/Getty ImagesThe master once again taught United's "little brother" a footballing lesson.
As it turned out, the misled City supporter's health was perfectly secure. Big brother may enjoy bullying his younger sibling but once he gets what he wants -- in United's case a return to the normal order of the Manchester universe, a six-point cushion in the league and the opportunity to meet Becks' best Hollywood mate Tom Cruise -- he sees no need to go all Keano on him. Also, when you've had a half-dozen Guinness by 10 a.m., you tend to forgive a lot.

(For instance, I forgive Arsenal's Santi Cazorla for his diving and cheating antics against West Brom. C'mon, Santi, if Ashley Young can stay on his feet for 90 minutes like he did against City, you should be able remain vertical.)

Still, my friend in the Dzeko shirt might want to send a thank-you-for-letting-me-live-another-day-note to a couple of former Arsenal players who made sure he'd go home with all his limbs intact. It was just like the good old days at the Emirates with Robin van Persie and Nasri combining to score the winner. Both forsook the Gallic soccer poetry of Arsene Wenger for the ludicrously high wages and excellent prospects of winning trophies more than once a decade -- go figure -- but Nasri won't be as delighted with his role in the deciding goal of this taut and thrilling derby-slash-blood feud, which came complete with a grotesque wound to Rio Ferdinand's face.

The Frenchman was standing in City's defensive wall as van Persie's 92nd-minute free kick came hurtling toward him. Rather than bravely holding his ground, he simultaneously turned his body (presumably to protect his bulging wallet) and stuck out a cloven hoof. The ball ricocheted off his shin and sailed into the far corner of the net beyond the despairing dive of City keeper Joe Hart, who for the third time in the match was too slow getting off the Barcalounger he appeared to be reclining on.

This is not to take anything away from Wayne Rooney's two clinical first-half finishes, but both shots rolled into the goal at Per Mertesacker velocity while Hart was rooted to the spot. For a guy who not long ago was hailed as the second coming of Gordon Banks, England's Number One looked more like a hunkier version of Robert Green.

United fans, of course, could care less whether their goals were pristine. Their rapturous chants of "Oh, Robin van Persie" were so loud and primal that even the ugly scenes at the end of the game couldn't diminish their joy. By the time they looked up from their beer-soaked hugs and high fives, they could have been forgiven if they'd thought the channel had been switched to a replay of the Roma-Lazio derby. Smoke from a flare shrouded the field, blood was pouring from near Ferdinand's left eye, and a deranged City fan had raced onto the field and charged the United defender. When Hart intervened and blocked the pitch invader, it turned out to be his biggest save of the match.

While there is no excuse for the knuckle-dragging antics at the "Idiot-had," this latest chapter in the Battle for Manchester was always bound to have a certain level of built-in toxicity. After being humiliated 6-1 by City at Old Trafford, the worst home defeat in Sir Alex's storied reign, en route to losing the title on goal difference in the dying seconds of last season, United was hell-bent on reasserting its superiority and putting its uppity "little brother" back in his place.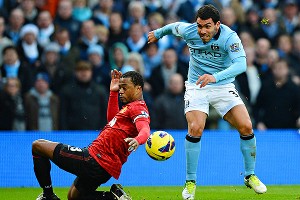 Andrew Yates/AFP/Getty ImagesCarlos Tevez gave City an injection of pace and energy in the second half. What he was doing on that set piece, who knows?
For its part, City had endured an historically embarrassing week, finishing with the lowest Champions League point total ever for an English side, and Roberto Mancini had vowed to harness all his high-priced firepower toward defending his EPL crown. Which is why the appearance of Mario Balotelli in the starting City lineup had people wondering whether Mancini's tightly knotted blue and white scarf had blocked the flow of oxygen to his brain.

Despite arguably having impressed no one but himself since his virtuosic two-goal performance against Germany in last summer's Euros, Balotelli is still considered capable of unsettling a defense with his silky skills and physical presence, provided he can keep his hair-trigger emotions in check. In fact, just last week the Italian's agent -- no doubt looking ahead to the January transfer window -- was quoted as saying that his client was "as valuable as the Mona Lisa."

But after watching his infuriatingly casual performance against United, one in which he strolled around the field making a lazy backheel here and a brainless foul there before being hauled off by Mancini in the 51st minute, it's safe to say that Sheikh Mansour would rather own the masterpiece that hangs in the Louvre than the one who petulantly stomped directly down the tunnel when he was subbed off.

It was only when an energized Carlos Tevez came on in his place that City provided any real threat against United's much-maligned rear guard. For several weeks, Ferguson himself has publicly fretted about how alarmingly inept his defense has been over the first 15 games of the league season, and in the second half against City, his worst fears were realized.

City roared back to pull even on goals by Yaya Toure and Pablo Zabaleta, the latter's expertly controlled strike coming with only four minutes remaining in regular time. That seemed to be enough to earn City a hard-fought point and preserve its impressive 37-game unbeaten record at home. But as their record of 12 wins and three losses made clear before Sunday, United don't do draws, as City would painfully learn two minutes into stoppage time. Seconds after Tevez needlessly fouled Rafael at the edge of the box, RvP swung his left leg, Nasri flinched, Hart froze and Sir Alex's men were sitting six points clear atop the Prem.

United celebrated the winner with the kind of defiant emotion that lit the blue touchpaper in the stands. Sheikh Mansour may have freely thrown money around in building his expensively assembled squad, but that's hardly license for someone to hurl a coin at Ferdinand's head.

When City beat out United for the title last season, it appeared that after 36 years of being belittled by their "big brother," the Sky Blues had finally emerged from United's massive shadow. But on Sunday at the Etihad, City fans sadly reminded us that "little brother" still has some growing up to do.