The decline of Roman's empire?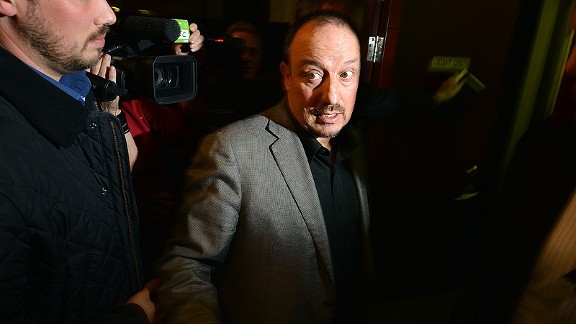 BenStansall/AFP/Getty ImagesJoining a club whose fans hate him -- just what has Rafa Benitez gotten himself into?
Just when Chelsea was morphing into something vaguely likable, its trio of young, technical ball wizards allowing you to momentarily move beyond all the toxic distractions -- the racial abuse, the idiotic tweets and the lurid controversies over handshakes, armbands and sleeping with the mother of a teammate's child -- Roman Abramovich has made it easy for everyone to hate the Blues once again.

As an Arsenal fan, I thank you, comrade. As a fan of entertaining soccer, all I can say is oy.

It's not simply that the $12.1 billion-worth (that .1 can be important when you're throwing a New Year's party for 400 of your closest friends) Russian oligarch sent an honest, hard-working and Champions League-winning club icon, Roberto Di Matteo, to the same managerial gulag where he'd previously frog-marched eight other Chelsea bosses in the past eight years, but that he replaced the provider of European glory in May with Rafa Benitez in November.

The Spaniard holds the distinction of being perhaps the only man in world soccer more loathed by the Chelsea faithful than either Anders Frisk or Tom Henning Ovrebo. What mouth breathing Blues fan doesn't remember how the Liverpool manager patronized the team's supporters during a Champions League visit to Stamford Bridge in 2005?

"We don't need to give away flags for our fans to wave, our supporters are always there with their hearts, and that is all we need," said the man fondly known around Stamford Bridge as Rafa Beneathus. "It's the passion of the fans that helps to win matches, not flags."

On Sunday, Benitez won nothing but contempt from his new congregation even though he is simply the latest hood ornament on the Chelsea clown car. Truth be told, Chelsea supporters feel enormous antipathy toward their insanely wealthy despot but are afraid to express their fury at him for fear he'll pick up his checkbook and go home.

"I hope Abramovich's happy now," said Thomas O'Regan at New York's Football Factory, where a couple of hundred vocal Blues gathered to watch Chelsea's dreary 0-0 draw with Man City and vent their ire at the latest regime change. "He's sacked a club legend, replaced him with a manager who insulted us and shown us how little our feelings mean to him."

Hang on, Thomas. Think of the all the joy in the shape of 10 trophies (one more than Manchester United!) that Abramovich has given Chelsea fans during his Reign of Managerial Mayhem. End, means, justify, etc.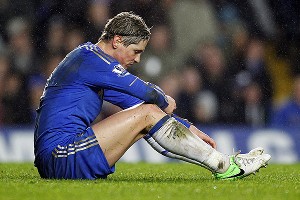 Ian Kington/AFP/Getty ImagesThe "Torres Whisperer" element may have been key in the hiring of Rafa Benitez. Yet on Sunday, the same struggles prevailed.

"I guess from Abramovich's point of view, he's entitled to do what he wants," conceded O'Regan, who hails from County Cork and was on holiday with his brother Declan. "I'm just glad that my 12-year-old son Aaron didn't have to witness today's spectacle."

Now, I've sat with the blessed in the North End of the Emirates and even howled -- along with other exasperated Arsenal fans -- "You don't know what you're doing" at Saint Arsene when the stubborn Frenchman hauled off our most dangerous attacker, Alex Oxlade-Chamberlain, for Andrei "I run when I want" Arshavin with the Gunners trailing Man United 2-1.

But never had I heard or seen such a venomous response to a manager who hadn't as yet even blown a single substitution as the cacophony of boos and jeers that rained down on Benitez when he first emerged from the tunnel. It's certainly understandable that Chelsea fans would declare their gratitude to their former manager by singing "Only One Roberto Di Matteo" but more than a little perverse to hold up placards to the TV cameras that screamed "Fire Rafa Now" and "In Benitez, We Don't Trust."

And those were the subtler ones. Benitez himself claimed to be oblivious to the hate-fest around him, saying he couldn't make out what the fans were chanting but even though he's been away from the English game for the past 29 months, it's hard to believe that he failed to grasp the connotation of "Expletive off, Benitez. You're not wanted here."

If Steve "Useless" Kean felt that Blackburn supporters at Ewood Park were merciless, had he been at the Bridge on Sunday he'd have thought he was enjoying a love-in. Even Roy Hodgson didn't experience this kind of open mutiny at Anfield until Liverpool was in the relegation zone.

Last time I checked, Chelsea was sitting fourth in the Prem and still -- albeit tenuously -- in the Champions League. Whether Abramovich heard the outpouring of love toward Benitez, you couldn't tell from the rictus expression on his face, a look that registered all of the emotion of Leonard Nimoy in his prime. Not even the restoration of Fernan-do-not-score Torres to the starting lineup coaxed a hint of a smile from the Russian.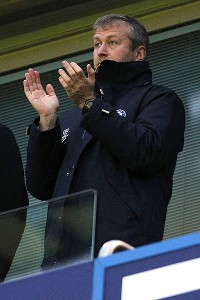 Ian Kington/AFP/Getty ImagesNine managers in nine years for Chelsea -- more than the Blues have had in the 75 years prior -- has many wondering what Roman Abramovich is looking for in a gaffer.

Which was odd given that he has an Andriy Shevchenko level of financial and emotional investment in the $80 million striker, so much so that Di Matteo was the third Chelsea manager sacrificed on the altar of the hapless Spaniard. (It's no longer enough to bring in players to serve Torres; apparently he needs his own pet manager, too.)

If nothing else, Benitez has a proven track record for bringing out the best in the former Liverpool player, as evidenced by the 56 goals in 79 games he scored while playing for him at Anfield.

Never mind that Torres hasn't bothered the EPL scoreboard operators since October 6 or that he cuts a sullen, though hunky, figure as the focal point of Chelsea's attack. The bespectacled Didier Drogba sitting in the stands -- and reportedly trying to get back to the Bridge in January after a mercenary few months in China -- caused Vincent Kompany more consternation than Chelsea's No. 9 did against Man City. "El Nino" might as well have been Spanish for "end of move" on Sunday. Time and again, the slick interplay of Eden Hazard, Oscar and Juan Mata broke down as the ball was funneled in for Torres, who would then tumble randomly to the turf.

Fortunately for Chelsea, Man City, coming off their Champions League humiliation, was just as toothless up front with Edin Dzeko enjoying a rare start and making a particularly convincing case for why Roberto Mancini is more comfortable deploying him as an impact sub.

The result was a 0-0 draw as bleak as a Dickens novel and even more coma-inducing than the other two scoreless draws (Aston Villa-Arsenal and Swansea-Liverpool) that preceded it over the weekend. In fact, the only element that drove with any conviction on the Bridge field was the increasingly torrential rain, a downpour of such severity that it almost washed the anger and dismay off 43,000 faces of people who had finally grown accustomed to a Chelsea team playing with artistry and adventure under Di Matteo. For years, Abramovich has preached the gospel of an aesthetically-pleasing style at Chelsea to complement the haul of trophies, yet in Benitez he hired a manager whose idea of soccer poetry is a continuous run of stultifying 1-0 wins.

If you didn't know the game on Sunday was at Stamford Bridge, you'd be forgiven for thinking that Chelsea was the away team, so risk-averse was their play. Meanwhile, the other former Blues assistant, Steve Clarke, was leading everyone's favorite overachievers, West Brom, to another impressive victory as the Baggies hammered in four goals in their away win against Sunderland, an effort that will likely take Benitez's boys until 2013 to match.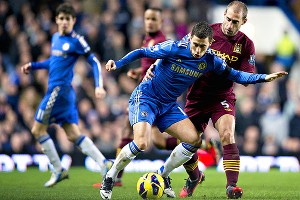 Adrian Dennis/AFP/Getty ImagesChelsea's stodgy play vs. Man City -- Eden Hazard in particular struggled to shine -- could just be a blip. It could also be a sign of Rafa's pragmatism creeping in.

Does anyone else think that Clarke might be having a giggle at the hot mess Chelsea finds itself in? Despite all his years of service as both a player and coach at the club, Clarke was never considered managerial material at Stamford Bridge. On second thought, he is probably grateful to have avoided Roman's abattoir.

Di Matteo, who became a cult hero at Chelsea when he scored a goal in the first 47 seconds of the Blues' 1997 FA Cup triumph, was not as fortunate. But he can't say he didn't see the ritual slaughter coming as early as last May in Munich. Standing on the top of the stairs at Allianz Arena and waiting to collect his Holy Grail at last, Abramovich gave Di Matteo perhaps the most underwhelming congratulatory hug in Champions League history. The perfunctory embrace signaled that while Abramovich appreciated the caretaker job that Di Matteo did in taking over for Andre Villas-Boas, he didn't feel that "Robbie" had the requisite glam quotient for the position (he was no Avram Grant!). Yet Abramovich needed someone to warm the ejection seat in the dugout until Pep Guardiola came to his senses, abandoned his New York sabbatical and sold his soul to the Russian devil.

At least that was the master plan.

But then came the annual Chelsea winter string of disappointing results culminating in the 3-0 embarrassment to Juventus in the Champions League and, suddenly, Roman couldn't wait to shove the mild-mannered Italian into the sausage grinder. Benitez, two years out of a job and sporting a glittering résumé, was only too happy to risk scalding his ample derriere on the hot seat for the right price.

But take heart, Chelsea fans. It could have been worse. After all, Harry Redknapp was available.