The Prem's sweet pain returns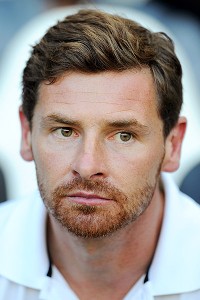 Three soccer fans are walking down the street on a beautiful summer afternoon.

The first one says, "I'm depressed. This was supposed to be the dawn of a new era at the Lane."

The second one responds, "You're unhappy? How about losing two of your best players within 24 hours?"

The third one simply utters, "You want misery? I support Liverpool."

Oh the sweet, exquisite pain that can mean only one thing: The Prem is back.

Saner minds will probably note that there are 37 games and nine months of emotional yo-yoing to look forward to, but for now, it's all about first impressions on a day that shall forever be known as The Day That Swansea and Fulham Topped The Prem and Liverpool Was Lucky To Be In 18th Place. That cackling sound you hear in the background is King Kenny Dalglish taking a break from the golf course to laugh his royal ass off.

If this were a prom rather than the Prem, Liverpool did the equivalent of throwing up on its date's shoes with the club's worst opening-day defeat in 73 years, a 3-0 humiliation by mighty West Brom at the Hawthorns. Brendan Rodgers will need to super-size the Febreze if he is to eliminate the stench from the Reds' away kits.



Young, ambitious and tiki-taka obsessed, Rodgers was hired to not only reinvigorate Liverpool after Dalglish's tumultuous reign but to also reinvent the way the Reds play. If he could bring his brand of quick, smooth interplay to the great unwashed at Swansea, surely he could do even better at one of Europe's most storied clubs.

Of course, imposing a new style takes time and patience, and if Rodgers wants to get a close look at exactly how much rope John Henry & Co. are likely to give him, all he has to do is call fellow debutant Andre Villas Boas.

Unable to adjust to the culture of celebrity players at Stamford Bridge after a dynamic career in Portugal, AVB was unceremoniously cashiered by Roman Abramovich midway through last season's campaign. In a move that would be the envy of Lazarus, Tottenham honcho Daniel Levy plucked AVB from the maw of Iberian obscurity and flung him straight into the Luka Modric-fueled wood-chipper.

Once again, the Croatian sensation was left out of Spurs' lineup on opening day, but unlike last year it wasn't because "his head wasn't in the right place." That location turns out to be a 9 billion-thread count pillow made from the finest Egyptian cotton in a four-star Madrid hotel where he awaits the completion of a medical that will cement his $47 million transfer to Real and rescue him from Spurs' predestined sixth-place purgatory.

Lacking Modric's creativity in midfield and the attendant funds for some attacking firepower to complement his one semi-legitimate striker, Jermain Defoe, AVB saw his new "project" begin on a late losing note. Not even a radical change of wardrobe -- ditching the black-trenchcoat, skinny-tie look for a polo shirt and track suit bottoms -- could keep Spurs from a 2-1 defeat at Newcastle.

Meanwhile, Arsene Wenger, sartorially resplendent as always, spent the day perched somewhat uncomfortably on his $61 million cushion courtesy of the twinned sales of Judas van Persie and Alex "Gone for a" Song. It is somehow fitting that the Cameroonian would follow the Dutchman out the door marked "Good Business," because without RvP's prodigious goal-scoring, Song must have realized that he had no striker who could make him look better than he actually is.

So off he goes to Barca to occupy the Alexander Hleb Memorial Bench-Warming Seat. While Arsenal will miss his physical presence, the Nou Camp is welcome to his cheap fouls, cheaper giveaways and his increasingly ridiculous hair styles. Besides, if Santi Cazorla continues his excellent Cesc Fabregas impression in the middle of the park, the Gunners will no longer be as dependent on Song's deft lobs over the top of the defense and RvP's cold-eyed finishes as they were last season. Until then, just remember that Arsenal scored as many goals as Liverpool did Saturday.

And that brings us full circle. The only people who would have predicted the Reds would lose their lunch at the Hawthorns are probably either the ones who called Fulham and Swansea winning by a combined ten goals to none or the seers who had newborn Southampton leading defending champion Man City 2-1 in the 68th minute.

After all the confident talk from Rodgers about how, with just a few sabermetric tweaks to the system, Liverpool could reclaim the glory that has eluded them since Istanbul, the only thing that lasted for less time than the Reds' reincarnation was Joe Cole's hamstring. And while Joe Allen did precisely what he was brought in to do, completing a Xavi-worthy 97 percent of his passes, it had all the relevance of an Obama rally in Texas, especially after Liverpool's defensive anchor (and future Man City player) Daniel Agger was sent off with 32 minutes remaining.

Granted, on the basis of Saturday's display, West Brom's Shane Long looks to be a leading contender for the Ashley Young flopping crown, but the Irishman was guilty of conning the referee on only his second tumble in the box. For Rodgers to claim that Phil Dowd cost him a successful debut is risible in the extreme. Liverpool managers have always had an imaginative way of explaining away the Reds' underperforming -- "a kit deal is as good as a trophy" was my favorite Dalglish excuse -- but Rodgers is still new to the Anfield game.

It's admirable that he has already taken to defending his two most important players --the prima donna, Luis Suarez, and the anointed one, Steven Gerrard -- but it would be nice if they rewarded his faith in them.

The Uruguayan striker, who was gifted a whopping pay increase when Rodgers arrived, squandered a half-dozen excellent chances -- the Reds had 16 shots, only two of which were on goal -- and had his requisite meltdown over a call that went against him, picking up a yellow card for verbally abusing an assistant referee. But at least you knew Suarez was in the game, which was more than you could say about Stevie G, who played with all the intensity of a meaningless preseason friendly against Malaysia XI.

By the time Romelu Lukaku, on loan from Chelsea, came on as a late substitute and added the final insult with a powerful header in the 77th minute, away supporters were beginning to walk alone -- to the parking lot. Isn't it about time -- with only 12 days left in the transfer window -- that Rodgers put an end to the Clint Dempsey charade and sang "here's my number, call me maybe" to Martin Jol?

Next week, the schedule makers haven't made it any easier for Liverpool with Manchester City rolling into town, albeit probably without injured hit man Kun Aguero. If it goes badly at Anfield, then everybody's going to be needing to wipe down their shoes.