An Arsenal adieu for Adebayor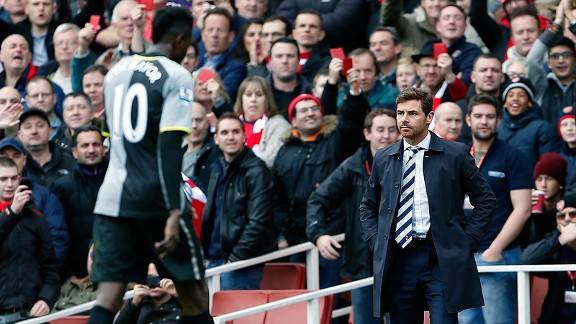 Cal Sport Media via AP ImagesAnother day, another iconoclastic act by Emmanuel Adebayor. Though he plays for Tottenham these days, he was still able to help the Gunners.
LONDON -- "Hey Ade," I shouted to Emmanuel Adebayor, calling him by the name favored by his old friends and older enemies. "You stink, mate."

It was 20 minutes before the start of the North London derby at the Emirates and I was 10 yards away from the Arsenal reject, watching him warm up on the touchline with the rest of the Spurs sacrificial lambs. While I truly only wish him the worst now, the truth is that even in the three and a half seasons he played for Arsenal, scoring some big goals for the Gunners, I never particularly liked the lanky striker. I thought he was married to a delusionally high opinion of his abilities. So unlike recent defections, I was not unhappy to see the back of him when in 2009, he took Man City's oil-soaked money and ran (slowly, of course) into the mercenary arms of Sheikh Mansour.

But it wasn't until Arsenal visited Eastlands just two months later that he earned the place of honor on my ever-expanding "Gunners Who Are Dead To Me" list. It's one of those images seared into my Gooner brain -- Adebayor maniacally running the length of the pitch to execute a who's-laughing-now celebratory slide in front of the Arsenal fans who, I felt, acted with their usual decree of decorum and self-restraint. I remember seeing a seat come hurtling out of the stands and narrowly missing the Togolese striker.

Shortly thereafter, Ade was firmly rooted to a seat that did suit him -- the subs bench at the Etihad -- until he began the peripatetic journey of the hopelessly overrated. First he ambled out of Manchester to Real Madrid, where he played slightly more than Kaka. Then he washed up like a piece of flotsam at Spurs, and even with the lily-livered Lilywhites, he's barely been able to get a game owing to Andre Villas-Boas' preference for Jermain Defoe as his first-choice striker. But Villas-Boas, who is to motivation what Hostess Ding-Dongs are to the culinary arts, decided to give Adebayor the start against Arsenal, figuring that the former Gunner would channel his inner avenger and Spurs would feed off his extra adrenaline.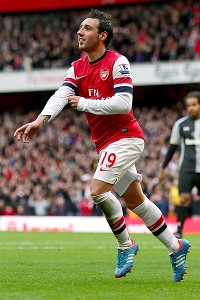 Clive Rose/Getty ImagesOnce upon a time, Andre Villas-Boas wanted Santi Cazorla as part of his own plans. On Saturday he was helpless to stop the Spaniard from ripping the Spurs defense apart.

What AVB didn't count on was my access to his mentally fragile striker during the pregame festivities, not to mention the copious amounts of liquid refreshments I consumed on my way from Arsenal tube station to the Emirates.

How often in life do you get the chance to wind up people you revile knowing that a heroic effort has a chance to tip the balance in your side's favor?

So when Adebayor ignored my initial verbal salvo I wasn't about to go gently into that good night -- at least until a steward threatened to evict me from my front-row seat at midfield (it's good to be the king) for using multisyllabic expressions that may have made references to unsavory personal practices.

My opportunity came when Adebayor made his usual errant pass and the ball rolled all the way to the advertising boards. As he loped over to retrieve it, I fired my unmanned drone.

"Hey, Ade," I bellowed, "How's your career worked out since you left us, you w---er?"

Adebayor looked at me with a mixture of contempt and pity and put a finger to his lips, just as he would less than 10 minutes into the game when he scored the opening goal, a cheap tap-in of a Defoe shot that Arsenal keeper Wojciech Szczesny parried into his path.

By that time I was hardly the only one baying for the striker's blood; the entire stadium booed his every touch, especially after Adebayor climbed over the hoardings behind the net to celebrate in his usual understated manner in front of the Arsenal fans.

Imagine my delight when only seven minutes later he gave his former employers an early Christmas present. With the kind of stupid and reckless challenge on Santi Cazorla we've come to expect of him, Adebayor lost his understanding of place, physics and the history of Howard Webb. Even better, he lost it all right in front of me by the midfield touchline for no apparent reason other than the sting of an ego-bruising remark hurled by a certain mustachioed American Arsenal supporter.

Amazingly, the Spaniard survived the assault but Adebayor didn't as Webb walked away from the writhing Arsenal midfielder, silently weighed the scales of justice, remembered that he had sent the striker off twice before in his career and then brandished a straight red that turned the game on its head.

You could argue that the way Ade's side had bossed the first 15 minutes -- not only leading 1-0 but making Arsenal look ponderous -- that had Adebayor stayed on the pitch for 90 minutes Spurs could have further deepened the Wengeresque gloom that has pervaded the Emirates in the wake of Arsenal's worst start to a season since 1982-83. But once Adebayor trudged off, Tottenham's hopes of avoiding humiliation went with him.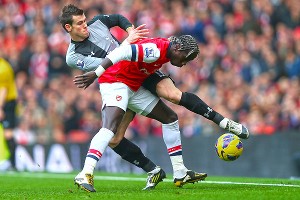 Clive Rose/Getty ImagesGareth Bale was a lone star for Tottenham, but what could have been were it not for Adebayor's moment of madness?

Once again, it was a goal from the unlikeliest of sources that ignited the turnaround. Just as Bacary Sagna did in last season's astonishing derby comeback (anyone remember the score of that one?) when he scored a thumping header in the 40th minute that screamed "Enough of this crap," the towering defender Per Mertesacker rose above another Arsenal washout, William Gallas, to power in Theo Walcott's cross and level the score at 1-1 just seven minutes after Ade had said adieu.

The Emirates was now bouncing with chants of "We've got a big freakin' German" and the rout was on. There are few teams more fun to watch 11 versus 10 than Arsenal because the Gunners take ruthless advantage of that extra man, flooding the midfield and attacking with the pace and panache of yore.

At the hub of it all is Cazorla, the little Spanish trickster whom AVB tried desperately to sign and now watched in horror as he carved open the Spurs defense with impudent ease. On second thought, maybe AVB was too busy rifling through his Tactical Dossier For All Swankily Attired Technophile Managers Who Don't Have A Clue to notice what was happening in front of him, because he told the press afterward (with a straight face), "I think we were in control from the first minute to the last."

In reality, of course, the Gunners were in such complete command toward the end of the first half that an uncharacteristically serene Arsene Wenger never left his seat except to stand and shake his fist as the goals rattled in. First, Arsenal's other B.F.G., Lukas Podolski (who has faded in recent games), turned Gallas in the box and scuffed a shot off him that bobbled past Spurs keeper Hugo Lloris.

The Frenchman has been bitterly disappointed in his lack of playing time behind ageless -- and hairless -- wonder Brad Friedel, but he has to be equally dismayed by how hapless the Spurs defense was Saturday. They were torn apart just before intermission when Cazorla Messi'ed to the endline, riding two tackles before pulling back a low cross for Oliveir Giroud to score his fifth goal in six games. Wait, wasn't this the same Giroud who couldn't find the net with a GPS only a month ago?

Even though AVB believed his Spurs were "in control" at 3-1 down, he still felt it necessary to inject some more attacking firepower in the second half in the shape of Clint Dempsey. Despite the revolting color of his shirt, I stood and applauded when my favorite U.S. player came on. The guy next to me, who had kept up a steady stream of Spurs invective throughout, glared at me as I sat down.

"Are you an American?" he grunted.

When I nodded, he smiled. "Then you're forgiven."

After Walcott and Podolski had worked a quicksilver exchange to open up space in the box for Cazorla to score the fourth, Spurs clawed a goal back thanks to a fine individual effort from Gareth Bale. The Welshman had been the visitors' only real threat all game, and on this occasion he bamboozled both Mertesacker and Laurent Koscielny to make it 4-2 with 19 minutes remaining.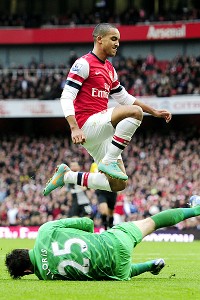 Glyn Kirk/AFP/Getty ImagesHugo Lloris has been waiting all season to assume the Tottenham goalkeeper job but Saturday's 5-2 drubbing will only serve to reignite his battle with Brad Friedel.

Normally this might have triggered a wave of we're-about-to-throw-away-another-lead queasiness, and truth be told, I felt my stomach spinning like a washing machine. But I hadn't crossed the Atlantic to witness this season-defining derby end in anything but three points, and I certainly hadn't risked The Wrath of Adepaymore to go home without a smug grin of vindication -- not to mention a wicked hangover.

Thanks to the newly mustachioed Walcott (or was that a caterpillar on his upper lip?), I didn't have to worry. The mercurial winger couldn't have picked a better time to make a convincing case as to why Arsenal should dig under the sofa cushions for enough loose change to satisfy his contract demands. Playing in his favored central position, he combined with Alex Oxlade-Chamberlain to put the game out of reach in the 90th minute and send Spurs to their third consecutive league defeat.

The Arsenal players milked the applause at the final whistle and the fans lingered in the afterglow, wondering whether another famous Tottenham victory would galvanize the Gunners for the rest of the season or whether they had raised their game simply because they were playing Spurs.

Frankly, I was too giddy to care. It had been an emotionally exhausting but ultimately exhilarating match, and there was only one thing left to do. And the Emirates obliged with a thunderous chant that summed up a surreal afternoon.

"What's the score, Ade-bay-or?"