A high holy day: how my Arsenal love affair began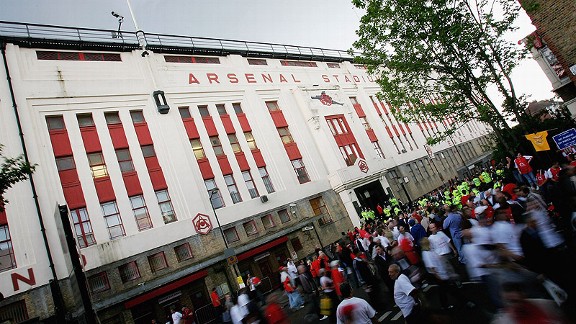 Daniel Berehulak/Getty ImagesThough the iconic Highbury was closed in 2006, Arsenal's spiritual home for 93 years made hardcore fans out of many.
Over the past two years, readers of "Kicking and Screaming" columnist David Hirshey may have noticed a slight bias in his posts. Call it a pathological need to reference Arsenal no matter what team he's writing about. In an essay that first appeared in the new soccer magazine Howler, Hirshey finally explains the origin of his 40-year sickness. On the eve of the North London derby, we reprint it here in the hope that Hirshey's love affair with Arsenal will resonate with supporters of all clubs. Except, of course, fans of Tottenham.

Ever since I was old enough to juggle my pacifier with both feet (a good six days, family legend has it), my soccer destiny led to the hallowed gates of Highbury.

My dad preached two elemental truths of Goonerdom. First, that Arsenal embodied all that was good and noble about sport. Second, that across London lurked an abyss crawling with the spawn of Lucifer. Others called them Spurs fans.

- Video: Press Pass on the match
- What makes an Arsenal or Spurs fan?
- Lineup to beat Arsenal
- Apocalypse or a season saved for Arsenal?

The men with the iconic cannon on their shirts were only my Dad's third love. While growing up in Chemnitz, an industrial town in what later became East Germany, he was drawn to FC Schalke. Then, when sent to boarding school in Geneva, he adopted FC Servette (and later played as a Swiss U-17 international). He became an Arsenal fan in the mid-1940s when he was posted to London after being wounded at the Battle of the Bulge.

By then, my father's days of competitive soccer were over. His right foot had nearly been blown off by a Nazi landmine and the shrapnel so deeply embedded that he considered himself lucky the doctors had decided not to amputate. Laid up in London, he jumped (on one foot) at an Army buddy's suggestion that they catch an Arsenal game during the 1946 season.

The Gunners had dominated English soccer during the thirties, and my father had followed the heroics of Ted Drake and Cliff Bastin on grainy newsreels while at his Swiss school. Highbury had taken a pounding during the Blitz; the roof of the North Bank had been reduced to smoldering rubble and the famous Clock End had fared only slightly better. Five years later my father could still see the wartime scars as he first stepped into the Laundry End, where he sang, swore, and drank along with 45,000 other Gooners -- a "joyful, communal atmosphere of red," he would later tell me.

Never mind that Arsenal got thrashed by Wolves 6-1.

---

I was born a tad outside the Highbury zip code in New York City, where my father emigrated after the war. But even in my earliest imagination, the famous football cathedral loomed, floodlit and imperious in the London mist. My father owned a chandelier factory in Spain, and traveled there several times a year, stopping in London on his way home. Hearing, as a boy, of the Arsenal matches he attended, I was filled with an almost patricidal jealousy, a feeling he'd always quell with the same line: "Someday, you and I will go to Highbury."

Someday took 20 years.

Throughout the sixties as soccer became more tribal, the "communal joy" my father had experienced at Highbury began to dissipate (as did his marriages; he was on his third). The decade also saw the ascendancy of Satan's spawn, Tottenham. Spurs won the Double in 1961 (and, I'm happy to report, have won little besides my undying contempt since).

On his one trip to Highbury during those sinister days, my father narrowly managed to avoid being hit in the head by a coin -- its edges serrated like a knife -- thrown by a Liverpool supporter. He later described the scene at the ground as a "war zone" that, hyperbole notwithstanding, he knew a little something about.

The mood -- both in my life and at Highbury -- brightened in the late sixties and early seventies. I escaped to boarding school, proudly sporting my Charlie George jersey in honor of Arsenal's first rock star who scored the winning goal against Liverpool in the 1971 FA Cup Final. With his flowing mane and cocksure snarl, George brought a Jagger-like swagger to the team. My father once told me about a game against Newcastle when George put his hands around the throat of the Magpies captain Bobby Moncur, who had been hacking away at his ankles. "Don't keep f***ing p***ing me off," he shouted at Moncur, "or I'll nut you." Moncur, no wallflower himself, all but rolled over like an obedient puppy. Near the end of the game, George executed an audacious one-two off Moncur's legs as if they were a backboard before blasting the rebound into the net for the winning goal.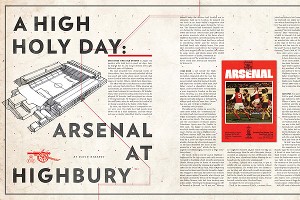 Howler MagazineSpreads from David Hirshey's feature in Howler.

In college, I played on a team that, to put it mildly, did not conform to my father's refined soccer aesthetic. He would drive five hours to see me play and afterwards would always quote Brian Clough: "If God had wanted us to play football in the clouds, he would have put grass in the sky." I didn't mention that in those years, Arsenal favored a similar style. Hoof and hope.

Not that I'd ever seen it in person.

Then, in the summer of 1979, a seismic event jolted my father to his Gooner core. "Liam Brady," my dad said one night, in the muted tones one uses when describing the death of a family member, "has put in a transfer request."

This was the same Liam Brady whom he had anointed "the first footballing genius in Arsenal's history" after witnessing an outrageous piece of skill in Arsenal's 5-0 evisceration of Spurs at White Hart Lane in 1978. How many times had we watched the video of Brady winning the ball at the edge of the box and lashing it viciously with his left foot into the upper right corner of the goal? "Look at that!" the announcer kept exclaiming, "Just LOOK AT THAT!!!"

Now, after seven years and no league titles (sound familiar?), the Irishman had finally been driven to seek a bigger stage. One of his most ardent suitors was the Italian giant Juventus, and when the teams were drawn against each other in a two-leg semifinal of the Cup Winners Cup, my dad knew the time had come for our Highbury hegira. After all, what kind of father would fail to take his son to see his favorite player? Tickets were purchased; flights were booked; Highbury beckoned. It was 1980 -- time for the bar mitzvah'd boy to enjoy his Arsenal baptism.

---

Juventus was a powerhouse. With Dino Zoff in goal, Claudio Gentile and Antonio Cabrini in defense, Gaetano Scirea, Franco Causio and Marco Tardelli in midfield plus the golden boy of Italian soccer, Roberto Bettega, up front, this Juve team contained the core of the Italy side that would go on to win the 1982 World Cup. At the club level, they were a terrifying blend of aggression and skill.

Two hours before kickoff, we alighted at Finsbury Park tube station and made our way to the Auld Triangle, the famous Arsenal pub -- another rite of passage.

My father had arranged for tickets in the North Bank, where the real fans stood shoulder to shoulder (seats were for the soft, the weak, the Spurs fans) and swayed back and forth for 90 minutes.

At first I was disappointed. I had grown up believing that the iconic Clock End, or the magnificent Art Deco East and West Stands, were the most suitable places of worship. A friend of mine had even said that the North Bank reeked of cigarette smoke and stale urine, since the bathrooms were close to the stands. He was right on both counts, but I came to cherish the memory of that acrid smell years later when the Gunners moved to their soulless Emirates spaceship and replaced the wafting of ammonia with the antiseptic stench of corporate leather.

To be a true Arsenal fan is to be a North Banker. If three quarters of Highbury would occasionally regress into a librarian-like state of fugue, you'd never know it from listening to our untidy, sweaty corner of the Gunner universe.

Still, the rush of adrenaline I felt climbing the stairs to the North Bank was accompanied by a queasiness in my stomach that owed at least as much to anxiety as to the soggy meat pie I had consumed on our way to the stadium. How could the reality live up to almost three decades of expectations? What if it turned out I had been worshipping a false idol all of these years?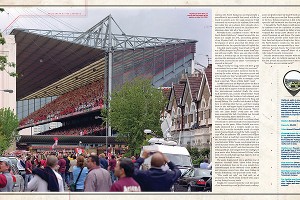 Howler MagazineMore spreads from David Hirshey's essay in Howler magazine.

We walked into a cauldron of noise. "We're the North Bank High-bu-ry" banged around the stadium as I caught my first, astonishing glimpse of my Elysian Field: the brightest, most beautiful expanse of green grass that the divine ever permitted to see the sporadic light of English day.

It looked much smaller than it had on TV and was clearly designed to prevent teams from playing with any width. There was one other visible shocker: a wooden sign on the way up the stairs sporting the alarming words No Alcohol Beyond This Point. I turned to my father. "Good thing we stopped at the pub."

"Not to worry," he said. "They sell beer at the concessions, but you can't bring it to your seat."

It is among my proudest moments that by distracting the usher with my American accent and a five pound note that "accidentally" dropped out of my coat pocket, I was able to smuggle a pint back to my Dad. "Oh ye of little faith," I said.

I could barely hear his response above the din of nearly 60,000 full-throated congregants.

Arsenal was chock full of players from the Emerald Isle -- Eire internationals included Brady, the center back David O'Leary and the lethal finisher Frank Stapleton, while the Northern Irish claimed goalkeeper Pat Jennings and defenders Pat Rice and Sammy Nelson. The London Irish flocked to Highbury to celebrate their heroes, and their singing drew in the stiff-upper-lipped Englishmen until the whole stand heaved while chanting "There's only one Liam Brady" every time the Irishman possessed the ball. Everything ran through Brady -- including Marco Tardelli's studs.

The Italian midfielder tried everything short of homicide to prevent Brady from imposing his mastery on the game. When Tardelli was eventually dismissed for a reckless tackle on Graham Rix, it was the inevitable result of a night spent chasing Brady around the field, unable to cope with his adhesive ball control and elegant swerves. Later, a road flare came hurtling out of the Juventus supporters' section and struck Arsenal defender Willie Young, enveloping him in a cloud of purple smoke. My North Bank responded with the kind of pre-PC anti-Juve invective that today would get you banned from the stadium. It grew worse after Bettega tattooed O'Leary's shin with a two-footed challenge that ripped a hole in the Arsenal defender's sock.

The game degenerated into a glorious war of attrition. Arsenal's Brian Talbot felled Bettega with a retaliatory foul -- in his own penalty box. Cabrini banged in the rebound of his spot-kick and Juventus moved into that most Italian of motifs, defending a one-goal lead on the road.

"This could get ugly," my Dad said, as all around us the North Bank seethed with anger, jeering Bettega's every touch.

Finally, five minutes from the end, the object of our unremitting scorn got his karmic comeuppance as Brady surged up the left flank and delivered a seeing-eye cross that Young nodded down in the box. Bettega swiped at it, but in his haste spun the ball backwards into his own goal. 1-1.

I thought the North Bank would spontaneously combust from the explosion of primal noise and emotion. As I hugged my father, a large bloke wrapped his meaty paws around us both and started jumping up and down. The game ended in a 1-1 draw, and the police made sure that the Juve fans had departed long before they allowed the North Bank to empty out. The party moved onto the streets, accompanied by a river of beer, delirious Arsenal chants, the sweaty embrace of strangers and the rampant abuse of anybody who looked remotely Continental.

But the moment that remains with me today, two years after my father's passing, is him with his arm around me and his voice in my ear:

"So, when are we coming back?"