The Magician of Manchester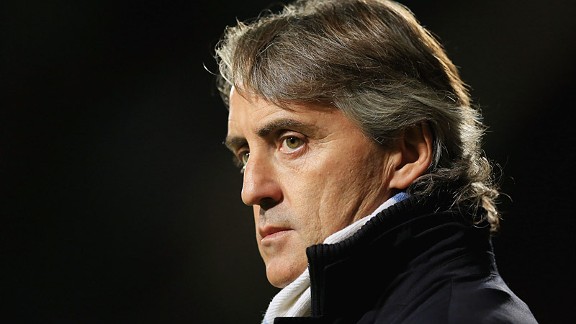 Richard Heathcote/Getty ImagesRoberto Mancini escaped from his latest peril this weekend, but if City doesn't win another Prem title will Sheikh Mansour make him disappear?
You would think between coping with a Biblical storm in New York, the fear of a power outage and wondering whether my seafood dinner would float through my second-floor window, I'd have enough things to worry about. But, no, I still fret over the health of others living in stressful situations.

Take Roberto Mancini, for instance.

The Prem's most dapper manager has been looking increasingly wild-eyed and disheveled lately, his trademark blue-and-white scarf showing hints of fraying that must mirror the damage to his nerves.

First, Man City has once again stumbled to the brink of elimination in the Champions League, and if you want to see how well that bodes, check out that fiery novella, "Roman Abramovich: The Early Years." Next, the Sky Blues still find themselves trailing their vengeful neighbors in the EPL table as Manchester United continues to play the anything-City-does-we-can-do-better game. Edin Dzeko may have come off the City bench to score an 88th-minute winner against Spurs, who had led into the second half, but Javier Hernandez came off the United bench to score a brace to wipe out a 2-0 Aston Villa advantage and give United a 3-2 victory.

So strong are the powers of resilience and recovery that both teams possess you can easily imagine the Prem race coming down to a death struggle on the final day of the season, although Chelsea will no doubt have something to say about that. The question is: Will Mancini, who only a few months ago signed a new five-year contract, be around to witness the denouement?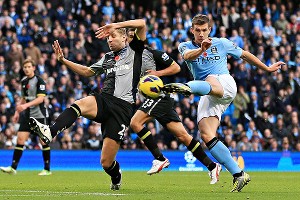 Richard Heathcote/Getty ImagesEdin "Don't-call-me-a-super-sub" Dzeko saved City again this past weekend.
This week, it surfaced in the British press that the Italian spent the summer playing footsie with AS Monaco, just in case he needs a soft place to land should owner Sheikh Mansour edge out Abramovich in the 100-yard Managerial Defenestration Dash. The winner gets to take home the ultimate prize: a balding munchkin in the shape of Pep Guardiola. And it can't help Mancini's sense of job security that City recently hired Barcelona's former sporting director, Txiki (Taka) Begiristain, as their director of soccer.

All this stress clearly contributed to the pair of spittle-flecked tantrums Mancini threw last week at the end of City's 2-2 draw with Ajax, a result that left his team firmly rooted to the bottom of its CL group. For his opening act, he stalked onto the field after the final whistle to deliver a Sir Alex-worthy tirade at the referee whom he felt had wrongly disallowed Sergio Aguero's potential winning goal in the 88th minute. Then, he went full human volcano on an unsuspecting TV cameraman whom he deemed had gotten uncomfortably close to his Armani coat.

Fortunately, the enormous advances in modern medicine can help control these eruptions, and Sunday's chosen tonic showed up in a grey-and-white package from the EPL pharmacy. Take three points from Spurs and call me in the morning.

Oh, the medicine had some early unpleasant side effects after Spurs went ahead at the Etihad in the 21st minute. But practiced professionals know what they're doing and their prescriptive approach -- insert one Edin Dzeko into the game at the 73rd-minute mark -- worked such wonders that the City manager ended his afternoon in robust health after a nervy, 2-1 victory that couldn't have come at a better time for the defending champions.

Results both in Europe and domestically in the past few weeks had darkened the mood in the City camp, threatening the already fragile equilibrium that Mancini has fostered in the world's most expensive soccer ecosystem. Of late, both his tactics and player selections have been openly questioned. Just this week, on the heels of his post-Ajax lava spew, came yet more distractions involving that unlikeliest of protagonists, Mario Balotelli. The club had to issue a press release denying that the 22-year-old had requested a two-week "paternity leave" in December when his girlfriend gives birth to their first child. That was followed by two other odd developments. In a mystery worthy of Agatha Christie, it was announced that Super Mario had been short-listed for the Ballon d'Or along with Lionel Messi, Cristiano Ronaldo and other soccer luminaries. Then came an unrequited proclamation from AC Milan's chief executive, Adriano Galliani, declaring his "profound love for Mario Balotelli," una questione amorosa that he hopes to consummate in the January transfer window. Even by Balotelli's own lofty tabloid-headline standards, this was a busy week.

You could hardly blame Mancini if, unlike Galliani, the bloom is off the rose regarding his prodigal striker, who has yet to score this season despite an impressive cameo against Ajax. Or maybe Mancini simply felt that Mad Mario could use a day off to brush up on his diaper training. Whatever the reason, there was no place on the City bench for him even though seldom-used 20-year-old midfielder Abdul Razak managed to find a seat. Abdul Razak?

One person who would rather not be stuck on the pine is Dzeko, who has made no secret of his disdain for the sobriquet "super sub" which he has earned by scoring six goals as a non-starter this season. Personally, I'm not quite sure what's so bad about being the best 12th man in the EPL. You get to sit around a lot, make a tidy $180,000 a week to do so, before stripping off the warm-ups to run around for 20 minutes and walk away with all the glory. It's a bit like being an exotic dancer on a busy Saturday.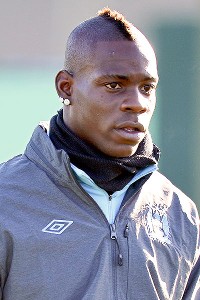 Paul Ellis/AFP/Getty ImagesDoes Super Mario have a future at Man City? At the rate he's been going, the answer will be no.
But Dzeko doesn't see it through my rose-colored glasses. He feels like he should be starting, a message he sends to Mancini with each vital goal. On Sunday, after Sergio Aguero's opportunistic strike midway through the second half had cancelled out an early Steve Caulker header, Dzeko crushed the late winner on a gorgeous left-footed, spin-and-hooked volley into the top shelf of Tottenham's goal. The Bosnian game-saver (do you like that better than "super sub," Edin?) ensured that City would extend its remarkable unbeaten streak at home to a Mourinho-like nearly two years.

Much of the credit for City's latest escape act -- this was the fifth time they've come from behind this season -- goes to Mancini, who seems to have rediscovered his equanimity after a combustible week. Not only did he call Dzeko's number at precisely the right time, but his bold second-half tactical moves turned the game in City's favor.

Despite the grumbling within the dressing room about Mancini's experimenting with different formations that the players aren't comfortable with, he trusted his instincts and brought on the wing back Maicon in order to implement his switch to a 3-5-2 system. Given that two years ago while playing for Inter the Brazilian had been famously roasted by Spurs' Gareth Bale, with whom he was again matched up, it was a risky gambit on Mancini's part. But the result was that City overran Tottenham in midfield and scored two goals in the process.

Afterward, Mancini spoke of how "I saw the same team spirit today as I did last year."

Uh-oh. Will somebody please pass me the blood pressure medication?