The Arsenal chant at Old Trafford said it all: "Ivan Gazidis, what do you [expletive] do?" The 3,000 Gooner once-faithful who had traveled to Old Trafford were barely in their seats when Judas van Pricey (my man crush formerly known as Robin van Persie) reminded them that their season had been sacrificed on the altar of a "good piece of business."

No response was forthcoming from Arsenal's chief executive, but none was really necessary, because the steaming pile the Gunners left on the immaculate pitch spoke volumes. And Arsenal fans were hardly alone in posing existential questions on a weekend that saw several of the Prem's top teams sink to the occasion. Here are 22 unanswerable inquiries to ponder:

1. If Luis Suarez wasn't the embodiment of all that is odious about the modern game, would we be talking about him in the same sentence as Lionel Messi? For all his sublime goals this season, has the Otherworldly One scored a golazo that blended skill, control, and composure more brilliantly than Suarez did against Newcastle with his impersonation of Dennis Bergkamp's masterpiece in the 1998 World Cup?

2. Who won the "No, I am RvP's biggest fan" contest Saturday?" Andre Santos, who kept his shirt nice and dry for 45 minutes by mimicking a garden gnome on the left flank so he could present his pristine jersey to his former teammate at halftime? Or Thomas Vermaelen, who inherited the captain's armband from his best mate when van Persie took the money and ran to Old Trafford, and returned the favor by gifting him a goal within three minutes?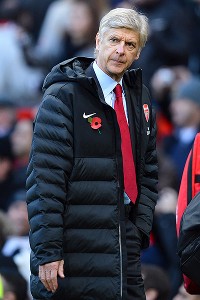 Andrew Yates/AFP/Getty ImagesWas Ivan Gazidis hiding somewhere inside Arsene Wenger's coat? Curious minds want to know.
3. As awful as I feel about Arsenal's start this season, why did my heart soar while watching Wigan versus Spurs? Could it have anything to do with the fact that Spurs lost 1-0, at home, and their fans booed them off the field?

4. Would it be churlish of me to mention that I warned Clint Dempsey he would come to regret moving to the dark side of North London?

5. What is the more unusual sighting: Sir Alex agreeing with a decision that goes against him, or a long-range shot from Steven Gerrard that's on target?

6. Why does Alan Pardew seem like the most undeservedly smug person in the EPL? Just because the Newcastle manager made a few canny transfer deals for some under-the-radar Senegalese and French players, does that make him the Billy Beane of English soccer?

7. Does the thought of Raheem Sterling playing for Jamaica keep Jurgen Klinsmann awake at night? Or will it turn out to be a moot point if the 17-year-old winger burns himself out by the new year, given the pressure on him to create and score goals for a team that can't afford to rest him because their attacking options are so carpaccio-thin?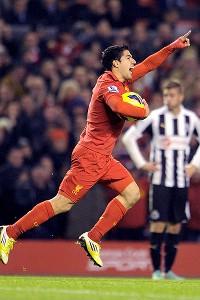 Andrew Powell/Liverpool FC/Getty ImagesIs Luis Suarez the evil twin of Lionel Messi?
8. How ironic is it that Suarez's goal came right out of the long-ball playbook that Liverpool manager Brendan "tiki-taka" Rodgers has worked so hard to expunge at Anfield?

9. Does Arsene Wenger wear that ludicrously big, puffy down coat because it has enough room to hide Ivan Gazidis inside it when the Arsenal fans are baying for blood?

10. Why do referees so consistently favor the big-market teams over their less glamorous opponents? For instance, if a perfectly legitimate goal by West Ham's Kevin Nolan against Man City is ruled offside at home, how can we mock Sam Allardyce for whining about it afterward?

11. Shouldn't the great Nuri Sahin be joining Liverpool any day now?

12. Is it fair to say that Stoke City showed more heart at Old Trafford than Arsenal did? Would any beastly Potter have allowed Jonny Freakin' Evans to execute a Cruyff turn in his own penalty area before playing the ball out of the back and still be able to walk off the pitch on his own volition?

13. How does a 5-foot-8 Frenchman (Patrice Evra) out-jump a 6-foot-6 German (Per Mertesacker) to head in Wayne Rooney's cross for the second United goal? And does this represent the first time something French conquered something German?

14. How did more than $200 million worth of strikers fail to score against the West Ham defense, which, let's face it, doesn't exactly bring to mind the fabled catenaccio rearguard of Franco Baresi and Paolo Maldini?

15. What's that condition called when you find yourself genuinely missing Harry Redknapp? Tottenhamnesia?

16. When Roberto Mancini takes Mario Balotelli off the pitch in the 69th minute and later says of his countryman, "A player like Balotelli, when he had a chance like today, he should score," is he auditioning to become the Italian Tony Robbins?

17. Why is that when we turn back the clocks every year, Chelsea also fall back into their pre-Hazard/Mata/Oscar tedium?

18. If John Terry had been allowed to play in Sunday's monsoon at Swansea, would that have been the first time in months he felt clean?

19. Has anybody scored in the Sunderland/Aston Villa match yet? And if somebody does manage the trick but nobody's watching, does it still count?

20. Who has regressed more since the start of the season? Lukas Podolski, Gervinho or Honey Boo Boo?

21. Do Arsenal fans look more kindly upon RvP because of his I-didn't-celebrate-the-goal-out-of-respect-for-everyone-at-the-club act, or do they still hope he suffers a season-ending injury in his next game?

22. Why are there so many Arsenal references in this column? Is it because Saturday's lifeless performance was often more painful to watch than last season's 8-2 capitulation, or because Hurricane Sandy impacted keg delivery to my local pub?