There was no better place to be in New York on Super Sunday than inside the roiling cauldron of the Football Factory nestled in the shadow of the Empire State Building. For one thing, the pub is below ground and has that Montana feeling of an end-of-days high-tech bunker. If all the hysteria over Frankenstorm was to be believed, where would you rather be -- at home curled into a ball beneath your desk remembering that your can opener is unfortunately electric, or standing in a bar with a dozen TV monitors and a forest of beer taps? Hundreds of rival supporters opted for the latter scenario, choosing to ignore the impending gloom with a drinking game that saw them ordering a pint every time a player ended up face down on the pitch, which by my unscientific count occurred every 37 seconds.

Yes, I was pleased with my survivalist instincts.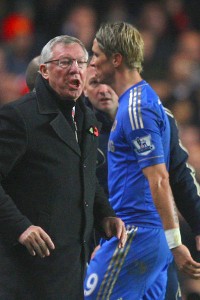 John Peters/Man Utd/Getty ImagesDon't come back now, ya hear: Fernando Torres' sending off turned the tide for Fergie's side.
From the moment Luis Suarez executed a Klinsmann-esque belly flop in front of the Everton bench following Liverpool's first goal all the way through to the 75th minute of United's tainted 3-2 victory over Chelsea when Javier Hernandez scored the winner from an offside position, no one at the Football Factory paid the slightest bit of attention to the fact that, while EPL officials were showing why video replay is inevitable, New York's civic leaders were effectively shutting down the city in the face of what they deemed a coming apocalypse.

"Hey Jack, you think a lot of people were scared away because of the storm?" shouted a well-lubricated Chelsea fan with a sense of irony at bartender Jack Keane amid a sea of blue jerseys.

"What storm is that, mate?" replied Jack, "the storm in Chicharito's boots?"

You should understand that Jack's exceptionally witty for a United fan.

It was a day when tribal emotions were frayed even more than usual, thanks to some uncharacteristically provocative comments ahead of the Merseyside derby from the normally vanilla Everton manager David Moyes.

In the 10 years he has been performing miracles at Goodison Park, Moyes has managed to stay below the radar of tabloid headlines by saying very little that could be construed as interesting, let alone controversial. So it was something of a shock to see him stick his head above the parapet this past week and take aim at the most recent scourge of the Premier League -- those despicable diving cheats.

"They will turn supporters away from the game," Moyes proclaimed Friday," if they think players are conning their way to results."

Though Moyes didn't name names, it is highly unlikely that he had his captain Phil Neville in mind. Yet it was the veteran defender who saw yellow in the second half and looked so embarrassed you'd have thought he had soiled more than his reputation. It's not like Neville hasn't seen his share of yellow -- and red -- cards during his combative 17-year career, but his specialties are verbal abuse and overly zealous tackles, not shameful pratfalls caused by changing air currents. Far from driving us away from the game, though, Neville's dive only drew gales of laughter at the Football Factory.

Of course, Moyes' jibe was directed toward the gravity-challenged Suarez. But you couldn't expect the Uruguayan to take Moyes' comment, um, lying down. And you also couldn't expect Moyes to find Suarez's subsequent celebration to be anything but childish and petty. The fact that the dour Scot took a few menacing steps toward the prone and grinning Suarez is further proof that among his many managerial gifts -- motivational tactics, fiscal prudence, defensive organization -- a sense of humor isn't one of them.

You could argue that Suarez's 1-0 swan dive was karmic retribution for Moyes, but the Everton manager enjoyed the last laugh, as a perfectly legitimate Suarez goal at the death was wrongly ruled offside, denying Liverpool a dramatic victory and a much-needed two additional points.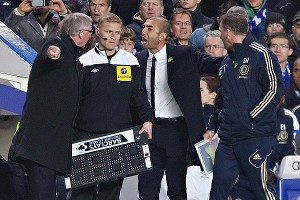 Matthew Peters/Getty ImagesRoberto Di Matteo and Ferguson debate the finer points of the game.
But then poor adjudication doesn't seem to amuse many managers these days. Take Roberto Di Matteo, for instance. The normally unflappable Italian flapped wildly when Chelsea's Fernando Torres was dismissed with 21 minutes left in Sunday's fractious battle with Manchester United at the Bridge. Torres was already on a yellow for a DeJongian high kick on Tom Cleverley at the end of the first half when he went sprawling about 20 yards from goal after Jonny Evans appeared to clip him from behind. Clattenburg went to his pocket as Evans, not for the first time in the game, looked on in horror. The United defender had earlier hacked a clearance against his own post and now it seemed that he had given away a free kick in a dangerous position. It was only when Clattenburg brandished a second yellow card at Torres that the blood returned to the defender's face.

"She fell over" the United supporters chanted gleefully at the Football Factory, while the Chelsea fans rented the air with howls of outrage not seen since Jack burned the breakfast quiche. When Sir Alex joined the debate and got up in Di Matteo's grill, I thought it was all about to kick off at the bar, but the Blues mob was content to simply shout "F--- off, Fergie"

Since Clattenburg had already dismissed Branislav Ivanovic for scything down Ashley Young from behind as the United winger ran clear on goal, Torres' ejection meant Chelsea would have to fight on -- 9 versus 12. When the camera panned to an impressively impassive Roman Abramovich in the stands, I wondered if he was making a mental note to himself to start buying referees along with world-class midfielders. After all, it was largely through their supremely gifted, skillful and high-priced holy trinity of Juan Mata, Eden Hazard and Oscar that the Blues were able to overcome an early 2-0 deficit to draw level with 37 minutes to play, only for Clattenburg to derail their heroic comeback with one dim-witted call.

And the worst was yet to come.

With 15 minutes remaining, United pressed their numerical advantage as Robin van Persie, who had already scored one and caused an own goal by David Luiz, cracked a fierce shot that Petr Cech tipped onto the post and then frantically scrambled off the line. But the ball went only 6 yards to an onrushing Rafael, who lashed a hard shot vaguely goalward that was turned in by Chicharito. The only problem was that the Mexican was a half-yard offside when Rafael unleashed his shot. Chelsea had been Clattenburged-squared, and it didn't sit well with their fans, who expressed their disgust by throwing missiles from the stands, obviously intended for the referee but missing their mark and instead apparently injuring a steward.

There is no truth to the rumor that Torres had been teaching them how to aim.

So to a resounding chorus of boos, both at the Bridge and the Football Factory, United embezzled three points from Fort Stamford for the first time in a decade. While Ferguson's men can point to their fair share of Bridge grievances over the years -- most memorably Didier Drogba scoring a title decider while 2 yards offside -- Sunday's jackpot of one own goal, one offsides goal and two red cards certainly let the Red Devils enjoy the rub of the green.

Or, as Chelsea fans saw it, the rob of the green.