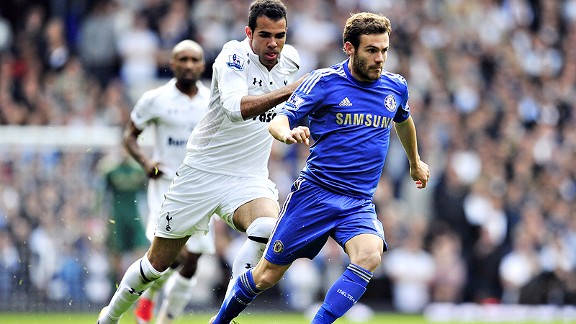 Glyn Kirk/AFP/Getty ImagesWith his two superb goals and an assist in Chelsea's 4-2 win over Spurs, Juan Mata makes a case that he's the league's top player so far this season.
Others might find it a bit premature to start handing out seasonal awards two months into the campaign, but as my luxurious manstache attests, I've always set the trends far in advance of less hairy mortals. It certainly looks increasingly likely that Chelsea will be taking home a fair share of this year's baubles, including an obvious two that the Blues have already locked up: The Player Who Has Brought the Most Shame to the Game and The Player Who Has Sent The Stupidest Tweets Defending Said Player.

Unfortunately after Saturday's 4-2 vivisection of Spurs, Chelsea may also cop a third honor: the Best Player in the Premier League. Last season, it was Manchester City's David Silva who made all of the other professionals look like village yokels with club feet, but as one Spaniard has returned to earth another Juan has soared. Mata, that is. See … "Juan" in Spanish kinda sounds like "one." It's a multilingual homonym. Never mind, OK? Arsenal losing to Norwich has broken me.

Mata's sublime play almost makes me feel sorry for being so hard on Chelsea over the years. Almost. I now have moments when I question whether I should have felt revulsion for the crimes against human decency committed by their ruthless owner, Roman Abramovich, or their noxious "captain, legend, leader" John Terry, or craven Terry apologist Ashley Cole, or diving cheat Didier Drogba, or self-righteous bully Michael Ballack, or preening egomaniac Jose Mourinho …

No doubt some of this vitriol comes from being an Arsenal fan reduced to watching the Blues take all the prizes that I always imagined the Gunners' stylish play deserved. But I have evolved. No more Chelseafreude from me toward our west London rivals. It takes a big man to admit he was wrong, but fortunately I'm only 5-foot-11 on my best Tom-Cruise-in-Platform-Shoes day. Yet I will attest to feeling a growing sense of wonder every weekend as the jaw-dropping exploits of Mata, Eden Hazard and Oscar threaten my time-tested Chelsea bile. I want to believe that since they're all relatively new acquisitions, it's slightly more acceptable not to loathe them like the aforementioned Chelsea players. I'm sure that, given time, I'll come up with delightful new ways to hate Mata, Hazard and Oscar. But until then, I'm content to nurture a mild antipathy for their choice in jersey mixed with an unhealthy dose of knee-crippling jealousy.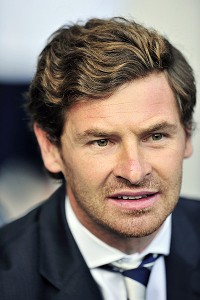 Glyn Kirk/AFP/Getty ImagesFor a while, AVB tasted sweet revenge ... before Mata turned the game on its head.
My grudging admiration for the Blues is rooted in their heroic Champions League run last season, a campaign that included their magnificent 10-man, John Terry-shorn, Alamo-like stand against Barcelona. As much as I value the aesthetic nature of soccer, you'd have to be completely callous and heartless not to appreciate the steely resolve Chelsea displayed in eliminating Barca's twinkle-toed brigade.

At the time it seemed like a repudiation of the build-from-the back, possession-driven philosophy that Andre Villas-Boas had tried to instill in the side, before he ran afoul of the Terry-Cole-Drogba-Frank Lampard cabal that made it known to Abramovich it had no tolerance for the manager's tactics, to say nothing of his well-manicured stubble and perma-wave hair. Better to have someone in charge like Roberto Di Matteo, who shaved both his face and head and understood that Chelsea's strength resided in organization, power and the influence of the dressing room coven.

And yet it is precisely the opposite approach -- a free-flowing, inter-weaving, slick-passing attack -- that the Blues have adopted this season to bedevil the rest of the league. They have been able to do so, thanks to the gusher of cash Abramovich spent to bag the Belgian Hazard and the Brazilian Oscar, players who are as nimble and dangerous in their own way as Mata.

Although he won the club's Player of the Year last season after AVB brought him over from Valencia for a mere $40 million, it wasn't until this September when Chelsea fans finally got to glimpse the full array of Mata's multifaceted talents. First, Di Matteo tweaked last year's formation from 4-3-3 to 4-2-3-1 with Mata nominally in the center, but equipped with a hall pass to wander anywhere in the midfield he desired. Then, after a summer spent playing for Spain in the Euros and Olympics, Mata was given two weeks' hiatus during the international break that allowed him to regain his energy. The respite has ignited the most productive spell in the 24-year-old's career -- six goals and six assists in five games -- propelling Chelsea to the Prem summit four points ahead of the two Manchesters. No wonder that when asked what he had said to AVB in their postmatch embrace on Saturday, Di Matteo told the English press that he had thanked him for Mata.Or, as Daniel Sturridge calls him based on the literal English translation of his name, "Johnny Kills."

Never was Mata in a more lethal mood than in Saturday's London derby at Three Point Lane -- where Chelsea hadn't won in the league since 2005 -- and where they were facing a team now led by a certain sartorially resplendent and blow-dried 35-year-old Portuguese. How life-affirming it would have been for AVB to defeat the club that had defenestrated him for not properly genuflecting to Terry and his insufferable crew. And for 65 minutes, he could all but taste the sweet nectar of revenge as Spurs turned a 1-0 deficit into a thrilling 2-1 lead. Then Johnny Kills struck.

While Mata bears no ill will toward AVB, with whom he bears a striking resemblance separated by only 11 years and a few scruffy chin hairs, you wouldn't have known it given the venomous way he turned AVB's elation to despair in the space of three devastating minutes. First, Oscar drove into a gap along Spurs' right flank and crossed low and hard into the center. Spurs defender and Arsenal reject William Gallas attempted to cut out the pass but shanked his clearance straight to Mata at the top of the box. One touch, a lash of his left foot and the ball was nestling comfortably in the right corner of the net.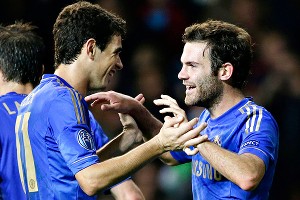 Daniel Sannum Lauten/AFP/Getty ImagesMata and Oscar have helped fuel Chelsea's re-invention from a stodgy defensive unit to one that thrives of brilliant creativity.
AVB had barely stopped wringing his hands in frustration when in the 70th minute Hazard, who hadn't been his dynamic self up to that point, conjured the pass of the weekend, slide-ruling the ball through Spurs' rear guard for an onrushing Mata to finish superbly. Wait, there's more.

Mata had tormented Spurs fullback Kyle Walker all game, at one point causing the Tottenham player to smack the ball at him in a fit of pique. But that was nothing compared to the crawl-into-a-hole embarrassment Walker suffered in stoppage time when Mata pickpocketed the ball from him on the left touchline with nothing but open field ahead of him. The Spaniard raced into the area and calmly squared the ball to Sturridge for an easy tap-in that put the game out of reach and sentenced Walker to death by Twitter.

So abusive were Spurs fans toward the hapless defender that he was forced to close his account. Stay classy, you North London rabble.

AVB was not exactly carried aloft down Seven Sisters Road either, but he endured the taunts of the Chelsea supporters with stoic grace. And let's face it, it couldn't have been easy for him to see his old club play in a style that he had tried and failed to implement. Worse, it was Mata, his marquee signing, who inflicted the heaviest damage.

Watching him shake the hands of his old Chelsea players, an odd sensation burbled up inside me and at first I thought it was my stomach reacting to my breakfast of Stella and extra crispy bacon. But the feeling lingered for a while and then I recognized it for what it was -- a sudden and sharp flicker of sympathy for a Spurs manager.

I've arranged for an exorcism this week.