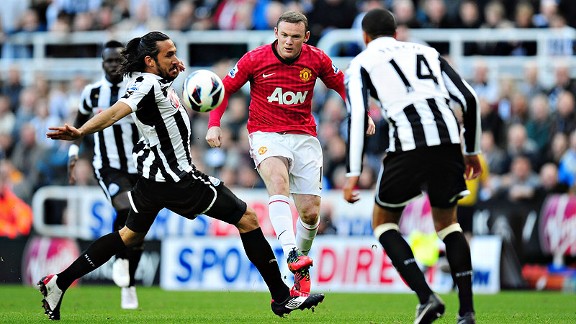 Stu Forster/Getty ImagesWayne Rooney & Co. put in their best 90-minute performance of the season when they took apart Newcastle.
Of all the myriad explanations for Barack Obama's sleepy debate performance in Denver, why has no one mentioned the West Ham connection? Obama is a fan of the East London club, a relationship memorialized in song:

Barack the West Ham fan
He hates the Tottenham
He loves Upton Park
Not the war in Iraq
He's Barack the West Ham fan

I bring this up not just because Arsenal laid a 3-1 eponymous hammering on their crosstown rivals at the Boleyn Ground and I'm constitutionally incapable of writing a column without at least one gratuitous Arsenal reference, but also because I believe Obama would be better served aligning himself with a more dynamic team than one managed by a man named Sam masquerading as a walrus.

And for once I don't mean Arsenal. The POTUS needs a bigger brand than even the Gunners, one that stands for domestic and continental dominance (OK, it's been a couple of years, but I rarely quibble) and is lorded over by a certain Scot.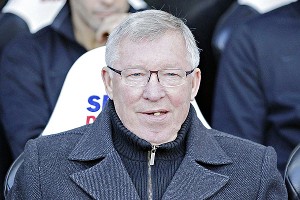 Graham Stuart/AFP/Getty ImagesSir Alex Ferguson had reason to be happy against Newcastle, especially when he saw Howard Webb on the starting sheet to referee the match.
Imagine if last Wednesday, Obama had shown even a soupcon of the combative fury Sir Alex evinced on Sunday in United's 3-0 send-a-message thumping of Newcastle at the Let's-Give-Alan-Pardew-An-Eight-Year-Contract Arena. Coming on the back of consecutive ragged displays against Spurs and Cluj, this is the type of resounding smackdown United was looking for, and one that Obama desperately needs to deliver the next time he goes podium-to-podium with Mitt "Boom Boom" Romney. Maybe Fergie will lend him his hairdryer for the occasion.

Clearly, whatever niceties the manager imparted to his players before taking on the Geordies at their home fortress made an impression.

While Manchester City and Chelsea waltzed by overmatched Sunderland and Championship-side-in-waiting Norwich, respectively, with gaudy demonstrations of clinical attacking soccer featuring five goals from star players, United carved the Magpies apart with a troika of goals from people who may not score another three this season -- defenders Jonny Evans and Patrice Evra and central midfielder Tom Cleverley.

And if it's something of miracle for that triumvirate to trouble the scoreboard operator, then David de Gea's clean sheet is akin to turning Gatorade into wine. The United goalkeeper has developed a split personality since coming to Old Trafford: acrobatic shot-stopper one week, hapless flapper the next. Yet even though he embodied the latter persona Sunday, not a single ball crossed his line. Entirely. He managed to claw away Papiss Cisse's soft header before the last .000000001 of the ball snuck over and forced Howard Webb to anger his mate Sir Alex by declaring it a goal.

Webb was recalled to Ferguson's starting lineup along with Wayne Rooney and Cleverley after Spurs tore through United's geriatric midfield last weekend at Old Trafford. So outmuscled and out-hustled by Tottenham were the venerable but tottering duo of Paul Scholes and Ryan Giggs that both remained tethered to their oxygen tanks on the sidelines until late in Sunday's match. With Rooney fit and hungry again, Ferguson began with his Holy Attacking Trinity of Wazza, Shinji Kagawa and He Who Shall Remain Nameless.

Sir Alex also found a place for Cleverley, who through no fault of his own has been hyped beyond his considerable abilities, and he kept faith with a back four that were (how to put this delicately?) utter crap the past two games. The result was that United looked like United for 90 minutes for the first time this season.

What a seismic difference from last weekend, when the Reds were embarrassed at home by a club that hadn't won at Old Trafford since David Beckham was a teenager. No amount of Ferguson's vintage port could dull the pain of watching Andre Villas-Boas thrust his fist in the air, screaming with defiant glee at the final whistle before, later in the week, reverting to his spineless corporate-toady self and sucker-punching his goalkeeper Brad "He's My No. 1" Friedel by benching the 41-year-old American. How much more satisfying it must have been for Sir Alex to wipe the smug look off the face of the mind-bogglingly over-rewarded Pardew, who barely brushed Ferguson's hand en route to hurrying down the tunnel at the end of Sunday's debacle.

There is a lot to admire about Newcastle when they are in the mood -- Demba Ba, Cisse, Hatem Ben Arfa and Cabaye are frequently a joy to behold -- but their defense has never been confused with the Iron Curtain. And against United, they were missing three key starters -- Tim Krul, Steven Taylor and Fabricio Coloccini -- which made the back four more porous than their owner Mike Ashley in a beer-soaked tizzy.

If Newcastle's rear guard had any discernible tactical plan, it seemed to be "Close your eyes and pray that Danny Welbeck misses two open goals within the first 12 minutes."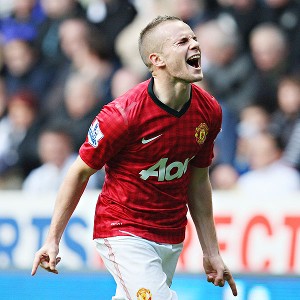 John Peters/Getty ImagesDid Tom Cleverley mean to hit that goal? Did Tom Cleverley care?
Welbeck duly obliged by refusing to accept either of the gift-wrapped sitters, while generally looking like he was unable to finish a sandwich. But who needs strikers when you have a couple of maligned defenders such as Evans and Evra, out to prove they still belong in United's lineup? Both scored within the first 15 minutes off corner kicks, rising above nonexistent markers, to head past reserve Newcastle keeper Steve Harper.

In Evra's case, it was only his fourth goal for United in his six-year tenure and quieted critics -- for a week, anyway -- who feel the Frenchman is long past his sell-by date. While Arsenal fans can still painfully recall Newcastle's history of memorable comebacks, except for the 49th-minute goalmouth controversy that will no doubt give rise to knee-jerk calls for goal-line technology, there was little danger of the Toon Army enjoying another epic revival.

It was left to Cleverley to underline United's dominance -- and plain old luck -- when in the 70th minute he found himself 25 yards out in the right corner of the box and thought "Why the hell not?" With a lash of his foot, he uncorked a screamer beyond Harper's despairing dive into the top far corner, and did his best to look like he meant it.

On the United bench, Ferguson punched the air, secure in the knowledge that his men had bounced back in devastating style from last week's funk to once again resemble the United of old.

Chelsea, Man City and Barack Obama would do well to take note.