Sampdoria are Juve's first opponent of the season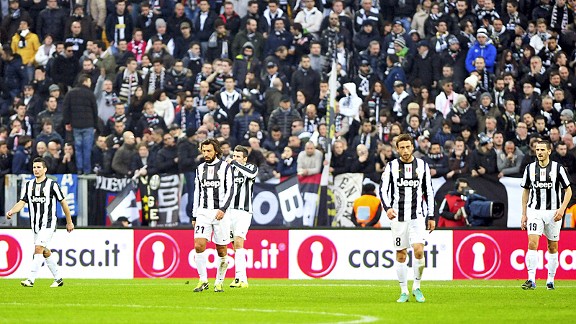 GettyImagesJuventus face a worrying trip to Sampdoria to open their Serie A campaign.
Played under the pouring rain, it was clear Juventus had played a splendid game for the most part, creating 26 shots on goal - 12 of which were on target. Yet the goals didn't come, as they so often failed to do last season. Sampdoria, demonstrating great tactical intelligence, fell deep, defended solidly and attacked with precision to win 3-2 at home. The Old Lady, for the second time last season, lost to the capable Delio Rossi side due to her inability to convert her chances in front of goal.

• Rzouki:Pogba and Lichtsteiner: Conte-style players

When it was announced that Juventus would kick off the new season with a game away against Sampdoria, it is fair to say that a few were worried. The Bianconeri have not won a match in Samp's home since March 2006 - collecting only draws and defeats. It's vital that Juve kick-start their new campaign with a win to send a clear sign of intent and, with the Blucerchiati's fondness for slaying giants, it won't be easy - especially not with Rossi in charge of the opposition.

Training hard for the game, Sampdoria's squad have demonstrated a great attitude in training and are likely to line up in their usual 3-5-2 shape. Defensive solidity will be of the utmost importance as they will look to remain tight and compact and counter when and if they have the chance.

Up top, we are likely to see Eder and Manolo Gabbiadini, the latter being co-owned by Juventus. Combining physical strength with pace and close control, the forward line will have to be clinical should they get the chance to strike as it's likely Juventus will dominate proceedings.

Last season, the Blucerchiati were especially effective on the counter-attack and made the most of dead ball situations, scoring 14 goals from set pieces. Antonio Conte's men must remain tactically disciplined, aware that any loss in possession may result in a goal scoring opportunity for the home side. Meanwhile the Old Lady's habit of conceding free-kicks in dangerous areas must be curbed should they wish to prevail in the home of their opponents for the first time in seven years.

As usual, Juventus will rely on the 3-5-2, playing the same XI that defeated Lazio in the Supercoppa match, albeit with Paul Pogba starting instead of the injured Claudio Marchisio. With Fernando Llorente likely to start his second competitive match for the Bianconeri on the bench, Carlos Tevez and Mirko Vucinic are they probable starters up top, combining both technical expertise with creativity to busy the Blucerchiati back line.

It has always been historically difficult to predict the winner of a match between these two sides played at the Marassi. Out of the 64 games contested in their home ground, Sampdoria have won 21 whilst the Bianconeri have managed 23 wins - the rest have all been draws. With the Old Lady desperate to achieve a third Scudetto in a row, something that hasn't been achieved by any side since the early 30's, a win against her bête noire will give her the psychological boost needed going forward.

With this being the second game of the season, it's expected that 30,000 people will turn up to watch the game at the Marassi including 180 journalists, 50 accredited photographers, 150 technicians as well as representatives from clubs such as Borussia Dortmund, Everton, who are tracking Luca Marrone and Fulham.

This is Juve's time to demonstrate the strength they possess within their ranks and show just why they are favourites to win the Scudetto yet again.