Conte puts 3-3-4 to the test in preseason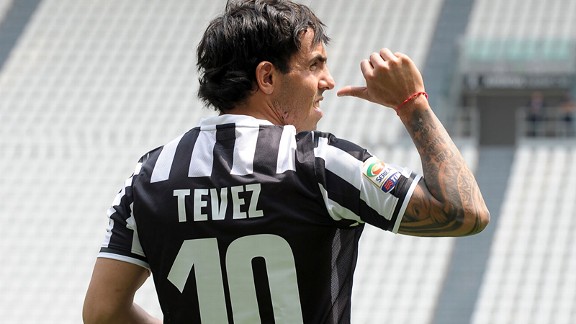 APCarlos Tevez: One of the new players Conte wants to utilise
As a serial tactical tinkerer, Juve boss Antonio Conte is eager to test new ideas and formations with his newly revamped squad now that the holidays are over. Adapting to the new players he's been given, the coach is keen to pursue a 3-3-4 formation that he hopes will not only improve the team's offensive output, but make the most of their relentless determination to keep running.

The idea of utilising a 3-3-4 formation hardly sounds modern - if anything it's vintage. The great Herbert Chapman established Arsenal as the dominant force in England and was the man who introduced the 3-3-4 formation to Gunners - the very formation Conte is now trying to test in practice. Arsenal not only won trophies, but also broke club records in terms of goals scored.

- Conte thrilled with Juve signings
- I'm here to work hard, says Tevez

The Tottenham Hotspur side that managed the double in 1961 did so utilising the 3-3-4 shape whilst Co Adriaanse's Porto team enjoyed success with a 3-4-3/3-3-4 formation, winning the Primeira Liga and Portuguese Cup in 2005/06.

We have seen the very best coaches toy with the 'aged' shape, such as at Barcelona, and we have seen evidence of success. Yet one cannot help but wonder whether it is a shape that provides enough balance and is modern enough to cope with current schedule demands.

Defensively, it offers little cover on the flanks. In last season's Champions League, it was Bayern Munich's beautiful strength on the wings that terrorised Juventus. With the Germans pulling wide, stretching the back-line and overlapping on the flanks, a usually sound defensive Juve side, crumbled under pressure. When Barcelona succeeded playing that formation, it was because they played against a narrow Milan side.

However, it's those very defeats against Bayern Munich that have helped to inspire Conte to change tactics. His team's inability to control the ball and actually mount an attack against the Germans has forced him to focus on finding a formation that will prove so effective in the attacking phase that opponents simply won't have the opportunity to mount threats of their own.

By playing four up top, Conte is hoping to overwhelm the traditional four man defences played in Europe. With each of his attackers applying pressure on their man, it is hoped Juventus will always be in the attacking phase of the game. When possession is lost, it can be won back, either by the forwards or the two midfielders Conte always relies on playing behind the forward line, Claudio Marchisio or Arturo Vidal.

With Juventus hoping to suffocate their opponents, it is thought the lack of defensive cover on the flanks won't provide too many problems.

On Tuesday in training, one saw the benefit of playing with a top-heavy shape. Playing Mirko Vucinic, Carlos Tevez and Fernando Llorente together towards the end of their practice match, the forwards not only combined well together, but also won back possession to create goal-scoring opportunities. It was Vucinic, positioned on the left, who stole the ball and delivered perfect passes to Tevez.

That attack not only thrilled onlookers but has pleased Conte, who is still testing out different tactics.

Whilst going forward, the formation offers alternatives; it is one that requires perfection to succeed. The four attackers must consistently apply pressure, they must understand one another and must think quickly and play with pace to overwhelm.

The midfield - the area under the most pressure - must play a dual role. The players are expected to be both energetic and tactically intelligent enough to not only make darting runs forward to create a 3-1-6 formation during the attacking phase of the game, but they must also be capable of tracking back quickly to provide defensive cover.

Meanwhile the defence must be alert, good in the air (considering the opposition may have to resort to long balls) and capable of rescuing situations all on their own considering the potential lack of back up.

At the moment, Conte has played Vucinic and Kwadwo Asamoah in the wide roles and tested different partnerships in the middle. However, what he really wants is to purchase one more player in this transfer market - a winger who can attack viciously, defend when needed and is versatile enough to play on either flank.

The two in contention are Juan Camilo Zuniga from Napoli or Manchester City's Aleksandar Kolarov. The latter is thought to have been taken off the market but it's the Colombian Juve really desire. Napoli are unwilling to part with the player who has proved so effective but the Old Lady hopes to tempt them by offering a player in return.

Should neither deal be concluded then it's thought the Bianconeri may turn their attention to Jonathan Biabiany.