Giaccherini - the pocket dynamite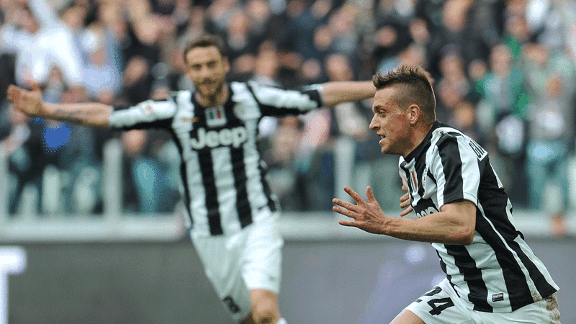 GettyImagesEmanuele Giaccherini has become something of a key figure at Juve
Versatile, feisty and determined, Emanuele Giaccherini may not be a starter for the Old Lady but he's become an integral part of Cesare Prandelli's Azzurri team. Remarkable performances from the player in the Confederations Cup coupled with his incredible humility have made the former Cesena man a target for several European clubs. Will he leave Juventus? Not if Antonio Conte has anything to do with it.

Asked about the midfielder, Conte has always been complimentary. "He is a guy currently using his best weapon of dynamism to full effect, but he is also showing himself to be technically and tactically smart," Conte explained to Il Corriere dello Sport. "This fills us with satisfaction, because sometimes it takes a foreign player and €30 million to make the same impact."

With rumours suggesting Sunderland are heavily pushing Juve into a sale, his agent came out to say that the move is unlikely to happen. Pointing to the fact that Conte considers him unsellable, Giaccherini is happy to be playing at Italy's top club considering he very nearly abandoned hopes of making it as a footballer only five years ago when it seemed he was fated to work as a labourer.

Consistently accused of 'breaking everything in his body' by his mother, Giaccherini was and continues to be the type of boy who never holds back when it comes to fulfilling his dreams. Simple tasks such as running back to defend are done with full conviction - whether a bone is broken in the process means nothing to the player, who feels he must do the job first and deal with the consequences later.

Renowned for his willingness to sacrifice his body, he runs at full speed, shoots with all his strength and exposes gaps in a manner that bewilders his coaches. Small in size and physique, his ability to recover rapidly and his mental fortitude have turned him into a winner on the pitch.

Whilst rarely starting for Conte's Juve, when he is asked to play, he never disappoints. The match against Genoa in the early part of the season proved painful viewing for both the coach and the fans. Squad rotation meant the Old Lady missed her key men whist the opponent visibly attacked Juve's vulnerabilities. It took a great Giaccherini performance to help his side get back into the game. His never say die attitude coupled with his key passes helped Juventus to push on, fight back and seal maximum points.

It may have been Paul Pogba who stole all the headlines in the match against Udinese in January with his sublime goals from distance, but it was Giaccherini who helped produce a cohesive Juve that allowed Pogba the room to attack. Running relentlessly, the midfielder not only charged at his opponents with pace and conviction to overcome them and open up spaces for his team-mates to exploit, but his defensive skills guarded a back-line that up until that point had been suffering in the league. Intercepting key passes as well as tackling players capable of hurting the Old Lady, Giaccherini's remarkable energy levels and willingness to do whatever was needed turned him into a black and white hero.

A leader on the pitch, the midfielder is never afraid of taking on as many tasks as necessary. Not one to shy away from his duties, he will give the match his all as well as inspiring those alongside him to do the same. Remember, this is a man who spent his life driving his Fiesta around to clubs before finally making it with the seahorses of Cesena - a Lega Pro side at the time.

Famed for his drive and competitive spirit, it is Giaccherini's tactical ability that makes him the unsung hero for Mister Conte. Especially evident in the match against Pescara last season, a side that defended staunchly against the Old Lady's attacks, Giaccherini's tactical discipline and intelligence helped Juve to finally pierce through whilst simultaneously remaining defensively sound.

His work off the ball is crucial, pressing to perfection, he is forever attempting to tackle and win back possession in advantageous positions to permit his side the opportunity to attack. Running in the box, he confuses opposing defenders in an attempt to drag them away and create space for his team-mates whilst his intelligence in adopting wide positions facilitated Juve's vertical game. That match perfectly showed off the many talents of a footballer who has only played top-flight football for three years.

Capable of playing in most positions in midfield and attack, Conte understands the true value of this determined player. The Old Lady hopes Giaccherini will continue repaying the faith she has in him.