Assessing Juve target Angelo Ogbonna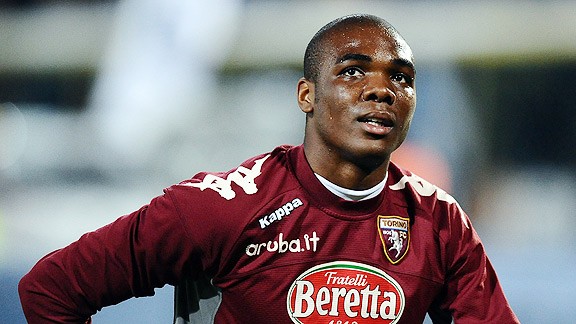 130623The next great Juventus defender could be arriving in the form of Angelo Ogbonna.
While a striker is always coveted, nothing gives an Italian fan a greater sense of security then the knowledge that their club is negotiating over a defender. While Juventus currently boast a backline that plays for both club and country, there is still a need to reinforce and who better than another Italian international -- Angelo Ogbonna.

Several Italian and European clubs have long admired the Torino centre-back, but up until this point, the Granata have refused to sell him. "He is a talent, if he were on the market, a club like Juventus would be obliged to take an interest," said Beppe Marotta last September.

However, Juventus now appear to be very close to closing a deal for the centre-back and according to recent reports in La Gazzetta dello Sport, negotiations could well be finalised by the end of the week.

The Old Lady is willing to offer 12m euros to be paid in two or three instalments for the player while Torino are holding out for 15m euros. It is said an agreement could be reached for 13m euros. Considering the amounts involved, it's time to assess the player.

Born to Nigerian parents who moved to Italy in 1983, the Ogbonna family thought football would be a great way to help their child integrate within the society. Tall, athletic but almost flat-footed, it took the player several years for him to refine his movements and learn to deal with his towering physique. Nevertheless, his raw talent was obvious. Here was a boy who had a special affinity with the ball and boasted the kind of athleticism his peers lacked.

Noticed at the age of 14 by former Roma player and current General Director of Torino, Antonio Comi, the Granata decided to invest in the youngster and paid 3000 euros for the honour. Possessing both the ability and strength to make a great defender, only silly mistakes robbed him of the opportunity to truly astound.

Possessing a wicked left foot, it was the defender's attitude that allowed him to develop steadily. This has much to do with the time he spent on loan to Crotone where he was forced to sacrifice the many luxuries offered in a top-flight club to compete and labour for a starting role. His time spent with the small team helped him mature and appreciate the position he held in football and returned to Torino both motivated and disciplined as he revealed in an interview.

The opportunity of being coached by the likes of Giampiero Ventura has helped the player to develop his tactical positioning as well as his movements on the ball. Relying more on his technique as opposed to his physical strength, Ogbonna has learned to slowly shed the flaws that hindered his play. Composed, fast and blessed with good vision, the defender continues to improve each year and has been likened to Juve's defensive stalwart Giorgio Chiellini. Although barring their powerful style of play, there are many differences between the two.

With Juventus desperately missing pace at the back and considering the impact Chiellini's absence had on the team during his injury, investing in Ogbonna, regardless of the heavy price tag, is a welcome idea.

The Bianconeri may concede the fewest goals in Italy; there is a distinct feeling that the defence is at times, rather vulnerable. Reliant on the relentless running of both Claudio Marchisio and Arturo Vidal who help out defensively, the back-line looks awkward at certain stages in a match when they are not being supported, as was seen in several Champions League matches.

Barring the excellent work of the starting three centre-backs, the alternatives do not offer the type of security necessary to calm the nerves. With Ogbonna available for Antonio Conte, both his attitude and experience should ensure a smooth transition. Considering the fact he also forms part of Cesare Prandelli's Azzurri team is an added bonus for a Juve side that yearns to promote Italy.

The only question many fans still want to know is: how quickly can he make the move to Juve?