Andrea Agnelli often struggles to define what is 'world-class' when it comes to scouting players. Are we basing it on fame? The amount of money spent? Genuine technique? Whatever the reasons, it seems Juventus directors are hard at work in identifying the 'world-class' talent needed upfront to accompany Fernando Llorente in attack.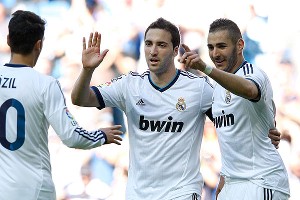 Victor Carretero/Real Madrid/Getty ImagesGonzalo Higuain, center, scored in his last game with Real Madrid on Saturday.
Gonzalo Higuain, with his very honest comments to the media, has emerged as the front-runner to lead the Juventus attack next season. Speaking of how "wonderful" it would be to partner Llorente in Turin, the Real Madrid striker has already admitted that he will certainly be leaving the Spanish club that has developed him into an asset.

-Higuain confirms Madrid exit

Despite being a fan favourite and a player who has consistently performed for club and country, he is not a striker who commands attention. Consistently overlooked when compared to the best forwards in the world, it's safe to say that he is not the man many Juve fans had in mind when they thought 'world-class'.

Why not? While a full scouting report will be published in the following days, it's imperative to point out the achievements of a forward who has managed to share the stage with some of the world's best talents, including Cristiano Ronaldo, and still manage a goal-scoring average greater than 0.8 in his last few seasons prior to the one just completed.

A man capable of dealing with pressure, of converting opportunities and of excelling in do or die moments, Pipita, as he is affectionately referred to by fans, has nearly always outdone almost every other striker in Europe's top five leagues when it comes to efficiency.

In 2011-12, Higuain had a 43.1 percent chance-conversion rate in La Liga -- the highest since 2003-04. In October 2011, Martin Laurence of WhoScored.com wrote: "Having only played 309 minutes of league action, Higuain scores on a more regular basis than any other forward in the top five leagues right now, striking every 39 minutes he has played so far."

Considering the above, one can understand why PSG president Nasser Al Khelaifi so heavily coveted the striker last year before Higuain chose to stay in Madrid.

Having only scored 16 league goals this season, many considered the Argentine to have disappointed for his club. However, considering he only made 19 starts in an injury-hampered season, the goals should be thought of as an achievement. Furthermore, Higuain managed five assists, as many as Xabi Alonso, to further highlight his ability in attack.

While he is considered a deadly finisher, he is also capable of contributing to his side's offensive game, delivering key assists for his teammates to finish.

While his ability cannot be denied, it's worth noting the player is Fabio Paratici's ideal forward. Motivated, determined and incredibly dedicated to his development, the player boasts passion and love for the game that has intrigued Juve's sporting director.

Loved by his teammates and considered an integral part of the dressing room, Higuain's comical ways and somewhat cheesy demeanour has allowed him to develop key relationships with his colleagues to allow for better chemistry on the pitch. After all, how can anyone not find it endearing when Argentina's centre-forward admits his favourite song is Miley Cyrus' "The Climb"?

Next Sunday, the Real Madrid legends will take on Juventus' at the Bernabeu in the Corazon classic match organised by the Real Madrid foundation. La Repubblica noted that this will be the time when the clubs will take the opportunity to discuss the Higuain deal as both sets of directors will be present, including Pavel Nedved and Zinedine Zidane.

Ideally, Juventus want to pay 22 million euros for the forward in installments whilst the Spanish giants are hoping for 30 million immediately. With everyone together and considering the player's wishes, perhaps an agreement will soon be reached to satisfy both parties.