Another loss to Sampdoria but is Carlos Tevez now the hot favourite to move to Turin?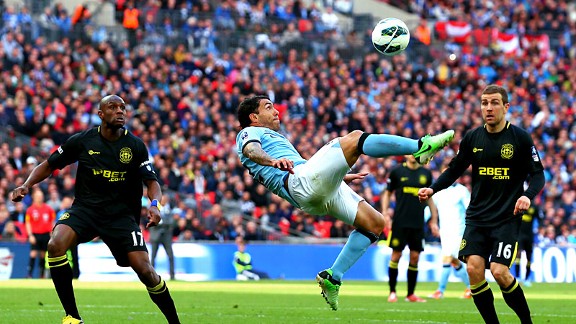 Alex Livesey/Getty ImagesCarlos Tevez: Could he be working his magic at Juve next season?
There is something about Sampdoria, who are capable of beating any Italian team. Only two sides have won all their matches against Juventus this season, Bayern Munich and now, Sampdoria.

"I'm like [Jupp] Heynckes? That's a blasphemous comparison!" Said Sampdoria coach Delio Rossi after he pulled off another shock, and whilst he displayed humility, the smile gave away that great feeling of satisfaction. Juventus were defeated 3-2 away at the Marassi, a ground they have failed to win at since 2006.

Gazzetta dello Sport called it a defeat for 'the beautiful and unfortunate queen' as for much of the game, despite deploying players considered to be 'second-string', the Old Lady played an attractive match. The will to win was ever present, whilst the construction of attacking passages of play made for an exciting match. Juventus shot from every angle, consistently and yet, proved unsuccessful against a team that knew how to sacrifice.

Rossi's men remained disciplined and defended valiantly. Narrow in their shape, Juventus attempted to exploit the spaces on the wings, but poor crossing often saw them unable to effectively punish the Blucerchiati. Incapable of restraining the sheer power and attacking mind-set of their opponents, the compact Sampdoria side dropped deeper and concentrated on closing gaps. Working in unison, they flooded their half of the pitch to make life difficult for the Bianconeri and yet the champions consistently found opportunities to strike.

Yet for all their ambition going forward, Juve lost this match due to lapses in concentration to gift Sampdoria a positive result. Despite defensive concentration initially, both the second and third goals were conceded because there was no one there to mark the opponent. Mauricio Isla ought to have done better with Lorenzo De Silvestri in the box, allowing the Sampdoria man to score the second goal, whilst Mauro Icardi was totally unmarked when he grabbed the third.

Interestingly, in the second half, Juventus as a unit moved even further up the pitch, playing with a higher line and remaining compact to put Sampdoria under pressure. Their quest for a goal meant they once again created an abundance of chances but their rhythm was somewhat disturbed by the heavy rain. For a side that are fond of playing fluid football with perfected movements, the heavy pitch was causing them problems.

The Bianconeri, despite their 26 shots on goal, could not overcome the defensive wall erected by the Blucerchiati. Sampdoria's back-line, including goalkeeper Angelo Da Costa, proved impressive on the night. Whilst the defence occupied space, tracked their markers and made timely tackles to halt Juve, the goalkeeper pulled off excellent saves to further frustrate the Old Lady. Bad luck and poor finishing further exacerbated the Bianconeri problems in front of goal.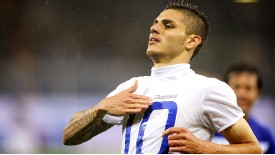 GettyImagesMauro Icardi celebrates after scoring Sampdoria's matchwinning third against Juventus
Serie A is often accused of not being very competitive, especially towards the end of the season when teams, with nothing to fight for, often opting to take their foot of the gas. However, this match proved the opposite. Juventus, despite having already celebrated the title and playing squad players, played an ambitious game in which goals were continuously sought. Whilst the home side, who had only managed to collect four points in their last ten games, seemed determined to pull off another shock to please their fans and end their season on a positive note.

Even the fans present were actively engaged in providing a competitive atmosphere. When Conte decided to give Juve's third-choice goalkeeper, Rubinho, the opportunity to play, his arrival on the pitch caused a stir for the home crowd. Booing their former player, one thing was made crystal clear: despite the insignificance of the match, a win was still demanded.

For Juventus, they won't take long to recover from the disappointment as Conte made it very clear that he's more than happy to continue losing to Sampdoria if it meant a third successive Scudetto next season. For now, the Old Lady is only concentrated on the market that now sees Carlos Tevez as the hot favourite to arrive to Turin over the summer.

Juventus director general Beppe Marotta did indeed confirm interest in the player and the fact that it was Tevez's agent who approached the club for a possible move. However, Fabio Paratici did meet with Manchester City's Txiki Begiristain in early February to discuss a potential move and Tevez was mentioned in conversation even though many assumed Juventus were targeting Edin Dzeko. The two directors are good friends so any potential deal for the player would not be too hard to conclude.

Tevez is deemed 'a big player' but is he the right man to invest in? The football is over, let the drama of the transfer market begin!