Celebrating 90 years with the Agnelli family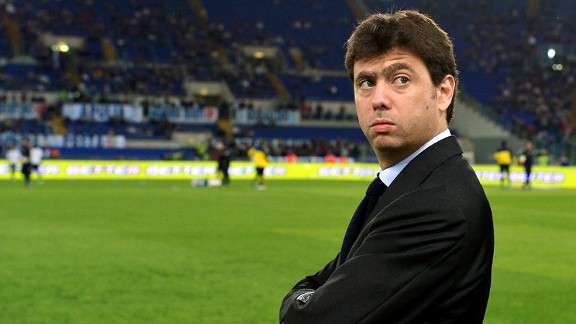 Alberto Pizzoli/AFP/Getty ImagesAndrea Agnelli will be looking to sign some of the best players on the continent this summer to bolster Juventus' European efforts.
Having dwelled in a state of uncertainty, fans felt that familiar but unwanted feeling of fear. Antonio Conte has brought so much success to a club that many feared would never rise from the ashes, and now there was the fear that he might depart. Calciopoli had not only stripped Juventus of two Scudetti, but of their reputation. Those who arrived were simply unaware of the Juve philosophy, of the need to win and most importantly, how to conduct business the Bianconeri way. That is until, Conte arrived.

- Ljajic linked with Juventus

The titles won are one thing but Conte has brought the most important thing back to Juventus: the feeling that they will always win. Under Gigi Del Neri and those who came before him, hope was lost and fear overcame both players and fans. The Old Lady was always capable of losing and one error away from humiliation.

When Bayern Munich defeated the Old Lady in the Champions League, it almost felt strange. So Conte's men are capable of being overpowered? That sense of inferiority had not been felt until that poor showing and the coach needed guarantees to ensure he will never witness such a defeat again.

The promises he has sought have been made. No one can guarantee a host of world-class players will arrive but as Andrea Agnelli rightly asked, how does one define world-class? "Fernando Llorente had a €37m release clause in his contract. If we had signed him last season he would have been classified as a 'top player', whereas if he costs nothing, I'm not sure."

In many ways the point made was an interesting one. If Arturo Vidal was sold to Bayern Munich and Claudio Marchisio to Manchester United, then both respective teams may well say they signed two world-class players. Yet Vidal cost little and Marchisio is a youth product.

Fans do not want to necessarily see huge amounts of money spent but the arrival of players who provide certain guarantees. But does any player now provide guarantees? The Fernando Torres and Kaka deals could, in many ways, be deemed unsuccessful considering how underwhelming the players' performances have been for their respective clubs. Meanwhile Mario Mandzukic, famous for reckless tackles and poor motivation against sides he deemed provincial prior to his arrival at Munich, has since developed into an inspirational leader at Bayern -- even if, to his credit, he was considered a fan favourite during his time at Wolfsburg.

Robin van Persie was close to joining Juventus and he may have been the difference that fateful night in Munich. The club did their best to secure his services but it wasn't meant to be. On hearing of the possible impact Calcioscommesse would have on Conte and therefore Juventus, the player's agent squashed the idea as revealed in an article written by Simon Kuper for the Financial Times.

There must be a willingness to spend and management must do more to lure players who may prefer to play in more attractive leagues. Gonzalo Higuain is a player that management, but not necessary Conte, love. The coach instead pines for a certain Luis Suarez. Liverpool may well never give in, but every effort must be made to satisfy the coach who Juventus and Italy believe is the best they have seen in many years.

With an Agnelli at the helm, everything is possible.

As documented in Sport Italia: The Italian love affair with Sport by Simon Martin, the Agnellis came to preside over Juventus due to an issue involving the Old Lady's wing-back Antonio Bruna. Using their power to allow him the opportunity to train despite his duties at the factory, it confirmed one important fact: they were Bianconeri fans. Swiftly after the matter was resolved, the idea to rule the club was proposed to the Agnellis who duly accepted the challenge.

Since July 1923, the Agnelli family have presided over Juventus and in those 90 years they have built squads that have participated in and conquered every competition. Averaging a league title every three years, Agnelli's Juve have won 30 altogether (28 officially). One even came before their arrival leading Andrea to say: "What I want to emphasize the most is that Juventus have won before each of us and will continue to win later." Many hope later never comes. The Agnelli name has become synonymous with that of Juve and the future will always look bright with Italy's most family at the helm.