Juve march forward despite crowd trouble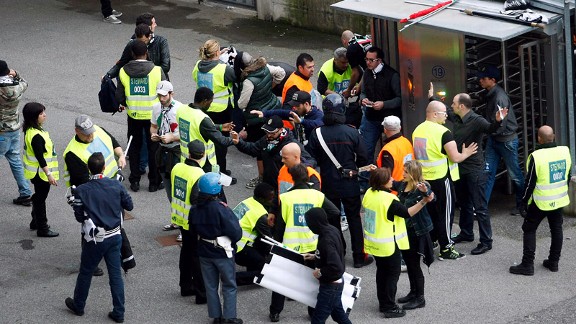 Maurizio Lagana/Getty ImagesPolice and medical personnel tend to fans injured in clashes between Juventus and Atalanta fans Wednesday.
It may not have been an aesthetically pleasing match but it was vintage Juventus in many ways. Grinding out the win is what the Old Lady is famous for and on Wednesday, the three points and the 1-0 victory was all that mattered against Atalanta.

Tension was the only sensation to be felt inside the stadium. With crowd trouble outside in the streets prior to kickoff, the one-minute silence to honour the passing of former Italy Prime Minister Giulio Andreotti, was marred by boos from all around the stadium.

Objects soon began to be thrown around between the rival fans and what was meant to be a pleasant evening game quickly descended into a disgusting spectacle.

Atalanta hoped for a win to mathematically secure their safety and it was quickly evident by their style of play how eager they were to push ahead. Juventus, playing a 3-5-2 formation with what can only be considered a second-string side had only two of their regular starters in the lineup: Giorgio Chiellini and Andrea Pirlo.

Yet despite the assumption this would be a relaxed Juve side that had already secured the title, the players had a different idea all together. Pushing and hunting for the win, Pirlo was pulling the strings in midfield as players made timely runs to overwhelm the home side's defence.

Rarely offered the opportunity to start, several players desperate to make an impression such as Emanuele Giaccherini and Mauricio Isla were either dribbling forward, tackling or providing balance for a side that seemed unwilling to take it easy. Antonio Conte, as one would expect, was his usual animated self on the sidelines, urging his players to remain alert at the back.

Defensively, there were several lapses in concentration at the back for the Bianconeri, with Martin Caceres proving especially poor at clearing his lines. His passes wayward and panicked in approach, Atalanta did well to surge forward and deliver accurate crosses into the box to benefit from his errors.

Unfortunately for the home side, the perfect finish eluded them resulting in many squandered opportunities.

Juventus, usually so well acquainted with poor finishes, managed a terrific one on the other side of the pitch. A beautiful vertical pass from Pirlo found an alert Alessandro Matri, who coolly controlled and converted in sensational manner. His touch beautiful, his handling impeccable, it's bizarre to see how well the forward manages what we perceive to be the impossible when he so often struggles with simplicity.

Unfortunately, 10 minutes later -- and as one predicted due to the problems before kic-off -- the game had to be paused for ten minutes midway through the first half as rival fans threw smoke bombs and flares at each other. The Nerazzuri attempted to placate their own while Juventus players appealed for good behaviour.

Meanwhile the stadium announcer continuously delivered messages insisting play would cease altogether should the crowd continue to misbehave.

It took a furious Antonio Conte to help stop the nonsense as he marched to the away section and demanded: "Enough! Enough! Stop responding!"

With supporters obediently obliging, play was resumed and Atalanta immediately and viciously pushed forward in attack in search of an equaliser.

Luck indeed played a part to keep Juventus on course. While Atalanta continued to pursue a goal, they never quite managed to hit their target. Either aiming just wide or straight at the keeper, they did have a penalty appeal for what appeared to be a handling offence, but referee Marco Guida waived play on.

Both sides made several substitutions and Conte was certainly in a generous mood when he decided to bring on Nicolas Anelka. The Frenchman, who had barely featured and suffered an injury not long ago, proved good on the ball and impressed immediately.

His decision-making was not as great as it should have been, but his control on the ball and ability to read the game saw him take up good positions to threaten Atalanta. Despite his best efforts, he was unable to grab a goal, while Giaccherini spurned a wonderful opportunity Anelka had set up for him towards the end.

Far from their best, this was typical Juventus in that a win was ground out despite the lack of beautiful football. With Palermo's loss at home to Udinese, Atalanta can now be happy that they have mathematically secured their survival.