Juve's will to seek challenges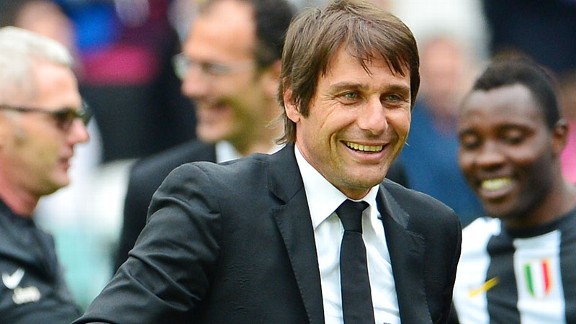 Giuseppe Cacace/AFP/GettyImagesEven with a 31st Scudetto secured, Antonio Conte will have his Juventus side playing strong until the end.
Champions are winners and winners are ones who continue to seek challenges. Trophies are a must and records must be set. Acceptance is never to be accepted because there's always room to grow, to develop and to do better. Juventus may have won the title, but there's an opportunity to break a record now. The Old Lady must win her next three games to ensure she beats the record set by Fabio Capello and the challenge starts tomorrow against Atalanta.

Antonio Conte is, as we have come to learn, the personification of success. Nothing ever seems good enough. With excerpts of his autobiography printed in various newspapers around the peninsula today, the readers have come to understand just how obsessed the coach is with triumph and, more importantly, with Juventus.

The language used and the adjectives chosen are ones that expose his ferocious ambition. Warrior terminology would be the best way to describe the manner in which the former legend explained his hardships, his ambitions and his desperate need to overcome his fears. Narrated and written in a way that captures the reader's attention, the words transmit the passion that pumps though the veins of a man so keen to transmit his footballing ideals to a world ready to absorb.

Within the pages of "Testa, cuore e gambe", the title of Conte's autobiography which translates to 'head, heart and legs', passages dedicated to important stages of the coach's career expose his humanity and the many flaws that allows the reader to identify with the man within and not the professional we see every day.

While he may now be a coach the world of football covets and follows with childhood awe and wonder, his words within the book expose his fear of rejection and underlying inferiority complex. It was interesting how he reserved elegant descriptions and graceful words for men such as Andrea Agnelli and his family, while he set aside brash adjectives and aggressive terminology when the time comes to illustrate his own thoughts and feelings.

That fear of not being good enough is a reason why so many readers will come to identify with a man who overcame his own reservations. He had the answer to success and he believed he could make the difference as he watched his beloved team cower in a league dominated by unworthy teams prior to his arrival. Fearful the President would not agree with his thoughts or not believe in his vision, he showed courage by forging ahead and expressed himself in the only way he knew how -- with unbridled passion.

The courage of conviction is perhaps the reason why Conte has proved so successful and world-class players, such as Andrea Pirlo and Gianluigi Buffon, believe Conte is the best they have ever come across. His methodology, his attention to detail and his distaste for mediocrity ensure that whether he succeeds or not, he will always fight for the win, and a fighter is all we could ever ask for in football.

His desire for more, for better and for glory encourages loyalty and it is the reason why his players hold on to his every word and is why his assistant, Angelo Alessio, is willing to give up his own personal ambitions to follow Conte. "I want to follow him everywhere. I do not care about a career alone. I want to remain faithful to Antonio," explained Alessio when asked of the Juve tactician.

His passion so terribly contagious, it will be hard to see Juventus not finishing off the season with clear determination. Those who do not play as often will be allowed the chance to shine and yet one doubts the Bianconeri will prove less powerful.

At the start of the campaign, one La Stampa writer comically commented how the Old Lady simply couldn't switch her men with the same ease with which Elizabeth Taylor changed husbands. It many ways the columnist was right, Juventus were somewhat dependent on their starting line-up.

Yet, that has since changed. While the likes of Federico Peluso, Emanuele Giaccherini and Simone Padoin tried their very best, they lacked the quality necessary to help Juventus solve difficult games. However, integrated slowly and shown faith in their abilities, the so-called benchwarmers have put in valiant displays to not only demonstrate strength in depth but prove just how well Conte has developed his squad.

Even the likes of Nicolas Anelka, who many have labelled a waste of time and money, has proved valuable if only because of what he has brought to the dressing room. His words of encouragement are enough to demonstrate that every player in that team has played a part in their success.

Tomorrow Juventus must face Atalanta away and Stefano Colantuono is by no means an easy tactician to overcome. His side will be desperate to halt the Bianconeri machine to boost their own fortunes. It's time for the Juventus to demonstrate their strength in depth.