Juve one point away from domestic glory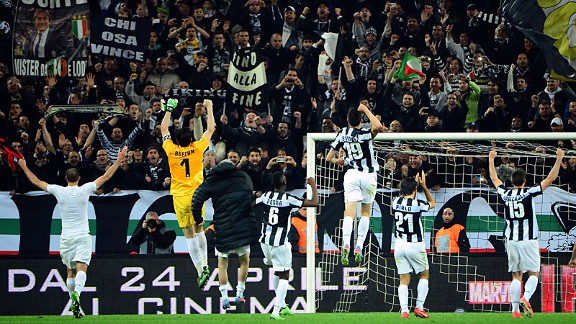 Olivier Morin/AFP/Getty ImagesJuventus are a point away from celebrating a second straight Scudetto, but they'll have to do it against an improved Palermo side fighting relegation.
One point away from domestic success, Juventus have already begun to think about the transfer market. With trips to Germany as well as Madrid, Fabio Paratici and company will be coming to London next week to survey their options. The Old Lady may be the Queen of Serie A, but she needs heavy investment if she is to succeed in Europe.

- Marchisio wants to end career with Juve

Scouting youth is still the priority as Andrea Agnelli's Juve are determined to be recognised for their ability to nurture world-class talent as opposed to purchasing it. However, the fans, including the coach, still hope special talent will arrive to give them a boost they need in European competition. Having just returned from a trip to watch Real Madrid take on Borussia Dortmund, it became glaringly obvious just how interested Juventus are in Gonzalo Higuain.

Paratici is a well-known admirer of the forward, who is widely acknowledged as the striker with the best conversion rate in Europe. However, the question to know is whether or not the Spanish giants would be willing to sell the player at a reasonable price. Last year, PSG was closely tracking the Argentine, raising his value. With them seemingly uninterested this season, Juve are hoping for a reasonable quote.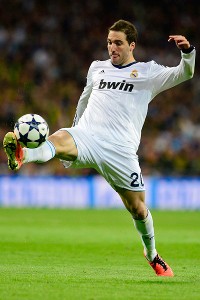 Javier Soriano/AFP/Getty ImagesReal Madrid's Gonzalo Higuain is one of the top players targeted by Juventus.
Higuain is not the only target. With Paratici coming to London next week, the Juventus Management, including Antonio Conte, spoke of exciting opportunities available on the English transfer market as we chatted in Meson Txistu in Madrid after the match.

It's no secret that the coach greatly admires Luis Suarez, and while the Uruguayan may seem out of reach considering Liverpool's admiration for their star, the Old Lady feels other interesting options are available on the market. Paratici enjoys a close relationship with Manchester City's directors and previously met with them in February. With the likes of Edin Dzeko and Carlos Tevez mentioned in conversation, it's not impossible to think a deal could be struck.

Despite management's need to plan for next season from now, Conte is still concerned with sealing the title as soon as possible. Sunday's match against Palermo may well be deemed an easy fixture on paper but the Sicilian side's current run of form has somewhat changed opinion.

Giuseppe Sannino's Palermo is a different beast to Gian Piero Gasperini's side and one that is focused on remaining in the top-flight. Concentrating all his efforts on the delicate psychology of a group of players that have largely underperformed this season, the Sicilians have performed admirably well in recent games, managing wins against the likes of Roma and Inter. Since his arrival back to the club, Sannino's squad have picked up 11 points from a possible 18 and could well avoid relegation if they maintain this level of concentration.

Psychologically, the mister has worked on developing a direct and honest relationship with his players -- speaking to them directly with regards to their wants and needs. As such, players feel more at ease and are allowed to play in the positions they feel best express their strengths. Weaknesses are pointed out and worked upon while tactics are prepared in advance with every detail noted down.

Boasting technique and speed, Palermo's attack must be well defended against should the Old Lady hope to keep another clean sheet at home. While the Rosanero struggle to push bodies into the box, when they counter, they do so effectively combining skill and the element of surprise to shock the opponent.

However, they are a team that tend to struggle in the final minutes of the game and suffer several lapses in concentration. If they are to cause an upset, then the coach must ensure his squad remains alert until the final whistle, as Juventus love nothing more than to grab goals towards the end of the match when their opponents have lost momentum.

A tough tackling side, Palermo will work on interrupting Juve's passing rhythm and will look to snatch possession back when possible to construct their own attacking moves. With Josip Ilicic impressing in recent games, it is not beyond the side to inflict a little pain, especially considering how much a point or more could aid in their quest for survival.

Juventus only need a point to secure their second consecutive Scudetto under Conte. Consistent and hard-working throughout the year, the Old Lady has been above and beyond every other Serie A side this season.

Thought to opt for the 3-5-1-1 again with Claudio Marchisio playing the supporting forward role, the objective will remain the same: Calm possession, fluid attacking moves and swift passing to a plethora of attacking options upfront. Another title beckons and it could well arrive on Sunday afternoon.