Turin derby win won't clinch title
A derby is always anticipated, and the Derby della Mole is no exception. Despite the fact 41 points separate the sides from the same city in Serie A, when Torino host Juventus on Sunday night, they will be determined to play the game of their lives.

However, thanks to Napoli's 3-0 win over Pescara Saturday, they will not be trying to avoid hosting a Scudetto party in their stadium.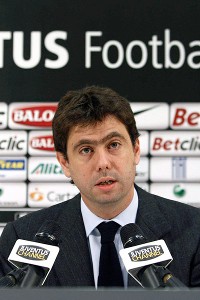 AP Photo/Jonathan Moscrop, LapresseAs Juventus prepare to bring home another Scudetto, club president Andrea Agnelli is focused on the long-term financial future and ways to increase revenue.
Even with a win, the Bianconeri will have to wait to be crowned domestic champions for the 29th time officially, or 31st if you're a Juventus fan. Nevertheless, the away section of the Stadio Olimpico is practically sold out while, according to La Stampa, Italians from all over the peninsula were planning to go when the match appeared as if it might be the title-clincher.

As Antonio Conte prepares his team, Andrea Agnelli took the time to have an interesting interview with Simon Kuper from the Financial Times. In it, the club president discussed the objectives for his side as well as the many economic and social problems Italy is facing that have prevented the development of calcio.

Italian football, Agnelli explained, is no longer the desired destination for world-class players but a mere stepping stone for those who want to learn before making the jump to a side such as Real Madrid, whose 2012 revenue exceeded Juve's by 214 million euros.

Without the freedom to sell TV rights individually, the Old Lady cannot cash in on her worldwide appeal. While this makes for a more competitive league -- something many accuse La Liga of not being -- it does put a financial burden on the big Serie A sides. While the domestic advantages are obvious, if Italian teams hope to compete with the giants of European football then they must look at ways of increasing their revenue.

Another interesting point Agnelli made was with regards to Italians' fascination with fake merchandise. No one wants to shell out more than 50 euros on a jersey when there are fake copies on street stalls selling for under 10 euros.

Authenticity is not a problem for the football fan. At times of economic hardship, compromises have to be made, further impacting the club's potential to increase revenue.

Yet there is hope. Agnelli explained: "Juventus is aiming for something very difficult: to be a pocket of excellence in a decaying country."

As discussed in the previous blog post, money is not an issue, and there's much for the Old Lady and her directors to be proud of with regards to her progress this season.

Knocked out of Europe by arguably the best team in the continent, Juventus have continued to rely on stability and consecutive wins despite not having Conte on the bench for the first few months.

While last year's undefeated feat was apparently achieved due to the lack of European competition for the Bianconeri, the same cannot be said this season. They reached the semifinals of the Coppa Italia, the quarterfinals of the Champions League and are inches from securing their second consecutive Scudetto under Conte. They have demonstrated strength in depth and shown that they have the mentality and the stamina required to impress in several competitions.

Against Torino, a side who score several and concede even more, excitement is a virtual guarantee. Giampiero Ventura, Conte's mentor, has constructed a cohesive side that attacks with width and defends compactly. Injuries and absences have harmed them but they possess many tools with which they hope will prevent a Juventus win.

As for Juventus, it's back to the 3-5-1-1 for Conte with Claudio Marchisio supporting Mirko Vucinic in attack. No changes in the starting lineup, but the coach still has to decide on who the left wing-back will be.