Money is not always the answer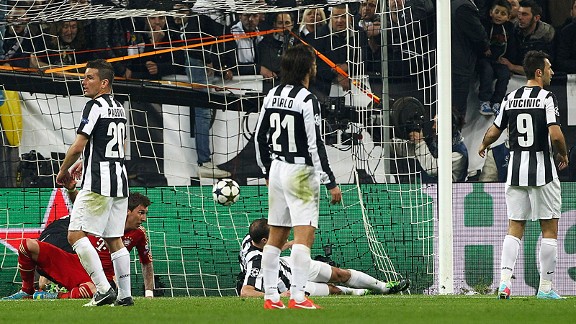 GettyImagesJuve stand dejected as their UCL hopes fade
According to the Kübler-Ross model, there are five stages of grief: denial, anger, bargaining, depression and acceptance. After Juventus were knocked out of the Champions League, it seems they, or more accurately the fans, have yet to reach the fourth stage. Trapped in the land called 'bargaining', it seems everyone wishes they could have another go against the Bavarians, play another way and hope for another result.

Despite the Germans demonstrating their superior strength against all the sides they have faced in the knockout stage of the competition, the Italians still believe that had they played their very best, they would have made an impact. Maybe Juventus were simply unlucky to meet such a great club early in the competition or maybe they are just unable to compete but it's still far too early to reach the acceptance stage. Especially not when the likes of Jose Mourinho continue to speak of Juve's strength. "None of the four semi-finalists in the Champions League arrived here by accident, but perhaps Juventus and Manchester United would have also deserved to be there."

For one thing, no fan wants to hear about inferior finances as the reason for the exit, no matter how valid the argument may be. Borussia Dortmund with their terrific management defeated Real Madrid 4-1. They did so despite possessing a wage bill similar to that of Aston Villa (7th highest in the Premier League). They lost the wonder of Nuri Sahin and replaced him with the gem that is Ilkay Gundogan. The replacement may have taken time to find his feet within the side but with guidance, he quickly became the vital cog within the unit. Against Madrid, it was Gundogan who kept the Dortmund engine ticking.

With no forwards available, they put their trust into Polish striker Robert Lewandowski who they bought from Lech Poznan for €4.5 million. They saw his potential and he duly repaid them with sublime performances. Mats Hummels was a Bayern Munich youngster that was sent on loan to Dortmund before they converted him into a Barcelona-worthy defender. Dortmund are, much like Juventus were known to be, the club that creates world-class talent and not one that buys them.

The Bianconeri are on their way. The bargain deals such as that of Andrea Barzagli's in addition to the free transfers have made Beppe Marotta and Fabio Paratici heroes in the eyes of the fans. Yet several mistakes are still being made with regards to wasted opportunities - especially in terms of youth.

Focused on Paul Pogba, a perfect transfer if there ever was one, Juventus missed out on the purchase of Geoffrey Kondogbia. The Sevilla midfielder is in the midst of an impressive season at Sevilla and rumoured to be tracked by several big teams in Europe including Milan and Real Madrid. Juventus bid approximately €500k less than the price he eventually went for and thus the Old Lady lost out on a potential world-class talent and the opportunity to make a hefty profit. Intelligent, technically good and a player who always wins his battles, he's worth at least €8 million whilst many clubs are willing to pay more to secure the services of the youngster.

Meanwhile, as Juventus tracked the likes of Matheus Macedo Doria and Valber Hurta, the first especially pricey for his level of experience, they were reportedly uninterested in listening to reports of another youngster - Jherson Vergara. Prior to his sensational performances in 2013 South American Youth Championship, the defender was reportedly offered to several clubs for the bargain price of €500,000. According to the Gazzetta dello Sport, he has all but wrapped up a deal with Milan now for over €2 million.

By no means would it be acceptable to criticise the current men in charge at Juventus. Their eye for talent and the manner in which they have constructed a side that has achieved domestic glory and European recognition deserves high praise. However, as Italian clubs attempt to cope with poor finances, it's essential to invest in youngsters with promise and combine them with experience to create balance. Some of these starlets will never live up to the potential but regret is a terrible emotion to feel should one get away.

With the likes of Andrea Pirlo and Gianluigi Buffon still around, youngsters will have the opportunity to learn and grow amongst champions. Thiago Silva developed into a defensive beast largely due to the presence and teachings of Alessandro Nesta. Pogba has already demonstrated the positive aspects of training alongside the likes of Claudio Marchisio and Pirlo and hopefully many more will follow suit.

Great strides are being taken by this club to develop slowly and properly. Youth is the focus, money is being invested into the facilities and there is a clear footballing philosophy.

The Continassa area Project especially is a formidable investment that would ensure future revenues and the potential for improved commercial contracts. Juventus acquired a renewable long-term lease from the City of Turin for a period of 99 years to build a new training and media centre. Some have laughed at the price claiming the council were incredibly generous for almost gifting the historical piece of land to the club for the bargain price of just over €11m at a time when other councils are waging bureaucratic war with their respective local clubs. However, the cost to develop the structure could well prove terribly costly despite the perceived benefits.

If money is what Juventus feel they need to compete with European giants, then they must continue constructing profit-attracting projects. The Old Lady may love her stars but she's always been one to develop players as opposed to buying the finished product – money is not always the answer.