The fat lady has sung, the Old Lady is out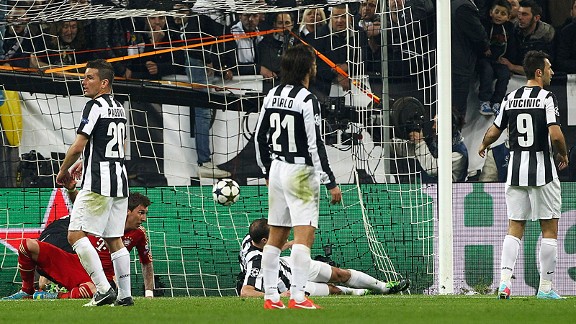 GettyImagesJuve stand dejected as their UCL hopes fade
The fat lady has sung. The Old Lady is gone. Jupp Heynckes may have fallen asleep and woken up to thoughts of her, as he admitted prior to kick-off, but now he's crossed the line. He's captured her and seduced her. No other European suitor will be ringing her bell for the rest of the season. In the cauldron of passion that is the Juventus Stadium, the Bianconeri lost 2-0 to Bayern Munich.

We need not analyse the mistakes. Barring a few flashes of brilliance, Juventus were nowhere to be seen. Robbed of their identity and the hunger that has epitomised their character under the tutelage of Antonio Conte, on Wednesday Juventus were weak, timid and fragile.

- Press Pass: Juve's dream is over
- Conte: Juve out of touch in Europe

With a stadium packed full of believers and speeches given throughout the week of the need to keep the faith, fans chanted: "If you don't jump, you don't believe!" Leaping as one to honour their team, there was genuine hope the tough old bird would peck her way out of trouble.

However, it seems the players didn't really believe. Having started the game in impressive fashion, with Andrea Pirlo back to dictating, it was Bastian Schweinsteiger's turn to remain muted in the first half. Juventus pushed further up the field, attempted to intercept passes and launched their own attacking passages of play with vigour and tenacity.

Paul Pogba's strength was proving effective whilst Simone Padoin's desire provided the fans with enjoyment. With Franck Ribery unwilling to track the player, the Stephan Lichtsteiner stand-in enjoyed plenty of space on the right to push forward and deliver key passes into the box. Unfortunately for the Italians, the away side comfortably dealt with most of Juve's goal scoring opportunities.

Pressing high up the pitch, with a little more desire than we saw in the first leg, Juve were able to win the ball back in advantageous positions. They were quicker in their reactions, more tenacious on the tackle and more eager to find a route forward. Unfortunately, their pressing game did not last as long as it ought to, and Bayern eventually settled into the game and reprised their role as the dominant force. With each ball won back by the Germans, a little sliver of hope melted away.

What makes this Bayern Munich side so much stronger than the one that reached the final last year is the manner in which they've combined the strengths of their own game with that of German champions, Borussia Dortmund's. Their individual ability still sees them triumph, but it's their cohesion and fluidity that has strengthened the side. Players work on retrieving ball possession, on sourcing the right recipient of their accurate pass and of facilitating the team's transitions.

Yet their greatest asset is the manner in which they counterpress, or as they like to call it in Germany, Gegenpressing. It's a quality very much associated to Dortmund's style of play. It is this feature that has allowed them to enjoy the benefits of a solid defence this season, conceding only 13 goals in the Bundesliga. With Mario Mandzukic, amongst others, pressing the ball high up the pitch, they not only kept their opponents from attacking but they allowed themselves a more direct route to goal.

Juventus simply could not respond. There were dire moments in the match when the Bavarians simply played horizontal passes to one another as if practicing the art of keeping the ball and not one Juventus player took the initiative to push up and challenge.

Of course with each passing minute, the Italians lost a little bit more of their faith. By the time Mandzukic got his goal, there was simply no desire to regroup and score four. They knew it was done. That winning mentality that characterised Conte's team was nowhere to be found. Defeat was readily accepted and faith was simply a gimmick to sell to the fans.

The difference in quality was far too great. As La Gazzetta dello Sport noted: "They had Ribery and (Arjen) Robben, with all due respect Juventus had (Kwadwo) Asamoah and Padoin." Does that say it all? Whilst Juventus pushed up with two players, Bayern regularly attacked with four men. All four adopted positions high up the pitch, readying themselves for the necessary pass forward.

Whilst Juve's forward line may be enough for Serie A, in Europe, they will need a bigger step up in quality to compete with the big boys. However, not even this defeat should strip them of the pride they ought to feel for all the hard work they have put in this season. They were undefeated in Europe until they met the Germans, beating last year's winners as well as the likes of Shakhtar Donetsk. They overcame a Celtic side that troubled Barcelona and entertained the many viewers who once upon a time believed Calcio was solely about defending.

Conte has created a beautiful side with lots of potential. With a little more quality and experience under their belt, there is every reason to believe in the future.