Which coach will win the Derby d'Italia?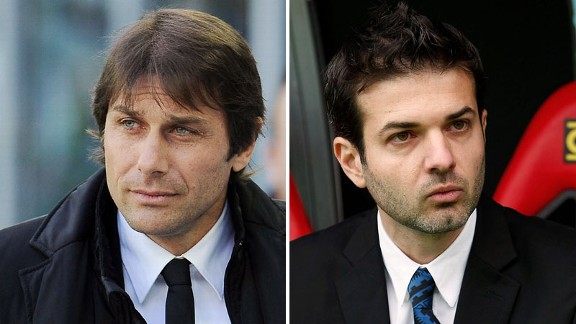 Getty ImagesJuventus boss Antonio Conte, left, will once again match wits with Inter manager Andrea Stramaccioni on Saturday at the San Siro.
A historic rivalry between what were considered to be the two best teams in Italy, the Derby d'Italia is the most anticipated match of any season. The smell of pure hatred and intense competition lingers in the Northern air as each side prepares their tactics in hopes of demolishing the opponent in a manner that would cause genuine pain.

Two sides; two entirely different philosophies. One intense rivalry.

After 2010, Inter became the second most supported team in Italy enjoying the support of just over 17% of Italians according to a study done by La Repubblica. Juventus, regardless of all their troubles after Calciopoli, have been and remain the most supported side in Italy. Together, they can count on the support of 46% of Italians, making this match the only match worth watching in Silvio Berlusconi's land.

Only three years ago Inter were celebrating a treble-winning season as Juventus licked their wounds after coming in seventh in Serie A. Now, the Nerazzurri are in the midst of a disappointing season, struggling to make it into the top three while their Bianconeri rivals are enjoying tremendous success under Antonio Conte.

The last time these two sides met, this blog mentioned the sadistic nature of Inter coach Andrea Stramaccioni who perfectly selects the right personnel and tactics to inflict defeat. A man who lives to point out the weaknesses in his opponents, he has consistently deployed sides that aim to neutralise threats and exploit their own chances.

While this has seen the Nerazzurri pick up important wins including a 3-1 result at the Juventus stadium, we have also seen the negative side of his sadistic nature. Consumed with too much thought, it seems as if the Inter players are too busy remembering where they ought to be standing and how they are meant to be playing rather than simply freely expressing themselves. The enjoyment of the sport has been somewhat tainted by the sheer task of overthinking everything.

Consistently tinkering with his sides, it seems the coach has also struggled to deploy the perfect starting XI from the get go. It's only after halftime that we've seen the right corrections being made via substitutions to inspire wins and a better performance from his men.

Yet despite the many poor results the black and blue team have collected, it has to be said that Stramaccioni has been unfairly criticised. Considering the injuries of both Walter Samuel and Diego Milito, Inter have been forced to cope without their best centre back and a man capable of finishing off the chances they do create. Without Wesley Sneijder on hand to offer some creativity, the side have little creativity, fewer leaders on the pitch and a dramatic loss in quality. Antonio Cassano, who not so long ago suffered from a heart attack, is now the man they are forced to depend on to provide the magic.

Taking into account the many handicaps, it's fair to say that Strama that has done a good job with the few tools he has left in his toolbox. Relying on sheer athletic ability and cunning tactics, Inter managed a draw against Milan, a win over Catania and came very close to throwing Tottenham Hotspurs out of the Europa League after a tremendous performance at the San Siro.

That win came, as many Italian newspapers noted, because Inter played with the type of freedom they have rarely exhibited this season. Spurning several opportunities at goal, only a late away goal from the English side saw them cruelly knocked out of the competition to leave them ruing their errors at White Hart Lane.

Against Juventus, the Nerazzurri will be looking to cause another upset, aware of the fact that they were the first side to inflict a league defeat on Conte's men. However this time, the task they face is somewhat harder.

With several injuries to contend with and rumours on the possible departure of both the coach and Sporting Director Marco Branca, the club now has to deal with the late arrivals of Fredy Guarin and Alvaro Pereira who were both away on international duty. Issues with their flights back to Italy from South America means both will arrive later than expected and in no condition to partake in the much-anticipated Derby d'Italia. Should Stramaccioni decide to select them, he could be in for further disappointment. Just ask Neil Lennon about his decision to field Efe Ambrose against Juventus in the first leg of the Champions League.

Juventus are also suffering with their team selection and have one eye on the all-important quarterfinal Champions League clash against Bayern Munich on Tuesday. The Italian national team started six Juventus players in the match against Malta while several others flew out to take part in their respective countries' World Cup qualifiers. Few will find themselves boasting the necessary fitness levels needed to play Juve way.

As such, it may all boil down to the tactics. Who will succeed on this occasion, Conte or Strama?