Analysing rumours - who will Juventus target?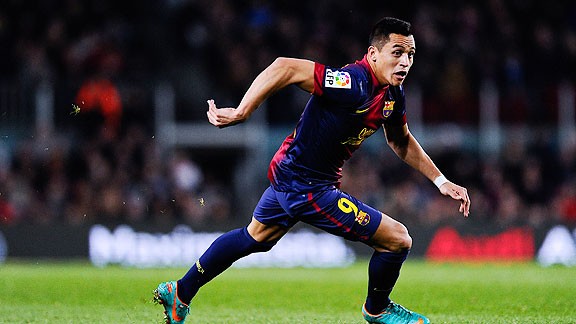 David Ramos/Getty ImagesA move to Juventus would allow Alexis Sanchez to play more in his preferred position of center forward.
With Juventus awaiting the Derby d'Italia on Saturday afternoon, it seems potential transfers have dominated the headlines these past few days. The continued desire to see the Old Lady grab a star player to lead the attack has seen them linked with the likes of Zlatan Ibrahimovic, Luis Suarez and Barcelona's Alexis Sanchez.

- Podolski brushes off Juventus rumors
- Vidal staying, welcomes Sanchez

While Juventus have shot down any hope of luring the Swede due to both his age and salary requirements, there's a genuine hope in Turin that they might just succeed with their other interests.

When it comes to Suarez, it's safe to say that Juventus have been attempting to seduce the player for over 14 months now. In early November, Fabio Paratici went to London to watch the player as Chelsea took on Liverpool at Stamford Bridge. The aim was to speak to the forward about the Juventus project in hopes of luring him to Turin.

As part of the Bianconeri setup, the Uruguayan was promised a project that would revolve around his technique and the qualities he would offer the side. He may not top Beppe Marotta and Paratici's dream list of players, but he is the one man Antonio Conte has been praying for to guide the side forward. Celebrated for his ability to create and finish, he would offer Juventus a giant step up in quality. The coach is not after a man who simply scores but a better version of the players he already has - creative geniuses that boast a more lethal finish.

For Suarez, who enjoys the affection of Liverpool fans, being loved is important. At Juventus, not only will he be competing for trophies but he will do so safe in the knowledge that he would be the undisputed star of the team.

The problem is of course, the stiff competition the Old Lady faces for the player. Considering how deeply admired he is by other sides including Bayern Munich, it will be difficult to entice a player to move to a league that is no longer as admired as it once was some time ago. It is also interesting to note that Pep Guardiola's brother acts as his agent and thus may want to push the player to the Bundesliga side for his own reasons. Italian newspapers have reported that Bayern may be willing to curb their enthusiasm for the player if they were offered the target they coveted for so long prior to his move to Juve - Arturo Vidal. That would be an arrangement barely any Juve fans would accept.

It depends on the will of the player, but if it was up to Suarez's wife, it seems she would prefer a move to the quiet city of Turin. Thought to be a jealous woman, she prefers a city that is somewhat smaller and bereft of the many temptations that cause a footballer off the pitch problems. Turin might just be the city that offers the striker the full package.

Then there is Alexis Sanchez. The Chilean arrived in Barcelona with great expectations after impressing at Udinese. However, he's never quite lived up to the promise. Failing to really find his feet within an exceptional side in which he is hardly the 'star' talent, the forward has struggled to cope both physically and emotionally. Just as he began to make an impact on the Catalan team, injuries curtailed his development rendering him nothing more than a squad player.

But that's not all. After a disappointing game against Sevilla, Sanchez explained that he's not being deployed in the role that brings out his true strength. When played on the wings, the player has been forced to wait for the ball while when positioned centrally, he is allowed partake in the action and permitted to impose his gritty style of play and electric pace.

Unfortunately for Sanchez, the strength of Lionel Messi and the Argentine's insane ability through the middle means the Chilean will always be forced to sacrifice. At Juventus, he might just be the fulcrum of a side that's also proving to be somewhat exceptional under the tutelage of Conte.

The problem is that Inter are also very keen on the Chilean. His agent reportedly admitted to Italian journalists that while the player is happy at Barcelona, it doesn't hurt to sit with interested parties to understand their project going forward and how his client would be treated.

Marotta has insisted that now is not the time to focus on transfers but in finishing the season well in hopes of achieving their objectives. Indeed it will be difficult to take on Inter on Saturday considering how many Juventus players partook in the Azzurri games. With several stars also forced to jet off to join their national teams, many will be tired and exhausted to face the Nerazzurri with the right attitude and physical conditions required to achieve a positive result.