Could a bolstered Juventus midfield be the answer against Bayern?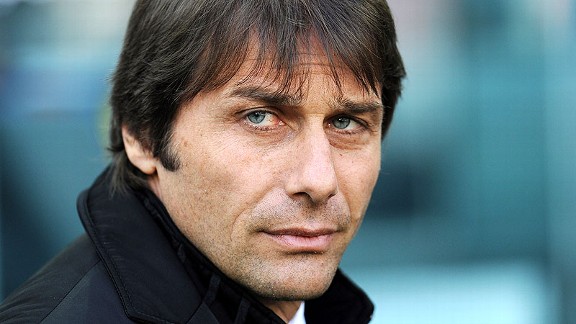 Valerio Pennicino/Getty ImagesA 3-5-1-1 could be on the docket for Antonio Conte's Juventus when they square off against Bayern Munich.
It's international week and newspapers have struggled to fill their pages with noteworthy news to attract the readers. Italy performed impressively against Brazil and the Cesare Prandelli project is on course while countless pages have been devoted to rumours surrounding the possible arrival of two world-class players to Italy: Alexis Sanchez and Luis Suarez.

However, with Juventus being the only team left fighting to preserve the reputation of calcio in the Champions League, it's reasonable to think they would dominate the headlines. Market transfers aside, the latest discussion surrounds the tactical dilemma Antonio Conte could potentially face when his side take on Bayern Munich in Germany in the beginning of April.

With a weak front line and a thrilling midfield, debate has raged as to whether or not Conte ought to sacrifice a forward to deploy another midfielder. Heralded for his tactical flexibility that saw him alter formations to suit Andrea Pirlo's arrival, Conte is renowned for finding shapes to accommodate the strengths of his players. Blessed with three outstanding centre backs, he changed Juventus into a 3-5-2 shape, and now considering the sheer power of his midfielders, could it be time to shift to a 3-5-1-1 to allow his strongest the opportunity to play all together?

Barcelona and Spain have been known to be fond of formations that are midfield- heavy in order to exploit the skills of their best players. At Juventus, they can rely on Pirlo, Arturo Vidal, Claudio Marchisio and now, Paul Pogba. All four provide something unique.

Pogba only made his senior debut for France in their victory against Georgia this week, performing brilliantly to win plaudits. His growing performances and improved tactical positioning has caused a headache for his club coach who now wonders whether it's wise to bench the Frenchman for the upcoming Champions League fixtures.

While Mario Gomez insisted in an interview earlier in this week that playing strikers is still necessary, for the Italian giants it seems their midfielders are just as capable of scoring as their forwards. Vidal is essential at shielding the ball in the final third, Marchisio proves vital when it comes to timely insertions into the front line while Pogba has proved majestic with strikes from outside of the box -- especially when opponents want to frustrate the Old Lady.

Moreover, as La Gazzetta dello Sport perfectly points out, a plethora of midfielders would leave the Bavarians with no reference point and struggling for possession. If Juve were to play with a strong midfield, then not only would they be able to neutralise Bayern's attacking threat but also control possession that bit more. This would in turn permit Pirlo more time on the ball to dictate the tempo and provide the perfect pass.

Considering Pogba provides both a physical and aerial threat, his most useful attribute is the manner in which he speeds up Juve's transition play. Both he and Marchisio could prove essential when counter-attacking to quickly exploit the lack of pace within the Bavarian back line.

In a match where experience counts, it would be unwise to leave Pirlo out while Vidal's deep desire to extract revenge on the German side that criticised his move to Juve is too strong to ignore. Neither can be left out.

Additionally, Marchisio is the perfect man to play in pressurised situations due to his extraordinary leadership qualities and mental fortitude. It is in these matches that Juventus witness the very best version of Marchisio. His relentless running, his tactical positioning and his defensive skills ensure he will always be one of the first names on the list. All three must play, but so must Pogba who continues to produce the unexpected.

While Mirko Vucinic provides the creativity in the final third as well as improving the level of play up top, his striking teammates have rotated far too often.

Alessandro Matri, while excellent against Celtic, is a player that at times appears flat-footed, incapable of running at players and not very demanding of the ball. Sebastian Giovinco thrills as he dribbles, skips and nutmegs his way to the top only to finish off the excitement with the tamest of shots to frustrate the fans and his teammates. Meanwhile, Fabio Quagliarella has impressed thus far in the European competition. However, simplicity does elude him.

As such, why not depend on a thrilling midfield when the time comes to fight Bayern Munich? Let's see what the 3-5-1-1 has to offer.