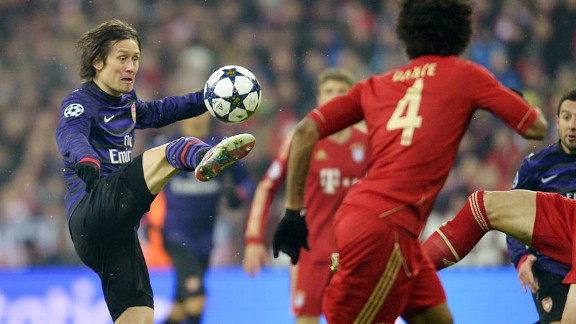 Odd Andersen/AFP/Getty ImagesJuventus is hoping to get Bayern defenders such as Dante, middle, on the back foot the same way Arsenal did at Allianz Arena.
The gigantic Spanish duo aside, Bayern Munich are arguably the strongest team in Europe and represent a harsh quarterfinal Champions League draw for Juventus side that finally finds itself back to challenging in Europe.

Consistently thought of a side that stumbles at the final hurdle -- even allowing Chelsea to rob them of the opportunity to win the Champions League trophy in their own backyard last season -- Bayern have grown tougher and hungrier this year.

Blessed with individual talent, an intelligent tactician and a management that has guaranteed financial security, the Bavarians were heavily criticised for their lethargic performances last season that saw them depend on individual talent.

As Borussia Dortmund raced to their second consecutive Bundesliga title due to their team unity and cohesive style of play, Bayern were left rueing wasted opportunities.

This season, Jupp Heynckes has taken a leaf out of Jurgen Klopp's book. "FC Hollywood" may still rely on individual moments of magic but they are now a unified team that work for one another. They cover more distance, run that bit faster, press much higher up the pitch -- and those who yearn for individual glory have quickly been benched to make way for team players.

Their more energetic approach, coupled with the high pressing game, has allowed Heynckes team to revel in Bayern's defensive security. Winning the ball back in advantageous positions has permitted them to exploit the strength of their attack while relieving the pressure on a weak centre-back pairing.

Having conceded only 11 goals in 26 domestic ties, the Germans deserve to be complimented for their strong defence. However, it is interesting to note they have conceded 10 goals in Europe's elite competition, which draws into question the solidity of their backline.

Faced with tougher opponents and teams capable of punishing defensive errors, Bayern have proved fragile to the counter-attack and to sides willing to hit them with pace and fierce runs through the centre.

While Daniel Van Buyten is often the defender criticised for Bayern's weakness at the back due to his lack of pace, Dante has at times looked far too fragile when facing opponents looking to run at him.

Despite being considered as somewhat of a revelation for the Bavarians in the Bundesliga this season due to his tackling and swift reactions, the Brazilian is susceptible to individual errors when put under pressure.

In many ways the strength of Bayern's attack, coupled with their ability to keep possession, has helped inspire a stringent back-line. With Mario Mandzukic preferred to Mario Gomez up top this season, the Croatian has massively impacted the side not only offensively but defensively as well.

When out of possession, Mandzukic helps the side to counter-press in order to win back the ball quickly, and his tactical intelligence allows him to quickly cover holes on the side.

Alongside Toni Kroos, he is impressive in launching counter-attacks, while the Croatian's freedom not only allows him to partake in team actions but also in hassling defenders, filling gaps and constructing intelligent attacking passages of play.

In many ways, Mandzukic has further improved the performances of Franck Ribery who has more space to exploit, more opportunities with the ball and fewer defenders to contend with. Bayern have, and for a long time, been known for the strength of their winged attack. Attempting more crosses into the box than any other side in the Champions League, they possess pace, power and accuracy to deliver perfect balls for a number of players to head in.

If Juventus have to neutralise any threat, it is that of Bayern's ability on the wings. Crosses into the box must be stopped while holes at the back must be covered to stop players cutting in to shoot.

The Bavarians may not have attempted as many shots on goal as the Italians in the European competition, but their attempts have been more accurate and resulted in more goals.

Considering how foolish Juventus can be when it comes to conceding free kicks around the box, it should be noted that Bayern Munich have also been the best side in Europe when it comes to converting from set pieces.

Blessed with several players able to head in the ball, their deliveries are accurate and their passages well worked. Juve may be second only to the Spanish giants when it comes to scoring from open play but should they gift their opponents any opportunities to score near the box, they will be punished.

Considering the above, it appears Antonio Conte's men are in for a tough challenge. However, despite the Bayern Munich's strength, they have shown to be weak when pitted against sides capable of running at them and drawing them out of position.

Nerves have often gotten to a side that has never quite looked that comfortable in games despite their overwhelming possession. Against Valencia, they struggled. The managed only one goal against Lille away from home while a Bate Borisov side that counterattacked with precision convincingly defeated them.

Domestically, they have whipped the whipping boys and managed healthy scorelines against the smaller sides, but have seemingly looked weak against the stronger teams in the league including Borussia Dortmund and Bayer Leverkusen.

Complacency is an issue at times and when pitted against an Italian side that is both stubborn defensively and mentally strong, this will indeed be the mouthwatering tie of the quarterfinal stage.