Napoli welcome Juventus for the season's most important game
First versus second. North versus South. Napoli versus Juventus. On Friday night in a cauldron of dramatic emotions, the most highly anticipated game of the season will take place in the San Paolo stadium. Italy awaits to see whether or not there really will be a Scudetto race this season or whether Juventus will be allowed to run away with the title.

- Chiellini should be fit for Napoli clash

Both sides claim there are too many games remaining for this to be a match that will determine the league winners. However, should the Old Lady of football open a nine point gap at the top of the table, it will be difficult to see Napoli having the strength to recover.

Both teams boast quality, albeit in different areas. Whilst Napoli possess a beautiful attack that combines creativity with efficiency, Juventus rely on a back-line that has conceded the fewest goals in Serie A this season. One team prefers to attack down the middle utilising the technique of a certain Andrea Pirlo whilst the other relies on the dynamism of their wing-backs to deliver the key passes to their Uruguayan striker.

However, despite the many differences in their respective styles of play, one could argue that the key difference between the two sides is their mental strength. Walter Mazzarri's side have struggled to produce the necessary results when under pressure. Forced to win and they have stuttered.

Speaking to La Stampa, Gianluca Vialli noted that: "In Udinese, they [Napoli] played well but had there not been a need to obtain a result then they would have probably won." Under heavy pressure, the Partenopei have tended to suffer whilst the lack of goals from star striker Edinson Cavani has also coincided with a string of poor results for the Neapolitans who have failed to win in their last five matches.

One possible reason for their inability to produce at key moments is the lack of versatility within the side. Whilst Mazzarri had led the side to a journey of triumph under his tutelage, tactically he seems unable to produce an unpredictable card to attain a difficult result.

In essence, Napoli have become a little predictable, making it easier to neutralise their attacking threat. For a side that boasts dynamism, pace and aggression, they love nothing more than to snatch the ball and swiftly deliver it to the top to score. Exploiting mistakes and space is their area of expertise.

Deny them space with an organised defence and force them to take the initiative and they struggle. They want to play against teams who play the ball allowing them to react tactically - they are not after overwhelming possession. Frustrate them and they turn to their one predictable move: positive substitutions. If they can't score then Mazzarri is likely to introduce as many attackers as possible to create a top heavy team at the cost of exposing his defence.

At times, these positive substitutions have produced the last minute results the club yearn for but exposing the defence in such manner has also seen the gamble backfire.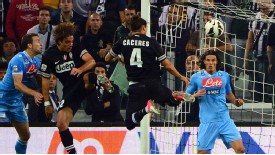 GettyImagesMartin Caceres is believed to be in a good condition
Against Juventus earlier in the season, Mazzarri's men had effectively muzzled their opponents until the 80th minute. On the 78th minute, the Old Lady decided to pull out her unpredictable tactical card. She introduced Martin Caceres on for Kwadwo Asamoah who had received a slight knock. A centre-back on for a wing-back - it was a positive substitution in disguise.

When given a corner, Caceres, enjoys nothing more than to get into the box and attempt a header. So when Juventus won a corner in the 80th minute, the fans in the stadium came to understand why this particular substitution turned into a clever winning strategy.

Ten minutes away from managing a point away, Napoli were now under pressure to remain concentrated for just a little while longer. That pressure produced nerves and a sense of panic that even reached Mazzarri. When the corner was awarded, he was so busy motivating his players into paying attention and standing in the correct positions that he neglected to warn them Caceres would be an extra body to mark in the box. The Uruguayan headed in the opening goal which led to the Napoli collapse and a second goal for Juve.

However on Friday night, it will be much more difficult for the Bianconeri to play in the electric atmosphere of the San Paolo. Tactically they must remain alert to Napoli's wing-play and limit their penetration from the flanks. Most importantly, the Old Lady must be aware of the threat Goran Pandev carries as the Macedonian particularly enjoys and succeeds in scoring against the Bianconeri.

The vast majority of La Gazzetta dello Sport readers have opted for a Juventus win in the daily survey. Pressure hurts Napoli but perhaps on this occasion, they will benefit from it by deploying a more than motivated side eager to prove their strengths and indeed remain in the race.