Welcoming another Bianconeri side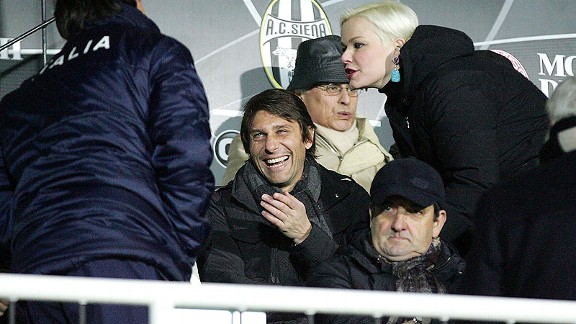 Gabriele Maltinti/Getty ImagesJuventus manager Antonio Conte, center, visited with old friends while taking in Siena's win over Lazio on Monday.
Once upon a time, Antonio Conte spent one glorious year with another Bianconeri side -- one that he led to back to Serie A. Siena were a club that believed in the former player's ambition and yearned to benefit from his winning mentality and eagerness to develop tactically. The coach repaid the club's faith in him and together they built a disciplined and fluid Tuscan team whose consistency led them to promotion and the opportunity to once again take on Italy's greatest sides.

On Sunday afternoon, Conte will come face to face with his old club and he'll be hoping that on this occasion, they've forgotten the winning mentality he helped nurture within the side.

- Thigh problem plaguing Pepe

Having coming off a defeat against Roma, Juventus are eager to get back to winning ways in order to maintain the four point advantage they have over Napoli in second place. Unfortunately for them, this clash is not looking as easy as it may have once appeared.

Under the tutelage of Beppe Iachini, Siena are no ordinary side budgeting for a defeat against the best. They play with pace, hunger and ambition and have already comprehensively defeated both Lazio and Inter. Managing 10 points from a possible 24 under their new coach, the relegation battlers are eyeing up the chance to defeat yet another giant when they travel to Turin this weekend.

With new signing Innocent Emeghara on board, this could be entirely possible. Scoring four goals in four appearances, the Swiss player only arrived in the winter transfer window, yet his impact on the matches has stolen all the headlines. Blessed with pace, a great physical stature and a penchant for dribbling, his ability to improve the side's counter-attacking ability ensures he is the opponent's greatest threat. His finishing ability has already made him the side's top scorer and if allowed space to dribble, he will certainly cause problems for the Bianconeri back line in much the same way he threatened Lazio.

Often deployed in 3-4-2-1 formation, Siena's attack is built in a manner that effectively exploits the pace within the side. All attacking passages of play are usually down to the creativity of Alessandro Rosina. Effectively man-marked, the player does tend to disappear within a match. However, the team's capability to utilise their wings makes them a potent attacking force now that they have a target man to deliver timely crosses to from the flanks.

Matteo Rubin and Angelo provide the wide threats and are both capable of delivering the accuracy needed to unleash their striker. Against Lazio, it was Rubin who delivered the perfect cross for Emeghara to head that opened the scoring for Siena in the first six minutes of the game. Rubin was also on hand to deliver another cross 17 minutes later that allowed Rosina to double the lead from the edge of the box.

Yet despite the improvements in attack, Iachini has concentrated on shoring up a defence that concedes 1.3 goals a game on average. In his last five games in charge, Siena have conceded three goals but have scored eight to show a marked improvement.

When out of possession, Iachini's men are quick to double-mark their opponent with the ball to either win back possession or force an error. When required to defend, the side draws two lines of defence in front of goal to limit penetration. Space is closed down hurriedly while even attackers are asked to track back and contribute defensively.

When, and if, they feel they are in a position of strength, Siena are ruthless and will enthusiastically push forward in hopes of achieving another comprehensive victory.

Juventus, by all means, are rarely caught out. However, considering how many players are currently one yellow card away from suspension, Conte will have to heavily rotate the squad. Next week, the Old Lady will face Napoli away and will thus need her best men to inflict defeat in what will surely be a very difficult game. As such, few of those on a yellow will be played on Sunday.

Andrea Barzagli, Arturo Vidal, Giorgio Chiellini, Alessandro Matri and Andrea Pirlo will be suspended for the Napoli match if they pick up a yellow card on Sunday. Considering how important Barzagli and Vidal are, Conte is likely to rest them. Chiellini, who is returning from injury, will probably not be risked against Siena while the hope is that Pirlo remains well behaved if played.

Considering the need to rotate, it's likely that Paul Pogba will take Vidal's place in midfield while Luca Marrone is likely to return to the back line. With either Martin Caceres or Federico Peluso taking up the last spot in defence, it will be interesting to see how Juve will cope with the pace of Siena's attack.