Presenting the Panchina d'Oro winner - Antonio Conte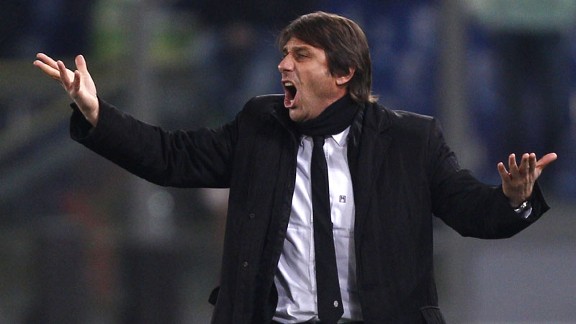 AssociatedConte led Juventus to the Serie A title unbeaten last season
"I've had a lot of coaches in my career but never one who has been so prepared, so meticulous in his work and who explains things so well," mused Andrea Pirlo when asked of his opinion on current Juventus coach Antonio Conte. "In terms of tactics and the way he teaches, he's better than Carlo Ancelotti and Marcello Lippi."

- Conte and Pirlo win awards

Considering the fact Pirlo won the World Cup and two Champions League trophies under the tutelage of those two coaches he deems inferior, one can only imagine how much Conte can achieve in his career.

Winning the Panchina d'Oro on Monday night, the Juventus tactician was grateful that his fellow colleagues had voted him as Serie A's best coach of 2011-2012. A noticeably emotional Conte was overwhelmed as it was noted that 32 out of 62 voters had voted for him to win the award including Panchina d'argento winner Zdenek Zeman. The Czech who won best Serie B coach took time to compliment the Juve tactician for "creating a winning mentality at Juventus as well as playing great football."

The statistics don't lie. Confirmed as the coach of the Bianconeri on 22nd May 2011, Conte has been part of the new Juventus family for 458 days. In the 80 competitive matches that include the Supercoppa, Coppa Italia, Champions League and Serie A fixtures, Juventus have lost only six games and scored 151 goals in the process. Undefeated in the league last year, the Old Lady is now undefeated in Europe this season.

Sampling a variety of formations that include a 4-2-4, a 4-3-3 and the now infamous 3-5-2 shape, Conte was unsure of some things but never unsure of the capability of his side. The man only knows how to win.

"We fear the first defeat," confessed Antonio's brother Daniele when asked about what scares the Conte family prior to the Inter match. "When it [a defeat] happened in the past, when he was a player and then a coach, we noticed a change a in mood. He becomes difficult to deal with, he doesn't leave the house and just thinks and looks back at the errors made during the game."

Yet only Conte knows how to use a defeat to his advantage. Such was his anger and obsession with reviewing their errors against Inter; Juventus went on to score 10 goals in their next two games before destroying Chelsea and Shakhtar Donetsk to top their Champions League group. If they were to be defeated, they had to benefit from it somehow.

A perfectionist, a purist and an obsessive, Conte plans every season, every game and every detail down to what meal the team will eat before a certain game. He watches opponents' matches four or five times a week to study their every strength and to note their every weakness. Then he prepares his game plan, the strategy that he will use to inflict defeat before explaining every pertinent point to his players - the players, he concedes, make him and his fellow tacticians the successes they are.

Success is the ultimate objective but progression is the reason Conte works in football. He's not happy to simply win trophies; he wants to create a legacy, a team unit that continues to grow and to develop to ensure Juve's future.

Talking to 'Sette' magazine, he reiterated the fact that he knew he wasn't the best footballer but he knew he'd make the best coach. Why? Because it's a profession that yearns for an intelligent fighter as opposed to a man with God given talents on the ball. Discipline and determination are key and for a man who had a 10.30pm curfew until the age of 21, he knows how to deal with both.

As a footballer, he used to stay behind in training and practice by himself with the ball. He ran extra laps, worked on his agility and studied every corner of the pitch. Yet he was never known for his skill as much as he was known for his winning mentality and it is that particular quality that makes him a success as a motivator.

Having worked with Giovanni Trapattoni, who he confesses was his greatest mentor, he learnt to understand the game. He studied different formations, different training methods and visited various teams including Giampiero Ventura's Pisa in his quest to evolve.

Prior to graduating, he wrote a thesis on the psychology and methods of a coach. All the talent in the world is not enough when certain games call for nothing more than mental fortitude. His ability to construct teams that boast both technical players and fighting spirit is the reason why he's a fan of both Pirlo and Simone Pepe. One needs both when targeting glory.

For the fans, they're just grateful that under Conte, Juventus 'never take their foot off the accelerator.' They're back to being successful and thus back to being hated and they wouldn't have it any other way.

The last word belongs to his great friend and Juve's Sporting Director Fabio Paratici. "You better have a great man lined up if Conte decides to leave us," I warned. "Leave us? I don't want to speak about this. I won't ever speak about this. He is the absolute best. I don't want to think of a Juventus without Antonio." Neither do we.