Visible maturity as Juve fight back to win 3-1 against Genoa
Squad rotation may be the bane of a coach's existence, but it allows you to spot the worthy (Emanuele Giaccherini), appreciate the mighty (Mirko Vucinic) and mourn the absence of the ones saved until later (Arturo Vidal).

As much as one despises rotating a squad that has perfected chemistry and movement on the pitch, it is a necessary task when forced to play many matches in a season because of European commitments.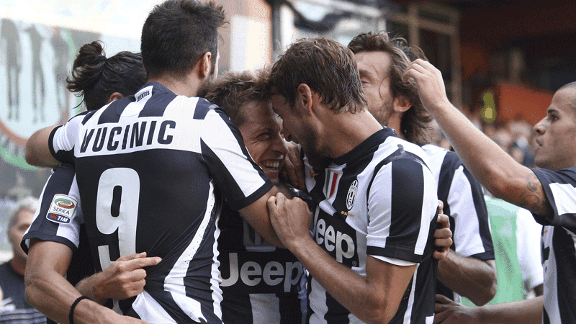 Juventus suffered without their big players in the first half, revealing a weakness one did not imagine existed within the muscular walls of the Juve crew. As Marco Ansaldo, of La Stampa, perfectly put it: "This confirms that not even the best team in the league can replace men with the ease with which Liz Taylor changed husbands." Have truer words ever been written?

If I were to write a book on this match, my first chapter would be entitled "the defensive tragedy". Rarely had we seen a Juventus backline plunged so deeply into a well of nerves and poor concentration. Without Vidal and Kwadwo Asamoah on the pitch to perform the necessary tackles and take the pressure off the backline, Juventus were left exposed by Genoa's blistering pace, hard work and quick passing game.

Andrea Pirlo, who was so effectively man marked, failed to provide the necessary creativity and was forced into contributing more defensively. Producing more tackles than any other player on the pitch as well as intercepting passes more than most of his teammates, his defensive game impacted what he could provide offensively. And without Vucinic up top to impose his own creativity, Juve were reliant on crosses into the box that were easily dealt with by the home side's towering centre-backs. They were not always the most accurate crosses - Caceres only managing to deliver three accurately despite attempting 17, according to whoscored.com

This Bianconeri side played with wing-backs who were positioned rather high up the pitch, and both Paolo De Ceglie and Martin Caceres struggled with their positioning. Genoa quickly realised that Juventus were vulnerable from wide areas but failed to expose the weakness effectively. They relied on playing the ball in behind the away side's centre-backs.

A long ball, a burst of pace and a vertical pass from Genoa left Juventus visibly rattled. Out of shape in several situations, Juve would have been three goals behind by half-time were it not for poor finishing by the Rossoblu. A combination of Leonardo Bonucci's failure to deal with fairly routine situations, Andrea Barzagli's lack of concentration and Giorgio Chiellini's surprising physical weakness allowed their opponents to continuously create and threaten.

The most interesting thing about Juve's set-up was their lack of compactness. When viewing a graph of player positions against Udinese, the Bianconeri were near to one another with the midfield close to the defence. By contrast, in the match played on Sunday, there was a huge gap separating midfield/attack and the defence, with only Pirlo (chased down superbly by Andrea Bertolacci) placed in the middle. No Pirlo power, no party.

De Ceglie played incredibly high up the pitch alongside Giaccherini, almost on the same line as Alessandro Matri, whilst Claudio Marchisio and Caceres pushed forward on the opposing side. Is it any wonder that one long ball, a burst of pace and a vertical pass would terrify Juventini?

It was the brilliance of Gianluigi Buffon that kept the Bianconeri in the hunt for points. Laughing in the face of my previous post - in which I noted that the €6 million salary he receives, whilst deserved, is almost too much for a team that concedes few shots - Buffon saved, kicked and intimidated to rescue his Old Lady from Genoa's wrath. It was his glorious reflexes that stopped Bertolacci from scoring a second and allowed Juve to push up and grab their equaliser thanks to Vucinic's sublime ability to slow down the tempo, hold the ball up and deliver the perfect assist.

Little Giaccherini, who is on €600k a season, played a wonderful game as his movements and finish alone kept Antonio Conte from breaking the glass that separated him from the atmosphere of the Stadio Luigi Ferraris. Giacc provided the energy levels usually provided by Vidal, whilst his competitive spirit, determination to push on and key passes proved invaluable.

However, this was a game for the substitutes, as all three made the necessary impact to affect the game and grab all three points for the Old Lady. Vucinic's creativity and world-class ability to slow tempo and produce key plays ensured he played a hand in all three goals scored, whilst Asamoah's concentration and intelligence in getting into great positions sealed Juve's win.

Bravo, Juve - three games played, three won. Next up... Chelsea.