Historic rival with solid offense awaits Juve
"I didn't live this game as a rivalry when I was a player. I think that matters more to Fiorentina."
So said Juventus coach Antonio Conte in his press conference ahead of Saturday's home match against Fiorentina. For those who yearn for controversy, he might as well have said: "We don't consider you worthy of being called rivals."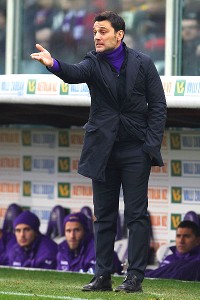 Marco Luzzani/Getty ImagesFiorentina manager Vincenzo Montella has built one of the best attacks in Serie A.
Conte is right in noting that the game is like any other, worth just three points. However, for the fans and at management level, this is a high-pressure game where the desire to win is even greater.
Juventus acted as such, releasing a video on their website previewing the game that has been described as 'provocative' by certain media outlets.
Using words such as 'inferno' and 'purgatory', Juventus are in fact referencing the great Dante Alighieri, the world-renowned poet referred to as the 'father of the Italian language'. Considered a symbol of Florence, his statues can be found in the Uffizi Gallery and in Piazza di Santa Croce, among other places within the city.
Yet despite the historical rivalry, this is a match between teams coached by the league's best young coaches - Conte and Vincenzo Montella - who have both impressed at their respective clubs. Fond of the same formation and displaying the same desire to play attacking football, this match promises to be exciting and one that ought to produce goals.
Despite a modest budget, the Viola have constructed a technical side that exploits the skill of their midfield players to provide a footballing spectacle. A side that loves to possess the ball, they initiate attacking players from their back-line, slowly passing the ball up to the top. Aesthetically pleasing, this a squad that focuses on playing the ball on the ground, the swiftness of movement and one-touch passing.
An attack-minded side, only three teams have managed to score more that the Viola in Serie A this season. Perfectly suited to the 3-5-2 formation favoured by their tactician, Fiorentina love nothing more than to confuse their opponents by making their own technical players difficult to mark. While David Pizarro is the man they rely on for pure accuracy and sensational through0balls, they also have Borja Valero who loves nothing more than to roam between the lines and deliver crosses to the forwards.
Beautiful going forward, Fiorentina are also defensively capable and are known for applying heavy pressure to regain possession. What Montella has reportedly asked his players to do against Juventus is to interrupt their ability to pass the ball out from the back. The Bianconeri centre-backs tend to give the ball to Andrea Pirlo, who then spreads play As such, Fiorentina hope they can rely on their attacking players to defend from the top.
When and if Juve have possession in midfield, Fiorentina will then apply heavy pressure and swarm around the players in hopes of retrieving the ball to build their own attack.
But Pirlo is a doubt for the Old Lady and Conte may well rely on a more physical approach. Paul Pogba will likely start in midfield and the hope is if Juventus play a fast and powerful game, they will force Fiorentina into individual errors.
Imposing their strength may be an interesting strategy to apply in this match, but the Old Lady must be careful to not foul as the Viola are the best in Serie A at converting from set pieces.
There are conflicting reports as to who will start for the Bianconeri. With a Champions League clash against Celtic coming up Tuesday, the belief is that players such as Sebastian Giovinco and Claudio Marchisio will be rested so they can fully recover from their injuries.
However, Conte sad both are "at 100 percent", so they may both feature. However, doubts loom over the availability of Stephan Lichtsteiner after playing for his country midweek as well as Mauricio Isla, who has a cold.
While this is not a match to take lightly, Juventus will have to rely on a rotated squad to do their best and grab all three points.