Juve-nomics: Striking numbers that don't add up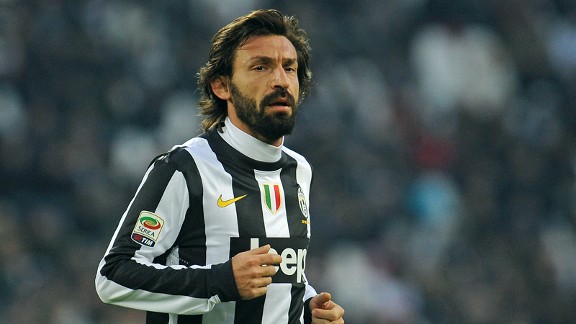 Valerio Pennicino/Getty ImagesAndrea Pirlo: There is a lack of quality in front of the midfielder
"It's like ten thousand spoons when all you need is a knife" sang Alanis Morissette in her 'ironic' hit and, looking at the transfers made by Juventus in recent months, it's hard not to get that same dejected feeling.

- Rzouki: Analysing Juve's transfer market dealings

The squad is laden with talent in almost every department, with Serie A's best defence playing in front of goalkeeper Gigi Buffon who is back to his unbeatable best. Ahead of them is a midfield which perhaps trails only that of Barcelona in terms of both talent and depth, the sheer genius of Andrea Pirlo flanked by the quality and incisiveness of Arturo Vidal and Claudio Marchisio. With Kwadwo Asamoah and the vibrant Paul Pogba backing them up, the Bianconeri have few worries in the middle of the pitch.

Juve chief executive Giuseppe Marotta has done a remarkable job, transforming a team which registered two consecutive seventh place finishes into a championship winning squad. Aided by the enthusiasm and attention to detail displayed by Antonio Conte, Marotta has placed a versatile collection of players at his coach's disposal and he is not finished there. With talented youngsters like Luca Marrone, Andrea Schiavone and Federico Mattiello thriving, Juventus have years of not needing to worry about the midfield.

And therein lies the problem. With Pirlo, Sebastian Giovinco and others around to create chances, there is a huge gaping hole at the sharp end, someone to actually put the ball in the net and finish off games. Of course there are a number of issues that must be looked at to put this into context, such as the fact that the Bianconeri have scored more goals than any team in the league if the three awarded to Roma in their forfeited game against Cagliari are discounted. There is also the small matter of Fernando Llorente's impending summer arrival, an international quality striker who will undoubtedly change the face of this team once he regains the sharpness lost in recent months.

But that isn't until June and football is a sport most certainly played in the present. Right now, while most club's would trade places with a team sitting three points clear at the top of Serie A and 'only' Celtic standing between them and a Champions League quarter-final berth, Juventus are in a relative funk. It is certainly not time to put an image of a cracked Juventus badge atop a double page spread and inject the word crisis into match reports, but there is cause for concern.

They have won just once since returning from the winter break, a run of results rivalling the poor form seen in the two previous Januarys. Having already drawn six games this season either 0-0 or 1-1, the sense of frustration at the lack of sharpness in front of goal grows by the game. It is no surprise to see Juventus lead Europe's top five leagues in shots per game with 19.5 and even less startling that they rank just eighth in terms of goals scored among that same group.

While the good work Marotta has done in completely overhauling the playing staff and revitalising what had become a stagnant youth sector cannot be denied, he has spent in excess of €200 million to do so. Of that amount, €59 million went on securing the quartet of Giovinco, Fabio Quagliarella, Mirko Vucinic and Alessandro Matri, who between them have netted 56 league goals. Add in the €2.6m to secure loan deals for Nicolas Anelka, Luca Toni, Marco Borriello and Nicklas Bendtner - scorers of a combined four Serie A goals - and we arrive at a sum of around €63 million.

That figure, by unhappy coincidence, is the buyout clause in the contract of Napoli's Edinson Cavani, a player deemed by many to be the perfect fit for Conte's team. Hard working, intelligent and willing to perform defensive duties, he obviously has a lethal finishing touch which has seen him net 93 goals for Napoli in the same time period.

His incredible explosion was unexpected when he swapped the pink shirt of Palermo for the sky blue of Napoli but considering he cost €1m less than Matri you wonder why more scouts and sporting directors were not beating a path to the Renzo Barbera for the Uruguayan star.

Of course Juventus would not have been able to get by without some of those aforementioned players and simply totting up their transfer fees is hugely reductive. Yet when further considering that Jorge Martinez, Eljero Elia and Milos Krasic cost the club another €39 million, seeing the wasted capital grow is almost as frustrating as watching the current strike-force stutter through so many dour draws.

Talk of a move for Lyon's Lisandro Lopez appeared throughout the transfer window but failed to materialise and no other top line striker ever arrived.

In its place came links to unproven but talented youngsters like Ciro Immobile or Mauro Icardi which were never going to appease the fears of those watching closely every week. However, Marotta's comments that "January rarely presents the opportunity to sign players who will make a huge impact," is a truthful assessment of the market and seeing how previous signings failed to deliver is easy in hindsight.

Yet the opinion the current squad is good enough to retain the Serie A title and progress in Europe still holds weight. In truth Juventus probably will achieve those aims thanks to the lack of a genuine threat domestically and those views are reinforced by the kind of dominating midfield displays which have seen Marchisio, Vidal and Pirlo among their leading scorers. Winning without a prolific striker? It is, to paraphrase Alan Rickman's Sheriff of Nottingham, "like cutting your heart out with a spoon!"