The allure of Gianni Agnelli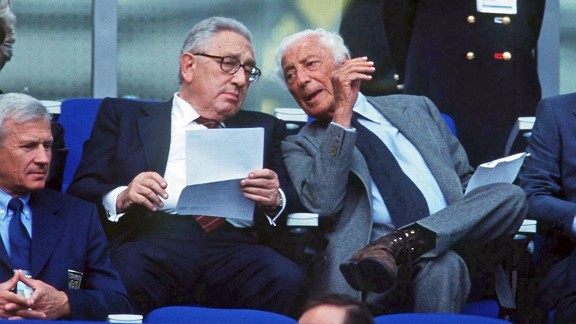 Henri Szwarc/Bongarts/Getty ImagesThe ever-charismatic Gianni Agnelli, right, took in a match at the 1998 World Cup with former United States Secretary of State Henry Kissinger.
The patriarch of a dynasty and the father of Italy, Gianni Agnelli was the man who helped his country fill the void left behind by the House of Medici. A symbol of style and honour, the patriotic 'Avvocato', as he is affectionately called, was the man credited with driving Italy's post-war miracle that saw the European country become the world's fifth most important economic power.

With a flair for drama and a love of the high life, Agnelli symbolised austerity managing to achieve the unachievable: a well lived personal life and a successful business empire. A youth devoted to spending cash and seducing women, it was rumoured he enjoyed an allowance of one million euros a year to do with as he pleased. And enjoy he did, so much so that his adult life was a constant struggle for the man who never quite accepted the concept of growing old.

Begrudgingly taking over the family business that thrived under the watchful eye of his grandfather, he kept FIAT an Italian family-owned business and employed key men to control it. Once he accepted his age and left behind his youth, he spent his older years controlling and growing the business. Presiding over its peaks and troughs, the company once accounted for just fewer than 5% of Italy's GDP and employed 3% of its workforce. Around the time of his death in 2003, its shares had dropped by approximately 80% since 1998.

Agnelli revelled in the success of his empire as it blossomed, developing important relationships with celebrities and politicians and enjoying his growing influence and control. His visionary outlook in business saw him modernise effectively to drive the company forward. Monetary rewards were never the objective but a beautiful bonus.

What he cared about was the image of Italy, the success of his country and most notably, the welfare of his taskforce. The struggle to cope in harsh economic times saw his personal fortune and that of his family's diminish, and yet he refused to preserve it if it meant he had to relieve his workers of their jobs.

In Juventus he found his greatest passion. Merely referred to as a soccer club in the many tributes to the great man found in newspapers, it was perhaps the one business that perfectly symbolised the legacy of Agnelli. Built upon the concept of Stile Juve, the Old Lady defined success -- owned and run by winners, its universal appeal was magnetic. Attracting the greatest players, captivating the world's fans, Juventus, like Agnelli, were patriotic, maintaining the Italian brand for the good of the country and calcio.


Asked what the nominal value was of a share of Juventus, the businessman smiled before replying, "Sixty lira, but the sentimental value is incalculable."

Agnelli, much like he did in business, pushed Juventus further as they climbed to the upper echelons of world football. His fascination with art made him favour the creative player and the magnate proved vital in the signing of stars such as Michel Platini. Despite his fondness for great football and skilled technique, he valued teamwork, the notion of sacrifice and above all else, belief. "In the tough moments of a match, there's always something in the back of my mind which I go to, the ability to never give in. This is why Juventus win even when you don't expect them to."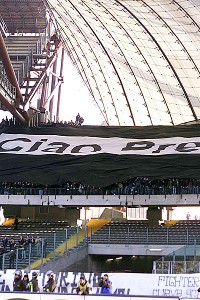 Grazia Neri/ Getty ImagesAfter Agnelli's death in 2003, Juventus supporters took a moment to honor the club legend.
While Agnelli may have been the father of the Italian people, he was never quite the perfect parent. Lapo Elkann once famously noted: "With me, he was fantastic and a huge inspiration, but it was my good luck to be his grandson and not his son." Born from his inability to resolve the deep lying emotions felt from being the son of Edoardo, a hard man with no room for affection, and Virginia who spent her days acquiring luxury, Agnelli was emotionally scarred. His successful attempts at reinvention never quite masked his broken heart especially with regards to his mother, the woman from whom he inherited his charisma.

Virginia Agnelli was a remarkable beauty who inspired artists and sculptors in the manner with which she combined innocent fragility and unshakeable strength. Her unique character was perfectly detailed in Marina Ripa De Meana and Gabriella Mecucci's book, 'Virginia Agnelli, mother and butterfly'. After the death of her husband, she descended into a whirlwind of chaos as she engaged in affairs with a number of men and grew obsessed with the trivial pursuit of scandal and luxury. Gianni, while idolising her passion, despised her abandonment of responsibility especially with regards to the upbringing of her children. He worshipped her grace but she become nothing more than an unfit mother in the eyes of her son.

However, like her, he captivated Italy and the world with his charm, appreciation for beauty and relentless success. At the same time, he unfortunately inherited her insatiable appetite for affairs and detached manner when it came to his own children as he attempted to grapple with the melancholy within.

His pursuit of the finest luxuries in the world was in fact a search for serenity. Like Henri Matisse, the artist whose finest pieces form a large part of Agnelli's personal collection, he dealt with the tension through images of beauty. Matisse channelled his inner anxiety into producing masterpieces, and like his greatest fan, combined great passion with great control.

In Donna Marella Caracciolo, Agnelli married a breathtaking beauty and a product of a perfect lineage. Her neck so fine, her figure so alluring that she was simply exquisite commanding the respect of Truman Capote and forming part of his elite gathering of society "swans". Together she and Agnelli shared a love of beauty and a certain elegance that made them a perfect match. However, she was not enough for the man who failed to suppress his desire for other women.

Giuseppe Saragat, once the leader of the Italian Democratic Socialist Party before becoming President of the Republic, enjoyed many special moments with the Avvocato. "Dear Agnelli," he once announced, "now that you are the President of Fiat, you can no longer woo the girls", to which Agnelli immediately retorted: "Then I resign immediately!"

Witty and charming, Agnelli was never one to miss out on a joke nor did he manage to keep his love of women a secret. Engaging in a string of affairs, the most notable one was with none other than Jacqueline Kennedy.

So enchanted by the Italian's passionate ways and delectable ability to forge bonds with both princes and paupers, Jackie was smitten. So smitten it provoked the now infamous telegram from husband John F. Kennedy who succinctly ordered: "More Caroline, less Agnelli."

Yet there was no escaping the appeal of Agnelli. His legacy continues to enchant both the people of Italy and beyond. No longer with us, Agnelli's beautiful spirit and enduring memory will forever remain in the hearts of those who had the fortune of knowing them and the many who could only admire him from afar.