Pogba, Juve have more than enough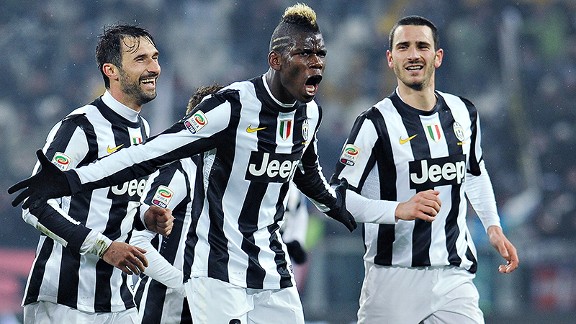 Valerio Pennicino/Getty ImagesPaul Pogba, center, had a brace to lead a strong Juve performance
Did somebody say crisis? The Old Lady, despite being without her two favourite midfielders, her potent wing-back playing in Africa and her injured defender performed above expectations to thrash Udinese 4-0 at home Saturday. Claiming their first Serie A win of 2013, Juventus started enthusiastically. Determined to grab maximum points they produced a tantalising spectacle of football.

- Video: Juventus 4-0 Udinese (UK and Ireland)

Udinese made life somewhat easier for the home team. With Antonio Di Natale on the bench, they were reliant on Luis Muriel, who was often left isolated. Unable to pass accurately, possession was consistently lost allowing them no time to launch an attacking passage of play. Haunted by their imprecision, Allan committed a serious number of individual mistakes; Giovanni Pasquale failed to restrain the runs of Stefan Lichtsteiner while the defence struggled with lapses in concentration.

Absolutely poor in the first half, the away side gifted the Bianconeri all the time and space in the world to attack. Juventus were vicious and extremely eager. Despite producing a consistent onslaught of attacks, they simply could not score. Sebastian Giovinco displayed selfishness on several occasions and consistently chose the wrong option. Firing at the Udinese players instead of getting around them, several well-created chances were squandered. The ease with Mirko Vucinic could be dispossessed also proved a problem. Juventus needed precision.

Then, out of nowhere on the 41st minute, Paul Pogba took a shot from beyond the 30-metre mark and scored one of the most beautiful Juventus goals. After the powerful right-footed strike on the half-volley, team president Andrea Agnelli stood up to applaud the 19-year-old for a spectacular goal. Juventus were 1-0 up.

The collectivity of the side was a sight to behold. The midfield worked tirelessly to block Udinese players from filtering through. Pogba ran back to apply pressure and force the away side into inaccurate lateral passes while Emanuele Giaccherini covered acres of space. Juventus were hungry when possession was lost and it was quickly recovered. Opponents were marked closely, tackles were well timed while Vucinic dropped back to pick up the ball and launch attacks. It was a wonderful example of team cohesion.

Giaccherini in particular was sublime. Running relentlessly, he exploited space magnificently to contribute offensively. He overwhelmed opponents with his movements and offered Juventus another option. Always available to help the defence, he tracked back continuously to intercept and tackle making it impossible for Udinese to bypass him. The one thing the player should improve on is his final ball. He's too easily put off by the opposition when the moment comes to strike accurately.

Of course the real star of the show was indeed Pogba, who has a penchant to strike wickedly from outside the area. An athletic hero, he not only scored two magnificent goals to launch fans into a frenzy but he tracked back, hassled for the ball, recovered possession and remained disciplined. Accused of being lazy on occasion, Pogba was determined to provide a complete performance on the night to demonstrate maturity. The result was an enchanting display of football.

The Frenchman's first strike was not enough to calm the nerves of the Mister, manager Antonio Conte, who took the opportunity to berate Lichtsteiner as his teammates celebrated. While one can only sit back and admire the Swiss engine who produces those marvelous runs, his inaccuracy is rather frustrating. His crossing was poor, his choices were bizarre and he failed to offer anything of worth despite finding himself in the right places at the right time. He simply must improve his final output.

In the second half, Francesco Guidolin's men seemed more determined and carved out a few opportunities. Di Natale was introduced to bolster the impact of their attack but in truth, they never put Juventus in any serious danger. Martin Caceres, harshly criticised in certain papers, put in an improved performance at the back for Juve. His willingness to get to the ball first made all the difference. Meanwhile his two partners were masterful as always with Leonardo Bonucci doing a spectacular job of tackling and snatching possession back.

The Juventus performance was exactly what one expects from a side that achieved so much in 2012. There was real hunger, determination and an exhibit of true quality. Despite the several absences, what Juventus possess on the bench is still strong enough to collect the necessary points if the right attitude is adopted, as it was Saturday.