Fernando Llorente - a summer Bianconero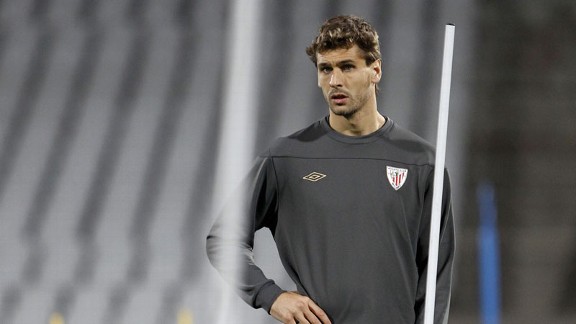 PA PhotosSpanish striker Fernando Llorente is swapping Bilbao for Turin
As Juventus fight off claims they are suffering from a crisis - dramatic accusations considering they've only disappointed in two Serie A games - the transfer world has found its latest headline. At the time of writing, Fernando Llorente is practically a Bianconero. Or at least he will be in June. A deal between the Spanish player and the Old Lady is imminent with only personal terms left to finalise. (The deal is now done -Ed)

A great player indeed, but is Llorente the answer to Juventus' attacking problems? The club itself have always subtly referred to the forward as an opportunity rather than the stratospheric star the fans covet. Opinion on the player is much divided. How much quality can he really lend the Juventus forward line?

To understand Llorente is to understand the journey he took to be a footballer. A melancholic man with a desperate fear of loneliness, the journey to train in order to fulfil his dreams involved his parents' car, trains and buses for over 200 miles to reach his destination.

Away from his family for vast amounts of time, Jose Maria Amorrortu, the man who is currently Athletic Bilbao's Sporting Director, sought to ease the burden of loneliness. He found him a second home, a second family for the 12-year-old boy to stay with, close by. Benito and Maite grew very attached to the boy. Without his parents and the luxury of familiarity, his nights were spent swallowing his tears. Emotionally exhausted, he willingly sacrificed his childhood to allow for a bright future.

However, he was struggling on a sporting front too. Growing quickly in height, he lost the swiftness of movement and found it difficult to adapt to his athletic physique. Different to his team-mates, he began to lose confidence in his ability.

After all that he experienced, giving up was not an option. Maite believed in him and after her passing, he promised to fulfil his dreams in her honour. He spent time honing his skills and growing accustomed to his changing shape. He grew mentally tougher and boasted an exquisite eye for goal. Making friends with the boys his age, he began to enjoy his youth and the football he played. Sadly, his nights were still spent fighting off the familiar pang of loneliness, a pain he still suffers with till this day.

Finally given his debut in 2005 under then coach Ernesto Valverde, it only took him a few days before he scored a hat-trick to announce his arrival in a Copa del Rey match. Gifted with the ball at his feet despite his height, he possessed a wicked touch and boasted different skills from his team-mates around him. He relished challenges, could score with anybody part and was skilled with both feet.

However, he lacked confidence and viewed his stature as a flaw, not strength. It was Joaquin Caparros who perhaps made him the player he is today. A staunch believer in the player's ability, he quickly realised that in Llorente, he possessed a unique gem. This was boy who understood hardship and the necessity of sacrifice. He wasn't chasing fame, he was chasing sporting brilliance. Moreover, he was built like a soldier, possessed a heavenly touch and had an appreciation for the work of midfield to exploit glorious chances. Caparros pushed him, forced him to accept his strengths and dedicated much of his time to the development of the forward.

Always thought of as special, Llorente was never quite special enough for Spain. Having grown up in a generation of exceptional players, he had to demonstrate why his differences created solutions, not problems. With Llorente on the field, opposing centre-backs were pushed back, crosses were met with a perfect header and goals were a mere formality, but not everyone appreciated different.

Voted La Liga's sexiest player after Gerard Pique (clearly Spanish women have a type: tall, blonde and blue eyed), Llorente has learned how to make the most of his skills. His growing acceptance of his ability coupled with greater mental fortitude saw him have a standout season last year for Athletic Bilbao. Scoring important goals, leading the line with authority and positioning himself correctly, he merited the positive attention.

He decided not to renew his contract with the Spanish club and Juventus see him as a perfect opportunity. A deadly striker with two good feet, he is capable of playing in a 3-5-2 formation and makes life difficult for opposing defenders. However, there is another reason behind Juve's admiration for the player - his humanity.

A fighter with a big heart, he is unlike the cliché modern footballer. Whilst he is proud of his personal achievements, he's quick to point out that football is not life. Success lies in making the difference, contributing to the world in a real manner. He spent some of his summer holidays visiting India, to spend to time with disadvantaged children. He supported Paralympians in hopes he could aid them in fulfilling their dreams. It is his work with others that have helped him develop and mature, thus allowing him to become a better player.

A world class talent? Not yet but a 'Stile Juve' player he certainly seems to be.