Answering your questions on Juventus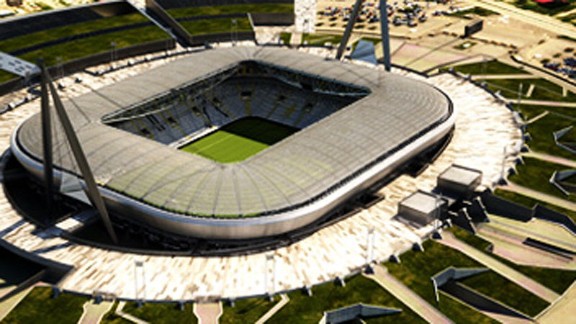 GettyImagesJuventus Stadium
Instead of a feature on Juventus to analyse their tactics, the opponents or the problems they have suffered without key players in their last two Serie A matches, this article will be dedicated to your questions.

I've picked 5 questions I have been asked by Juve fans and curious football enthusiasts on Juventus, ones I thought to be interesting.

1) How much financial muscle do Juve really possess? From @JulianDeChiara

Many have asked this particular question and I answer it with thanks to La Repubblica's help. Considering all the success of 2012, one would expect Juventus to be stashing away millions but unfortunately, they are not.

At the end of June 2012, Juventus recorded a heavy loss of €48.7 million. Whilst it seems a significant number, it is practically half of what the loss was from the previous year: €95.4 million. The losses of recent years, the worst ever attributed to Juve, had much to do with the lack of participation in the Champions League, increased operating charges, the purchase of new players, the depreciation of assets and the increase in wages.

The records showed a 24% increase in revenue due to the Juventus stadium from June 2011. The money generated from the stadium including the tours and the museum was €34.6 million. Meanwhile, there was a 63% rise in season tickets sold from the year before.

The Jeep brand sponsorship deal brought in €35 million but Juventus will invest approximately €11-€12m on constructing a new media and training centre for the first team on a portion of the Continassa Area, adjacent to the Juventus Stadium. The area will also be a tourist attraction with plans to build hotels, restaurants, private residences as well as businesses.

For the year ending in June 2013, Juventus will expect better financial records considering their participation in the Champions League, the fact they sold out of season tickets, which will add a further 7% increase in revenue in addition to the increased money generated from TV rights. Only after they have settled their losses will they then be generating actual profit to start splashing the cash and perhaps purchasing those coveted 'stars'.


---


2) @Soccercrave asked about the long-term role at Juve for Paul Pogba. He can fill so many gaps, but what's the vision for his long-term position?

Firstly one has to wonder if there really is a long-term future for Pogba at Juventus considering the fact his agent is Mino Raiola – a man who seemingly frowns upon club loyalty.

However, when Juventus initially scouted him, they believed he would be their future Andrea Pirlo although they are different players. Capable of building attacks and launching key passes, his movements thus far in the season have since changed their minds. Blessed with athletic ability and capable of exploiting space to strike powerful goals, it's safe to say Juve will not limit him to sitting in front if the defence to launch attacks. When I asked Fabio Paratici on the player, he said he's the future midfielder, the man who alongside Claudio Marchisio will dominate the area.


---


3) A question from @Montiburns1: Who is Juve missing the most on the left: Giorgio Chiellini or Kwadwo Asamoah?

Considering the fact the squad is conceding their goals from the area Chiellini would have defended, I'd say the defender but that is too simplistic of an answer. Asamoah is one who aids Arturo Vidal in providing the intensity and the pressure on the opponent that allows Juve to snatch possession back and launch attacks. Without that pressure, opponents are allowed to filter through thus heaping pressure on the Juve back-line. With the Ghanaian back in the squad, fewer players would overcome the midfield to trouble the Juventus defence.

Without Chiellini, those players who do manage to bypass the midfield are finding it easier to impose their strength and strike. Chiellini offers strength in the air, the ability to tackle viciously and the aura of being omnipresent which intimidates the opponent. His replacements cannot boast the same skills.


---


4) Ideal but realistic who would Juve like to sign? From @PavRR8

Paratici has had his eye on Gonzalo Higuain for years. He feels he is the ideal player to guide the team to trophies considering his predatory nature, his ability to score goals (even the scrappy ones) and most importantly, his hard-working nature. Conte, on the other hand, worships Luis Suarez. Another fighter, his creative skill, excellent vision and improved finishing make him a complete forward.

Personally I love them both but would tend to agree with Higuain. Ideally, I would also like to sign a defender and Matheus Macedo Doria would be my choice. Young and technical, he boasts incredible physical presence.


---


5) Matri and Quagliarella; who should stay and who should go? From CoWreck

Purely on a technical level, Quagliarella is the better player. He is more mobile, author of spectacular goals, provides creativity and the season has been more precise. However, one could argue that he never really managed to recover his attacking prowess from the several injuries he accrued.

Considering the creativity on offer in attack, Matri offers something different from all the others. A great striker, he has struggled with Conte's style of play. He prefers fast vertical football with him dominating the area to latch on and strike. Conte's game exposes his limited technical ability and he's forced to roam more than he would like. However, if it were up to me, I would sell both.