Perspective on the Marchisio controversy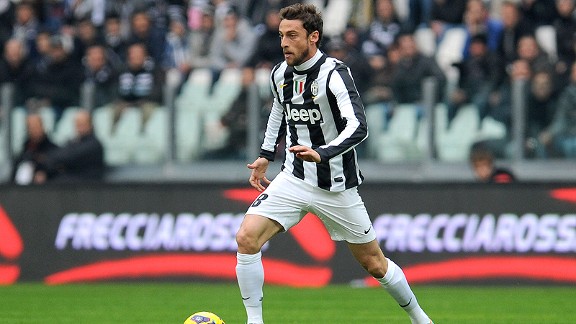 Valerio Pennicino/Getty ImagesClaudio Marchisio: Will he remain Juve's talisman?
And so the drama continues. While Italy, and in particular Napoli, sharpen their knives to continue a fight of ridiculousness against Claudio Marchisio, this blog hopes to offer some perspective with regards to the latest controversy.

The Juventus and Italian midfielder opted to give an interview to Style, a supplement to Corriere della Sera and as the supplement name would suggest, the topics mainly covered were the handsome player, his views on fashion, making it as a Serie A star and his wife.

- Napoli infuriated by Marchisio comments

Within his responses he speaks of how his mother drove him to training every day as a child, sacrificing so much for him. He spoke of always being well dressed and the fact his wife thinks his dress sense is that of an older man's and not a football player aged 26. Additionally he offered his views on who were the gentlemen within the game naming Alessandro Del Piero, Steven Gerrard and Javier Zanetti among others.

Answering over 20 questions, he was then asked to name a player who provokes feelings of antipathy. He said there wasn't one player but perhaps a team, Napoli. In saying that 'something goes off' inside him when playing against Napoli, one can only deduce that he meant he's even more determined to succeed against this particular team. Why? Probably because he finds them tough to beat, as they were the only side to have defeated Juventus last season in the Coppa Italia final. To have such feelings against a team does not signal disrespect, but rather the opposite. One would never have such feelings against a side they considered small time and insignificant.

Marchisio did not wish them ill, nor hoped they would collapse and fall off the face off the planet, or poke fun at the club's players or fans. To feel affronted by such a trivial interview that focuses on fashion and the player's desire to one day sit in front of a fire dressed in a suit and smoking a pipe seems nothing more than a quest for controversy.

In a calcio world dogged by scandal, controversial incidents and more drama than a soap opera, some perspective is of the utmost importance. Two thirds of Italy who are non-Juve fans feel antipathy towards the Old Lady. A match against her is considered the highlight of the season only because her potential defeat would result in euphoric displays by the opposition. They are Italy's most supported team but they are also the most hated club simply because they're successful. In fact, when Antonio Conte arrived at Juve as coach he said the following: "Juve has become a little likeable. The hope is that we will return to being disliked." No one dislikes what they deem inferior, but everyone envies winners.

As Marchisio insists he did not mean offence and the papers debate what the player really meant, Juventus are preparing to face Parma on Sunday. Having quickly recovered from their disastrous game against Sampdoria last weekend, the Old Lady defeated Milan on Wednesday night in the Coppa Italia quarterfinal to demonstrate her strength.

The squad rediscovered their intensity and worked as a collective unit to progress in the competition. Sebastian Giovinco was sublime from free kicks even if his ability to finish off great chances was a cause for concern. Alessandro Matri got himself into great positions even if his teammates let him down at times with their passes while Mirko Vucinic showed us why he is regarded as the Old Lady's hero.

Philippe Mexes, one could argue, deserved a red card for his reckless play while Juventus should have avoided conceding that early Milan goal. Had they properly studied Stephan El Shaarawy, they would have realised he tends to always receive the ball on the edge of the box before running horizontally to pick out the perfect spot to shoot from distance. He ought to have been closed down and marked properly.

Nonetheless, the match was won and they will face Lazio next in the semi-finals. What they must concentrate on now is the upcoming Serie A clash against Parma.

This is by no means an easy game for the Bianconeri who have at times proven lethargic and overconfident. Parma have not lost at home all season and only Milan, Fiorentina and Siena have taken some points off them when playing in their stadium this year. Their coach, Roberto Donadoni, is eager to get a win to maintain their home record while the team always know how to crank up the pressure in the second half.

Recently and especially in their last three home games, Parma have developed more of a fighting spirit, exhibiting their attacking potency in the latter stages of the game. Juventus will need to stay alert and concentrate for the full duration of the match should they hope to walk away with all three points.

Defensively, Parma have also improved and boast Serie A's seventh best defence. They have slowly moved from man-marking the opponent to zonal marking while the players' chemistry has been bettered to allow for easy transitions and improved synchronisation. Flexibility is the key to their game with various movements and tactics heavily practiced prior to the game in order to neutralise the strengths of their opponents.

Juventus will have to be at their best to defeat a determined Parma side this weekend.