Coppa Italia next, but will Drogba arrive soon?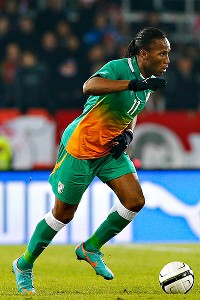 Alexander Klein/Getty ImagesDidier Drogba's last match was Nov. 14, when he scored in Ivory Coast's 3-0 win over Austria
In their never-ending quest for a world-class striker, Juventus have been linked to a number of stars this winter. While it seems Fernando Llorente will have to wait until the summer, Didier Drogba has been continuously linked with Juve, with some newspapers going so far as to say he's gone househunting in Northern Italy.

What most reporters in Italy will agree on is that the Ivorian will cost Juventus a lot of money. Shanghai Shenhua will not just give him up for free, while the player wants an 18-month contract and expects a good salary. According to the latest information, the Italian club is willing to pay between 2.5 million euros until the end of this season and then 2.5 million for next season.

Juve sporting director Fabio Paratici said in December the deal seemed too hard to conclude and the amount of money required made it an undesirable option. In many ways, he insinuated it would not happen. The club denied their interest to the wider press while manager Antonio Conte said he never requested Drogba.

But a few days ago, Juve CEO Beppe Marotta finally admitted interest in the Ivorian, but went on to say the club still had to assess the situation financially. Drogba has since said no club has spoken to him 'directly'.

While Juventus are in great need of a striker capable of finishing off the many chances they create, some have opined Drogba costs too much considering the main reason he's being brought in is for the Champions League. If the Old Lady loses to Celtic then he's no longer worth the millions as the team can survive with what they have with regards to domestic fixtures. Then in the summer, Llorente seems almost certain to arrive to fill the void up top.

However, if Juventus do make it past the next round then Drogba may well prove essential considering how difficult it can be for the Bianconeri to finish games. Against Nordsjaelland, for example, they created several chances only to see most of them squandered, managing only a point away in Denmark.

Against tough opposition in the Champions League, they will need a player of Drogba's experience who will provide them with the efficiency necessary to carry them as far as they can go. Perfect in midfield and defence, a world-class talent up top would be the cherry on top.

However, transfers aside, the event that Conte is really concerned with is the Coppa Italia quarterfinal against Milan Wednesday night. While the competition is hardly one that sets pulses racing, a duel between two of Italy's top teams is always eagerly anticipated. Juventus have already announced that all tickets have been sold with most of them gone Jan. 2.

Milan consider this a must-win in that a victory away from home will help them to turn their season around and boost morale. Facing the team they still blame of robbing them of the Scudetto last season, this is a question of revenge.

For Juventus, this is their opportunity to win against their biggest rivals this season considering that they lost the league fixture Nov. 25 on account of a controversial penalty that should have never been awarded. A shambolic performance against a ten-man Sampdoria side over the weekend resulted in an explosive reaction from a severely unhappy Conte.

While the team hardly provided the intensity needed to merit a win, the coach's contentious decisions also contributed to the poor performance of the team.

Against Milan Wednesday, it's been suggested that Federico Peluso, the new arrival who had a torrid time in defence in his debut game for the Bianconeri, will start again. However, this time he will be played as a wing-back while Martin Caceres is likely to take his place in the back-line. Andrea Pirlo will rest and Luca Marrone, the ball-playing midfielder who has been played as a centre-back this season will act as the deep-lying playmaker.

Thankfully the tackler who is Arturo Vidal will be back in the side to add some bite to the midfield while Stefan Lichtsteiner will reprise his role as right wing-back.

Neither side will take this match lightly with both searching for success. If Juventus do manage a win, then they will be one step closer to clinching the coveted silver star.