A home defeat to start the new year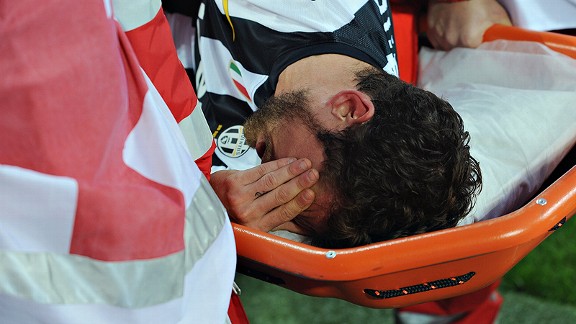 Valerio Pennicino/Getty ImagesIt was a tough day for Juventus and Claudio Marchisio, who had to leave in the 78th minute after taking a knock
Well, you know what they say about assumptions and what it makes of you and I. For a side that recently fired their coach, that went down to 10 men after 30 minutes and conceded a penalty early on, no one could have possibly predicted an eventual win for Sampdoria Sunday. Yet Delio Rossi's brave squad produced a shockingly great second half to punish Juventus and their complacency and win 2-1 away from home.

The Bianconeri were both lethargic and smug. While they controlled the ball and possession in the first half, their intensity dropped in the second as they conceded two goals. Highly celebrated for their tough tackles, their intense challenges and ability to win the ball high up the pitch due to their pressure, Juventus instead allowed their opponents ample space to operate Sunday.

Allowing themselves to be pushed back, the Bianconeri defence were embarrassingly passive. Watching their opponents play, not one of the back three jumped into a tackle, pressured for the ball or attempted to be proactive. Spaces were not closed down adequately while Federico Peluso demonstrated his knack for reckless challenges. Even keeper Gigi Buffon allowed himself to be beaten, conceding a goal he should have been able to save comfortably.

Without Giorgio Chiellini, Kwadwo Asamoah or Arturo Vidal, the Bianconeri were without their top three tacklers, all adept at snatching back possession. Their physical approach and intimidating presence permits the Old Lady the aura of invincibility. Whilst Vidal harries the opponents high up the pitch, Asamoah marks the players closely before tracking back to offer cover. Chiellini is proactive in his approach, quick to win aerial duels and challenge his opponents. Their replacements offered very little.

The Old Lady can cope without all three if she controls the game and proves precise. Unfortunately against Sampdoria, she proved to be the poster child of imprecision. Wayward passing coupled with inaccurate crossing meant possession was often lost, thus stripping the team of their fluidity in assembling attacking movements. Without any of Juve's top three tough men on the pitch, Sampdoria exhibit their ferocious counterattacking game when Juve lost possession as they ripped through the midfield with only a weak back-line to overcome.

Emmanuel Icardi proved masterful as he exploited the lack of bite in Juve's defence. The player who remained in Genoa instead of attending the South American U-20 Cup demonstrated the power of his shots as he scored a brace to grab all three points for the visitors.

Over the festive break, Sampdoria's Rossi insisted on perfecting the Blucerchiati's defensive movements, repeating certain practices to encourage solidity at the back. Their incessant practicing evidently paid off. While goalkeeper Sergio Romero proved effective with three impressive saves, it was the collective and determined performances of the team as a whole that prevented a Juventus equaliser. Space was quickly and effectively covered while the sheer number of Sampdoria players in the box allowed the Bianconeri little space to weave their magic through the congestion.

Considering how the Blucerchiati turned the game in the second half, Antonio Conte's substitutions proved disappointing. While it was clear that Juventus with an extra man needed to impose their attacking strength and score goals, a double substitution that saw Juve end up with three attackers in addition to Andrea Pirlo and Paul Pogba created imbalance. Conte attempted to remedy that with the introduction of Emanuele Giaccherini but the damage had been done.

Ideally Vidal should have started, but if Pogba had been entrusted with the role instead than the Chilean should have at least been introduced midway through the game considering the circumstances.

Meanwhile Peluso clearly struggled with his positioning and appeared overwhelmed. It seemed clear that Conte gave him too much too quickly. The defender is yet to understand the dynamics within the squad and Martin Caceres would have perhaps been a wiser choice. Tenacious and experienced, the Uruguayan ought to have been offered the chance to start at the back.

One could argue Juventus were simply unlucky. Alessandro Matri should have been given a penalty while it s was outrageous just how Mirko Vucinic missed his chances when he came on for Paolo De Ceglie in the second half. However, the Champions of Italy ought to have doubled their advantage against a struggling Sampdoria side in the first half considering the extra man.

Conte said afterwards his players were mere mortals capable of losing. However, even more mortals should manage at least a point when playing at home against a side that has won only two away matches this season. It will be interesting to see how the Old Lady redeems herself against Milan in the Coppa Italia midweek.