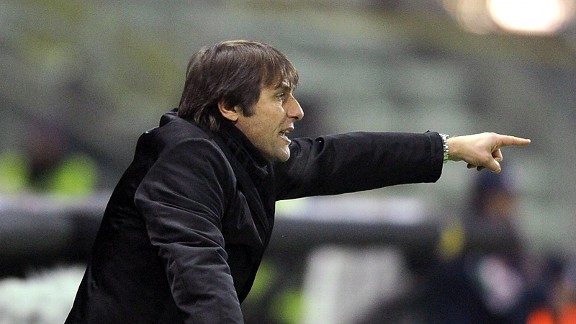 Claudio Villa/Getty ImagesAntonio Conte and Juventus resume their Serie A season on Sunday versus Sampdoria.
Sunday the 6th of January was going to be a special day. Juventus versus Sampdoria. The side led by Ciro Ferrara, former Bianconeri captain was going to come face to face with his former colleague and another former Bianconeri captain, Antonio Conte. A duel between two Juventus legends, who both played and also coached the Italian giants, made this a tantalising fixture to anticipate.

- Juve in talks with Fernando Llorente
- Vucinic may miss Sampdoria clash

However, the trigger-happy world of Italian football has since seen Ferrara lose his job and one can perhaps understand why. Dwelling in a state of perpetual confusion, the Sampdoria players rarely understood the tactics or what was expected of them on the pitch. The defence was susceptible to individual errors and the players to lapses in concentration that often gifted the opposition easy goals. Meanwhile, certain players such as Marcelo Estigarribia were played out of position making it even more difficult to adapt to the coach's methods.

One could argue that the team were also unlucky, especially with injuries to key players and some questionable refereeing. However, Delio Rossi has since taken over and after a loss to Lazio, he has worked on studying the squad at hand in hopes of improving performances.

Having opted for a 4-3-1-2 formation against Lazio in their last match, it's reported that the former Palermo coach will switch to the popular 3-5-2 shape. Angelo Palombo, who was frozen out of the squad, is likely to make a return and could even play as a defender. Despite being an attack-minded coach, Rossi is keen to improve the defence and has spent more of his time perfecting the squad's defensive movements.

It will be a struggle for Sampdoria who have only won two of their away matches this season with both coming at the start of the campaign. They've conceded at least two goals in their last five away matches and will be facing a Juventus side that seem determined to fight until the final whistle.

History is also on Juve's side. Of all the matches played between these two clubs in Turin, Juventus have won 32 and have lost only four. Incidentally, the last time Juventus won at home against Sampdoria in Serie A was in 2009 when none other than Ferrara was coach. A terrific game for the hosts that saw the Old Lady manage a 5-1 scoreline. Times have changed but Juventus have only grown stronger.

However, Rossi is not a coach to be underestimated and the Bianconeri are missing several players. Mirko Vucinic is a doubt due to injury, Giorgio Chiellini is out for a few months, Kwadwo Asamoah has left for the Africa Cup of Nations while Stefan Lichtsteiner is suspended. Instead it's likely that Antonio Conte will count on Martin Caceres in defence, Mauricio Isla on the right and Paolo De Ceglie on the left. Sebastian Giovinco and Alessandro Matri are thought to spearhead the attack.

While Conte contemplates the match, the media are instead focused on news of Fernando Llorente's potential move to Juventus. Athletic Bilbao released a statement on their website to note that the Italian giants have begun negotiations with the player. La Repubblica suggest that Juve, who perceive the player to be more of a great opportunity as opposed to a world class talent, may manage to take the player now for four million euros. However, others insist that Bilbao, who have financially mismanaged the situation up until now, will not let him go until the contract runs out.

One player that has arrived at Juve is Federico Peluso, the left-sided defender who has been officially brought in on loan from Atalanta. Versatility is his key asset and in training yesterday he was played as a left sided centre-back. Able to adapt to different formations and positions, he is highly regarded for his work ethic and determination.

A player with vision and excellent timing, he is a quick learner and one that can easily translate the coach's tactics onto the pitch. However, as mentioned before several times in this blog, the player is rash with his challenges and commits far too many fouls. He will need to resist temptation should he hope to make an impact at Juve and not disappoint the perfectionist within Conte.