A talented forward line but can they score enough?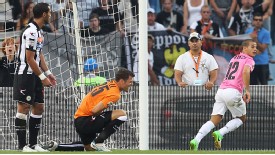 APSebastian Giovinco: Kept quiet on International duty
Who would have guessed that the team that searched high and low for a world class striker throughout the summer have so far scored the most amount of goals in Serie A – without said star striker. Unable to depend on a complete centre forward, Juventus are currently taking Italy by storm by relying on the technique and innate understanding between their two second strikers, Mirko Vucinic and Sebastian Giovinco.

Sharing the same footballing vision, the little and large attacking duo have so far developed a close bond and, against Udinese, triumphantly exhibited their understanding and developing relationship.

Standing at 22cm shorter than Vucinic, one would assume Giovinco would act as provider to the Serbian known for his physical stature and previous experience as a centre forward. However, against both Parma and Udinese, it has been Gio who has acted as the 'prima punta' with Vucinic playing just behind him on the right.

Attacking space with ease, Seba's mobility and willingness to exploit the space between the opposition's defenders have allowed him to excel in his new position at the top. His ability to stretch defences and overwhelm defenders with his constant running has allowed him to take up the right positions and convert the chances created for him. Vucinic has instead relied on using his strength to keep defenders at bay in order to provide the movements needed to create goal-scoring opportunities.

Both are well versed in the art of creating, but placed alongside each other, the attackers have impressed with their ability to exchange positions, leaving their opponents with no clear reference points to mark.

However for all the praise the duo indeed deserved against Udinese, it remains to be seen whether they have enough to last the distance and make the impact Juve need to make in the Champions League.

Against Bulgaria, Italy witnessed a different Giovinco to the one who terrorised the Udinese centre-backs. Faced with tough defenders who enjoyed stifling his impact, Seba looked disorientated and unable to make the difference. Invisible for large portions of the game, his height restricted him from exploiting the balls sent over the top whilst his small nature was highlighted against the strength of the Bulgarians.

It is important to note that during that World Cup qualifier, Italy had no real presence threatening between the lines, as coach Cesare Prandelli confirmed, and this had a negative effect on little Gio. Moreover, he has never been a player who has performed consistently. Admirable performances are all too often combined with anonymous ones that provoke negative comments and this will be the season to judge whether or not Seba can provide the consistency needed to help Juventus challenge on all fronts.

For the Bianconeri, Giovinco's lack of physicality need not be a problem as new signing Nicklas Bendtner may not be the world class star the fans were hoping for but he can certainly provide the muscle, height and qualities the team and Coach have coveted.

Standing tall at 6ft 5in, the Dane is renowned for his aerial ability and for being 'a target man'. Despite his frame, he has technique and is good with his feet whilst he is a decent passer of the ball. Unfortunately, he is a player who divides opinion.

Much like Giovinco and Vucinic, consistency is something that has eluded him. Whilst at times the player impresses with his intelligent build up play and his superb ability to pass defenders to score delicious goals, he can also disappoint with his poor decision-making and woeful finishing. The longer he takes to think before he strikes, the worse it gets with regards to his finishing ability. He is a player who needs to exploit his natural instincts. This is why it is important he maintains his confidence as poor performances in front of goal make him over think his movements the next time a goal scoring opportunity presents itself.

Raw talent is there when it comes to the Dane but instead of focusing solely on his physical movements, Antonio Conte will also need to attend to the player's psychological needs. Bendtner performs his best when he is on the cusp of recognition - when he thinks he is doing well enough to feel secure of his place but not too well where he stops wanting to do more. It is also important to note at this point, that the player is still very young and capable of being moulded into the forward many thought he would be when he impressed as a youngster.

Beppe Marotta made it clear the last minute signing was nothing more than a good prospect but Arsene Wenger also made it clear that despite sending him out on loan, he still strongly believed in the player. "It is not for nothing that I loaned him to Juventus. He is a talented player. There he will grow and then return to my team," revealed the tactician. "Don't forget, he is a boy of 24 years. The right age to prove who he is. The talent is not missing otherwise I would not have bought him from Copenhagen when he was just 16 years old."

A skilful front line indeed but the worry remains, will they score enough?