Widening the gap, Juve keep on winning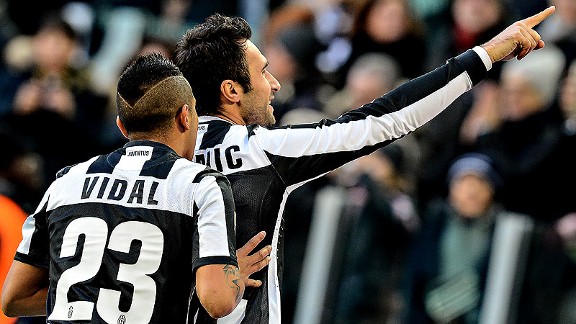 Andreas Solaro/Getty ImagesA great team effort punctuated Juve's 3-0 win over Atalanta and widened the Bianconeri's lead atop Serie A.
The match may have lasted 90 minutes but the competition was well and truly over by the 27th minute when Claudio Marchisio beautifully struck Juve's third goal of the day. Even if there was a glimmer of hope that Atalanta would somehow make a miraculous comeback, Thomas Manfredini's sending off for two harsh tackles ensured a Bianconeri triumph.

There is no stopping a side that plays with confidence and from the very first minute, Juve displayed the type of hunger that immediately set them apart from their rivals. Just 86 seconds after the match started, a defensive error led to the first Bianconeri goal and Mirko Vucinic clinically finished of the game to score his first league goal for the side since September. More importantly, this was his first goal at the Juventus Stadium since January.

The goal demonstrated the growing understanding between the Montenegrin and Sebastian Giovinco and more importantly, it highlighted the importance of having Andrea Pirlo on the team. The midfielder played a majestic game, exploiting his vision to deliver the necessary key passes as well as closing down space to ensure defensive solidity. A sumptuous free-kick led to another goal as the bearded wonder continues to demonstrate his extraordinary quality.

One cannot help but feel sorry for Atalanta. They arrived with good intentions and hope that they would somehow inflict certain surprises to achieve something away from home. Despite conceding an early goal, they attempted to play football but found Juve swiftly closed off every passage to goal. There was simply no way for them to penetrate.

A Luca Marrone slip allowed German Denis a glorious chance to equalise but Gianluigi Buffon came out to quickly block the ball, forcing Denis to accept that he is no longer the player he was last season. Even when down to ten men, Atalanta refused to simply sit back and defend. Pushing forward when in possession, they may have attacked in vain but they at least managed to avoid conceding again until the second half.

Positiviely, this was the fifth game in which Juve have managed to keep a clean sheet. In their last eight games, they have conceded only one goal -- Robinho's penalty in the loss to Milan. Defensively organised, the Bianconeri's willingness to sacrifice and aid one another has ensured that any potential weaknesses are effectively concealed to only allow room for their strengths. Giorgio Chiellini deals with the headers as he attempts to out jump every opponent, Arturo Vidal tackles opponents high up the pitch to snatch the ball whilst Andrea Barzagli is always on hand to tame the ambitions of their opponents. This may not be the greatest Juve squad but it's certainly one of the best teams, one that boasts the power of collectivity.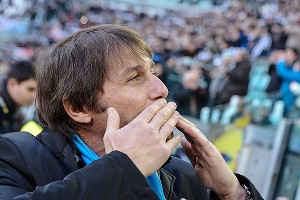 Andreas Solaro/AFP/Getty ImagesAll in all, a good (if a little bittersweet) day for Juventus and coach Antonio Conte.
Whilst Marrone did not allow the error to result in loss of confidence, his teammate Sebastian Giovinco was struggling to do the same. The diminutive forward has proved his excellence in setting up opportunities -- as well as scoring quite a few for his club since his arrival -- yet he failed to finish off his chances today. After the first two Juve goals were scored, practically every Bianconero rushed forward and took a shot on goal in hopes they would get their name on the score sheet. For Gio, what he wanted most was not happening and despite several players ensuring the right pass was delivered to him, Seba somehow failed to convert despite his eagerness.

In truth, the only Juve light that failed to shine so brightly today was Kwadwo Asamoah who put in another mediocre performance. He's always defensively reliable, rushing to take his place at the back when Juventus lose possession, but is failing to make a consistent impact. No real determination to push forward and overcome his opponents, it is perhaps time for him to take a rest.

It must be said that for Juve, only the very best was expected of them today. Six years ago on 15th December, Juventus tragically lost two youth players, Alessio Ferramosca and Riccardo Neri. On the Juventus website, the club described the excruciating pain they suffered when they lost the two boys in 2006 and on Sunday, the fans unfurled a banner in honour of Ale and Ricky. Forever in our hearts, Conte admitted to feeling overwhelming emotions upon seeing the banner.

In honour of their joy for the game and their dedication to excellence, this victory is dedicated to Ale and Ricky and their everlasting memory.