Antonio Conte returns to preside over a Juventus win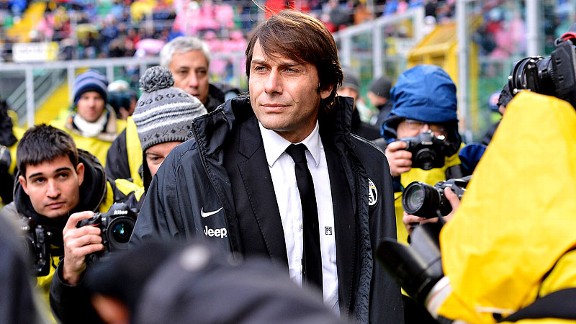 Tullio M. Puglia/Getty ImagesAntonio Conte's return to the Juve sidelines boosted the Serie A leaders more than Sunday's 1-0 win at Palermo ever could.
Rarely have we seen a pitch in such a terrible condition and rarely have we seen an Old Lady perform well after a Champions League fixture. After a dynamic performance in Donetsk to seal top place in their qualifying group midweek, Juventus travelled to Sicily and on a heavy pitch riddled with water, mud and a maze of puddles, they managed one goal against Palermo to maintain the advantage at the top of Serie A.

This was an important match for Juventus but a special one for their coach, Antonio Conte, who finally made his way back to the sidelines after so many months out due to his ban. The screaming, the instructions, the desire for width were all expressed in typical Conte manner to encourage a side that grew in character as the game went on.

Somewhat slow and cagey in the beginning, the Old Lady allowed Palermo to impose their game and show off their incredible strength when playing at home. Consistent miscommunication between Mirko Vucinic and Alessandro Matri led to a string of wasted opportunities whilst the home side were always safe in the knowledge that should they counterattack, Fabrizio Miccoli would be waiting at the top to clinically convert.

Serie A wrap: Juve edges Palermo, Milan wins

Keeping a high line and awaiting the counterattack seemed to be Palermo's game plan and they looked dangerous when they unleashed their pace. Juventus in turn were focused on Andrea Pirlo's creative ways in the hopes he would deliver the right passes that would create the right opportunities.

Up front, Matri provided a physical presence and he found space well. However, hesitation got the better of him in too many occasions, exposing his insecurities around goal. This is a player who has lost his confidence and allowed frustration to creep into his game when perhaps a more relaxed approach would help him better exploit the chances created for him.

Palermo proved tougher opponents than initially imagined. Despite a lowly league standing, former Juventus player and youth team coach Gian Piero Gasperini has created a united squad. They were well organised and defended valiantly. By closing down space well just as they had done in their previous match against Inter, Juventus struggled to find room in which to operate. With a packed midfield, Palermo matched their opponents in skill for long stretches of the game in the first half until they seemingly collapsed in the second.

To that effect, Vucinic proved immense on the night. His affinity with the ball, his ability to draw defenders away and his perfect vision made him the Old Lady's best player on the day. Back-heeling a pass for the oncoming Stefan Lichtsteiner, Juventus finally grabbed the goal that many thought might never come with the amount of squandered chances we had witnessed. Despite his own inability to finish and his terrible habit of losing possession due to poor control, every great Juventus chance involved him. With Vucinic up top, his teammates around him instinctively raise their game to encourage better performances.

Though his back-heel was a thing of beauty, one must applaud Lichtsteiner for the run and terrific finish to score Juve's winning goal. The team has seemingly recovered their threat on the right-hand side thanks to the Swiss man's masterful performances of late. Unlike Mauricio Isla, Lichtsteiner offers balance on the right and consistent width to stretch the opposition. His constant marauding forward runs meant Juve were back to being at their powerful best from the right as his counterpart on the left, Kwadwo Asamoah, struggled to play with the necessary with precision.

With Juventus scoring early in the first half, it seems they knocked the wind out of the sails of Palermo who evidently quickly gave up on the idea of defending. They concentrated too heavily on keeping a high line to catch Juve players out for offside but their defensive work proved woeful in the second half and only their opponents' impotency in attack rescued them from a more humiliating scoreline.

Above all, Juventus showed maturity to play such a game of sacrifice and Conte has much to do with that. With his screaming non-stop from the sidelines for the full 90 minutes, he continued to demand focus and concentration. Even when his players attempted to celebrate their goal, he was on hand to yell for greater concentration. Nothing pleases a man who is so evidently used to winning.

Once the final whistle arrived, he celebrated vociferously before taking a walk to where the away fans sat so he could wave at those who cheered relentlessly for him. Juventus may have won but it didn't matter -- Conte was finally back.